Sweet! It's Time for Roses...
At SummerWinds Nursery, we have a variety of roses that are perfect for planting now! Roses can be added to your landscape to address a variety of needs—all while adding texture, color and fragrance to your garden.
Using Roses in Your Garden Landscape
You can blend roses into your garden landscape a number of ways...
---
Bush or Shrub Roses
Bush/shrub roses make a wonderful addition to your landscape and are great for using as fragrant and colorful hedges or planted along pathways in rows.
Companion Plants
Roses look great when planted with companion plants such as groundcovers and annuals like alyssum and snapdragon. Roses also love society garlic, as it helps keep away insects.
For more information about great companion plants for roses, click the link below.

---
Climbing Roses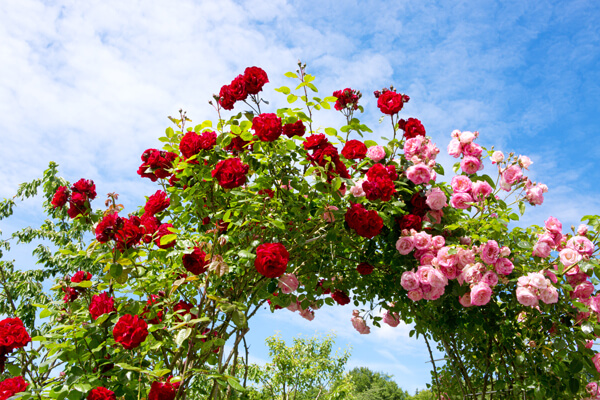 Most Climbing roses grow anywhere from 8'–20' in height and exhibit repeat-blooms. They lack the ability to cling to supports on their own, and must be manually trained and tied over structures such as arbors. Climbing roses are great for arbors and entry ways. They flower on green canes that get direct sun light and only require pruning every other to every third year to remove gray wood.
---
Tree Roses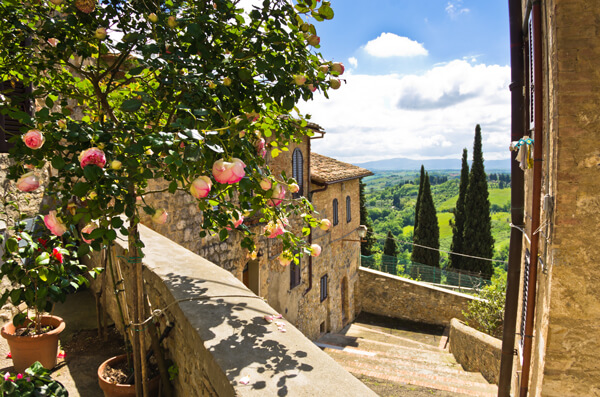 Tree roses are actually two different roses combined into a single plant. It consists of a root stock grown up as a trunk and the canopy, which is the desired variety. A tree rose is essentially just a normal 'bush' rose two, three, or four feet off the ground. Tree roses make a great garden accent and do require a good strong stake to support their blooms.
---
Featured Roses
Black Baccara™ (Rosa 'Black Baccara')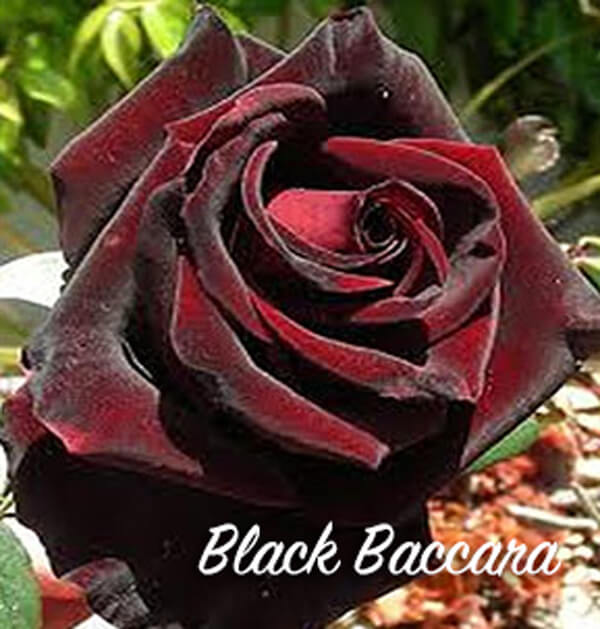 The world renowned Meilland International bred this one-of-a-kind Hybrid Tea. The velvety texture of the petals and unique color will be an instant success in your garden. A wonderful addition to any cutting garden, this rose is sure to stand out. Will last up to 2 weeks in a vase.
Plant Type: Bush
Flower Color: Black-tinged burgundy-red
Foliage: Dark Green
Fragrance: None
Average Bloom: 3.25"
Landscape Size: 4-6' tall and 3-4' wide
Other Attributes: Impressive disease resistance and vigor, bloom size increases as plant matures
---
Double Delight (Rosa 'Double Delight')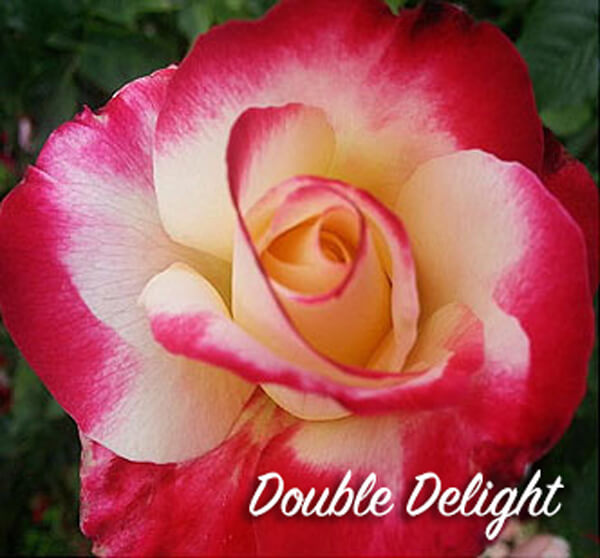 This Hybrid Tea Rose introduced in 1977 and has since won several awards and was inducted into the Rose Hall of Fame in 1985. Beautiful, large, fragrant double blooms change from white in color to carmin red, starting at the edges.
Plant Type: Shrub
Foliage: Dark Green
Fragrance: Strong Spice
Average Bloom: 5"
Landscape Size: 3-5' tall and 2-5' wide
Other Attributes: Blooms turn redder with more sun, sturdy stems make this flower a great cut flower, compact form grows well in containers

---
John F. Kennedy (Rosa 'John F. Kennedy')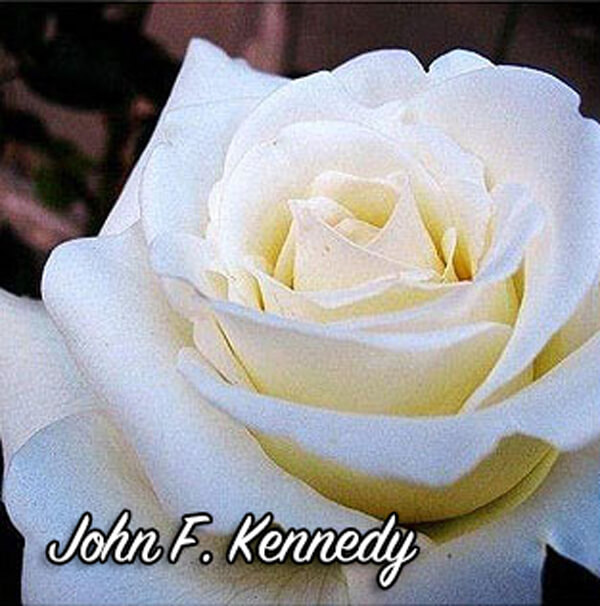 THE classic white Hybrid Tea Rose. This strong, classy and handsome rose has withstood the test of time. As popular today as ever.
Plant Type: Shrub
Foliage: Medium Green
Fragrance: Moderate
Average Bloom: 5.5"
Landscape Size: 3-5' tall and 2-4' wide
Other Attributes: Greenish-white buds that open to white, very disease resistant, opens best with warm nights
---
Mister Lincoln (Rosa 'Mister Lincoln')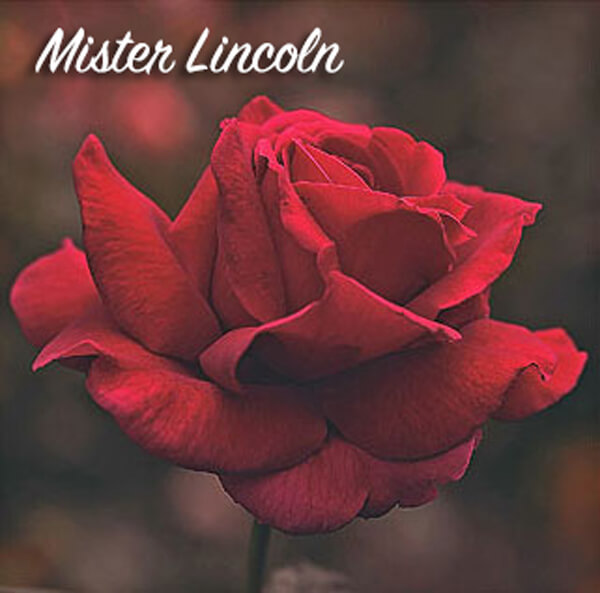 Long stems, dark leaves, great high-centered flowers that open fully and offer a wonderful damask fragrance. This Hybrid Tea Rose is tall, vigorous and ever-blooming. Mister Lincoln was selected as the Best Hybrid Tea Rose by Birds & Blooms in 2014.
Plant Type: Bush
Foliage: Dark Green
Fragrance: Strong Damask
Average Bloom: 5"
Landscape Size: 3-6' tall and 2' wide
Other Attributes: Velvety red blooms, heat tolerant, good disease resistance and good cut flower
---
Other Rose Varieties by Color
Yellow & Orange Roses
Fired Up™ (a)
Just Joey (b)
Peace Hybrid Tea Rose (c)
Strike it Rich (d)
Tahitian Sunset (e)
---
Coral Roses
Chicago Peace (f)
Sedona (g)
Tropicana (h)
---
Red and Red & White Roses
Cherry Parfait™ (i)
Cinco de Mayo™ (j)
Dolly Parton (k)
Hot Cocoa™ (l)
Legends (m)

Oklahoma (n)
Scentimental (o)
---
Pink & Purple Roses
Angel Face (p)
Bewitched (q)
First Prize (r)
Fragrant Plum (s)
Intrigue (t)
---
Winter is the best time to plant roses in the Valley of the Sun...


Rose varieties available while supplies last. Selection may vary by location. For more ideas, talk with one of our Trusted Garden Advisors at your local SummerWinds Nursery.
---
Want to Give Your Roses the Best Start? We Recommend the Following:
E.B. Stone Organcis - Rose Grow Planting Mix (1.5 cuft. Bag) - is a natural organic soil mix that was blended with the special growing requirements of roses in mind. It is a slightly acidic soil mix and contains just the right ingredients to get roses off to a good start. Rose Grow Planting Mix has been formulated to be a well draining soil, so we recommend it be used as both a planting mix and as a stand-alone potting soil. It can also be used as a mulch around most rose plantings. Regular Price: $10.99


E.B. Stone Organics - Sure Start (4 lb.) - is a blend of natural organic ingredients formulated to help newly transplanted plants develop strong roots and sturdy growth. Sure Start is rich in natural sources of phosphorus to help your plants develop a strong foundation for future growth. Their gentle and non-burning formula is safe to use with even the most tender transplants. Contains: Blood Meal, Feather Meal, Bone Meal, Dried Chicken Manure, Bat Guano, Alfalfa Meal, Kelp Meal, Potassium Sulfate, Humic Acids and Soil Microbes including Mycorrhizal Fungi. Regular Price: $9.99