Bye Bye Mosquitos!

It's that time of year when those pesty little blood sucking, all around icky mosquitoes are out in full force. We have some helpful solutions to protect you and your family at home...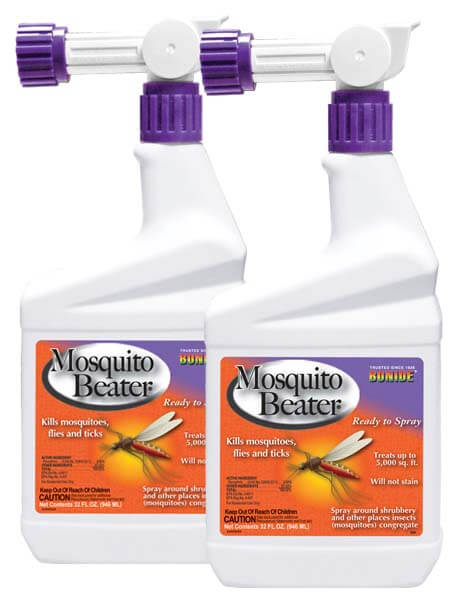 Bonide Mosquito Beater RTU


Regularly $19.99/ea.
32 oz. - Ready to Spray
Kills mosquitoes, flies and ticks
Treats up to 5,000 sq. ft.
Low odor, water based Permethrin
Kills and Repels bugs in your yard and around your home
---
Mosquito Dunks 6-Pack

Regularly $14.99 per pack
Kills mosquitoes before they are old enough to bite!
The only product with BTI, a bateria toxic only to mosquito larvae
Lasts up to 30 days and treats 100 square feet of surface water
Non-toxic to all other wildlife, pets, fish and humans
Apply to standing water or water garden
Kills within hours
For Organic Gardening (USEPA) - a highly effective low impact product
---
8 oz. Mosquito Bits®

Regularly $14.99 for 8 oz.
Sprinkle in marshy, swampy areas inundated with larvae, as a shock to quickly annihilate the larval population
Corn cob granules coated in BTI provide a punch and turn water that's black with larvae to a clear pool void of future mosquitoes
Also controls Fungus Gnats in plant beds or pots
Can be sprinkled on the soil's surface or mixed with potting soil prior to planting, to kill fungus gnat larvae
---
Lemongrass
A natural mosquito deterent
Highly popular in Thai and other southeast Asian cusines, this beautiful grass also adds beauty to the garden, forming a clump of graceful, arching leaves within one season. Foliage emits a lemony fragrance. The bulbous portion of the stem is used in cooking. Well-known as an insect repellent (aka: citronella).
Botannial Name: Cymbopogon citratus
Light Needs: Partial to full sun
Watering Needs: Requires regular watering - weekly or more often in extreme heat
Average Landscape Size: 2-4 feet tall and 2-3 feet wide
Key Feature: Fragrant Foliage
Blooms: Grown for foliage; rarely flowers
Landscape Uses: Border, container, erosion control
Now Available While Supplies Last: 4" Lemongrass Plants
At SummerWinds, We Guarantee Success
Description source: http://www.monrovia.com/plant-catalog/plants/4373/lemongrass/