For The Love Of Blueberries
Blueberry plants are one of the easier berries to grow. They are resistant to most pests and diseases and can produce fruit for 15 plus years. Blueberries are a relative of the rhododendron and azalea and like them, prefer acidic soil and make an attractive addition to your California landscape. Blueberries are partially self-fertile, so you will harvest more and larger berries by planting two or more varieties. Planting more than one variety can also extend the harvest season. And did we mention they are tasty? They are really tasty and remain one of the most nutritious, antioxidant-rich types of fruit in the world and have been shown to do everything from enhance brain health to keep your heart strong.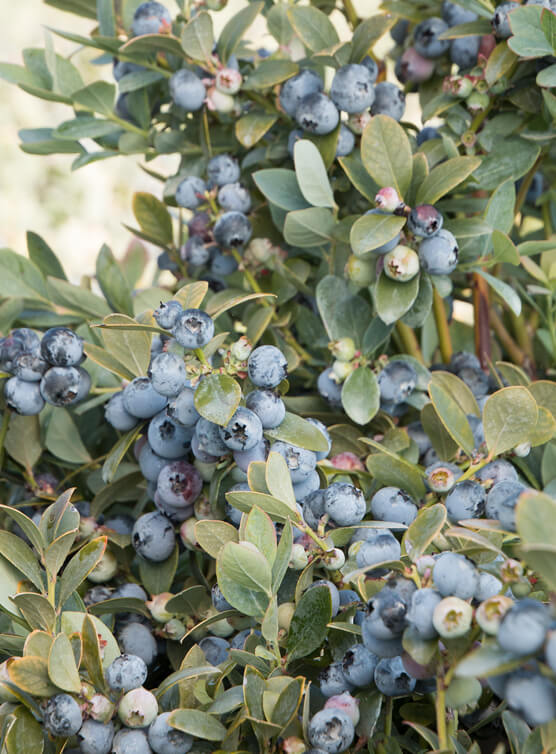 Bountiful Blue® Blueberry
Vaccinium corymbosum
An award winning variety with the bluest of foliage! Pink-blushed flowers produce a big crop of large, sweet, juicy berries on a compact, mounded shrub. Perfect for hedges or planting in large tubs. Self-fertile, though planting with another variety may increase yields.
Needs only 150-200 winter chill hours.
Semi-evergreen in mild climates.
Moderate growing; reaches 3 to 4 ft. tall and wide.
Blueberry Glaze® Blueberry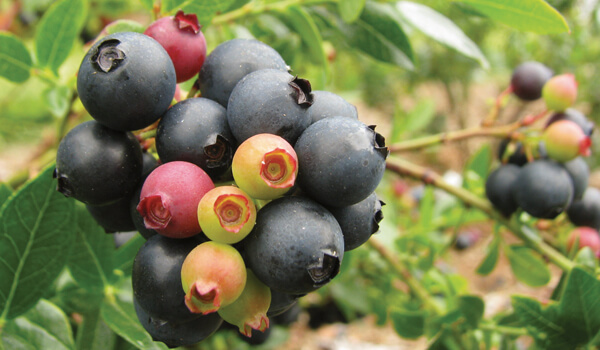 Vaccinium
With its boxwood-like foliage, Blueberry Glaze® is a treat unlike any other! In spring, white flowers ripen into a dramatic display of color as the berries turn yellow, to red, then a dark blue! The ripe fruit is packed with aromatic flavors and antioxidants. Perfect for patio pots or the landscape. Recommended chill: 600 hours.
Deciduous
Moderate growing, compact, mounded shrub; reaches 2 to 3 ft. tall and wide
Partial to full sun
Flavorful Midsummer Berries
Pink Icing™ Blueberry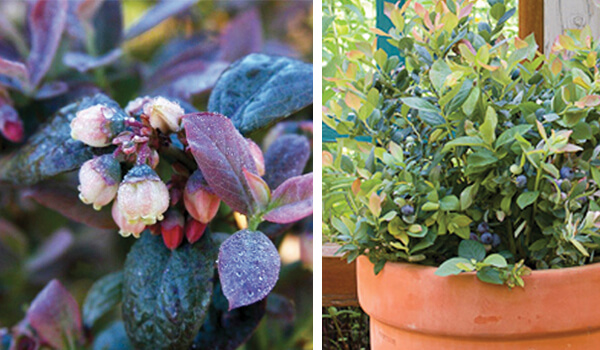 Vaccinium corymbosum
Pink Icing™ has breathtaking foliage colors and large, robust flavored berries. Spring foliage has many shades of pink mixed with blue and deep greens, and turns a stunning iridescent turquoise blue in winter. Plant this variety in decorative patio pots or in the landscape for year-round color and beauty.
Semi-evergreen
Partial to full sun
Mounded, slightly spreading form; reaches 3 to 4 ft. tall and wide
Sunshine Blue Blueberry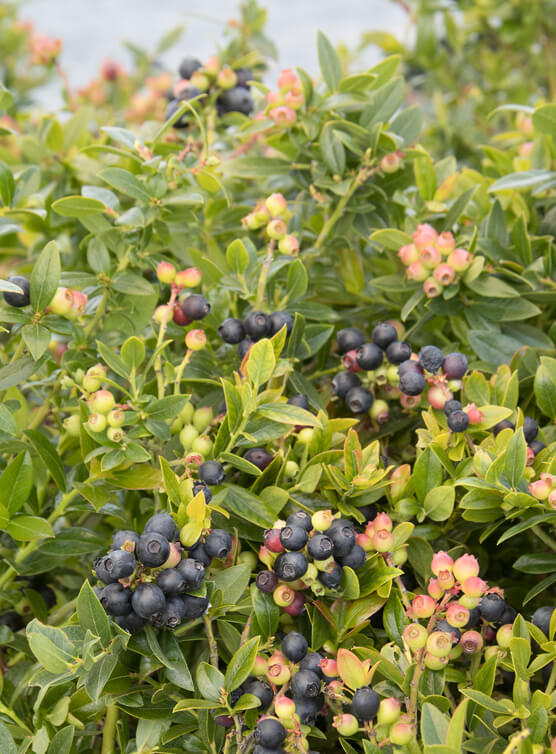 Vaccinium x 'Sunshine Blue' (Southern Highbush)
One of the best for mild-winter areas, a low-chill selection perfect for small gardens or large patio tubs. Blue-green foliage and showy pink to white flowers provide ornamental value, followed by an abundant crop of fruit.
Self-fruiting, but yields best when planted with another variety.
Recommended winter chill: 150 hours
Deciduous
Full sun
Moderate growing, semi-dwarf shrub; reaches 3 to 4 ft. tall and wide
Blueberry Care
Provide rich, acidic, well-drained soil. Water deeply and regularly during first growing season to establish an extensive root system. In extremely hot, arid summer areas, best with some shelter from harsh, reflected afternoon sun. Before new growth begins, prune off twiggy growth, leaving only main stems to prevent overbearing.
At SummerWinds Nursery, We Guarantee Success!