Christmas Trees Have Arrived
Available Now - While Supplies Last - Sizes may vary by location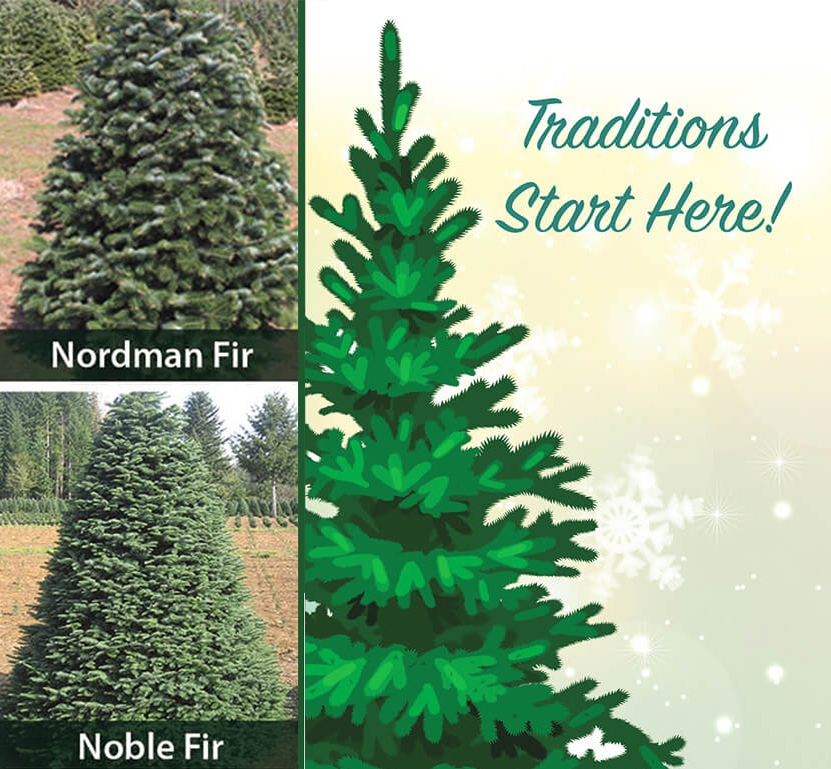 Choose From: Nordman Fir or Noble Fir Trees
5 ft. to 6 ft. - $69.99 ea.
6 ft. to 7 ft. - $79.99 ea.
7 ft. to 8 ft. - $99.99 ea.


3 ft. to 4 ft. - $29.99 ea. - Available Only in Noble Fir
Nordman Fir
The Nordman Fir's durability results in an exquisite, long-lasting Christmas Tree. Popular for their ability to retain their needles and the ideal tree for those with allergies. This tree's shiny appearance offers a lovely shape with dense, strong branches that make decorating with heavy or large ornaments easy.
Noble Fir Tree
The Noble fir is one of the most popular trees. It is well known for its strong branches and sparse look, giving it an advantage for hanging large and heavy decorations. It is also a very durable tree. It stays green longer and hangs on to its needles.
---
Our trees are pampered...
We pamper, trim and prepare our trees for your home for the holidays.
Trees are ALWAYS standing in water
Trunks trimmed when purchased
FREE netting for your tree to attach to your vehicle
Tree Delivery available - with fee (see stores for details)
---
Mixed Noble Fir Wreaths
Hand-tied wreaths made with Noble Fir, accented with incense dedar, berries juniper and pine cones
20 inch - $18.99
28 inch - $24.99
36 inch - $44.99
---
Candle Ring Holders - $14.99
Fresh cut mixed greens
14-inch
Candle not included