Bursting With Flavor - Heirloom Tomatoes
Offer good April 16 - 30, 2017
Heirloom Tomatoes come in an array of colors, shapes, sizes and flavors. They are loaded with vitamin C, protect cardiovascular health, are a great source of vitamin K and add loads of flavor to any dish or on their own.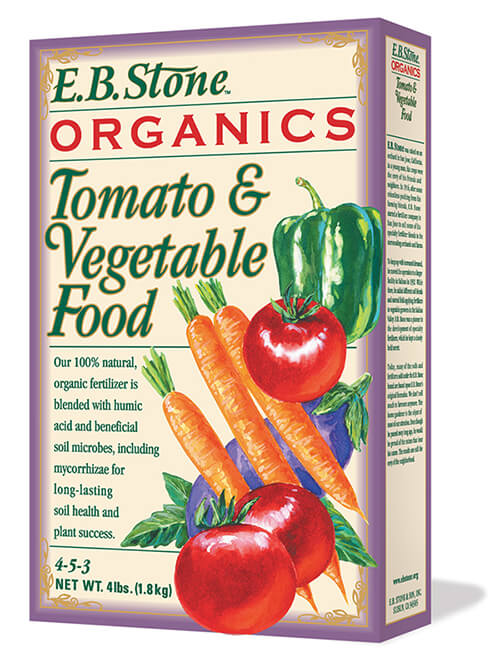 Save $2.00 on E.B. Stone Organics Tomato and Vegetable Food - with Coupon
Heirloom tomatoes are also known as open-pollinated tomatoes; stabilized varieties that produce true seed every year. You can save the seeds from an heirloom year after year and the seeds will produce the same variety every year. Many heirlooms are known for their outstanding flavor and come in many colors - red, orange, yellow, pink, green, purple and black. (Purple tomatoes are more of a pinkish-brown and black tomatoes are dusky red and dark green or brown shoulders.)
---
Selection may vary by location.
Choose from a huge selection of heirloom tomatoes: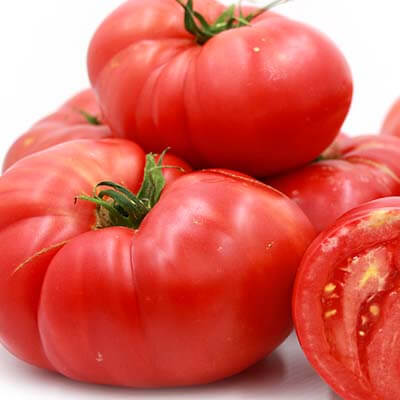 Brandywine Red
(90 Days) Indeterminate, Heirloom. Old Amish heirloom dating back to 1885. Named after Brandywine Creek in Chester County, PA. Large, vigorous, potato-leafed vines produce 8-12 ounce deep-red fruits in clusters of 4 to 6. Excellent old-fashioned robust flavor.
---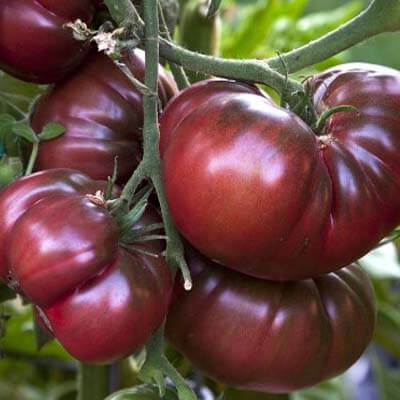 Black Krim
(75 Days) Indeterminate, Heirloom. Originally from Krim on the Black Sea in the former Soviet Union. Regular leaf plant yields 4 - 6inch slightly flattened dark red to mahogany-colored fruit with deep green shoulders. When sliced, the seeds are surrounded with a green colored gel. Impressive slicer, one of the best tomato tastes.
---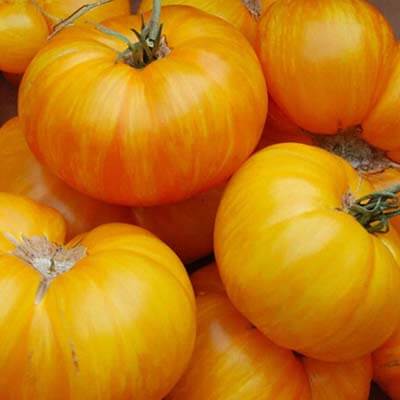 Pineapple
(85 Days) Indeterminate, Heirloom. A garden favorite that grows fruits up to 2 pounds! These bicolor yellow and pink fruits have a beautiful red starburst in the center. The flavor is tropically sweet, fruity and complex. Show stopper. Fantastic heirloom. Bragger size.
---
Juliet
(72 Days) Indeterminate, Heirloom. Elongated grape-shaped tomatoes are sweet and tasty. A good early season tomato; very prolific when planted in full sun. The 1999 All American Select winner, this plant can grow to 10 feet when it's really happy. Be prepared to keep it well supported.
---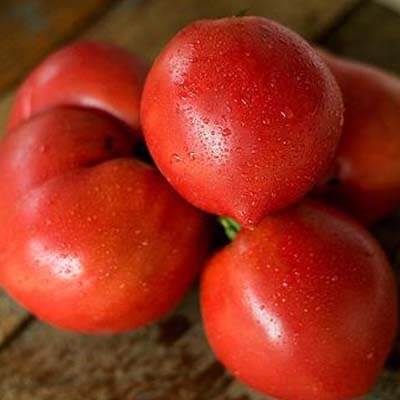 Ann Russian
(65 Days) Indeterminate, Heirloom. An exquisite large oxheart variety from Russia. Deep velvety pink, sweet and creamy fruits. An excellent tasting, gorgeous pink/red tomato. Fruits usually weigh a pound each and grow in clusters of 2-3 tomatoes. Beautiful lacey foliage. Excellent trellised on a fence.
---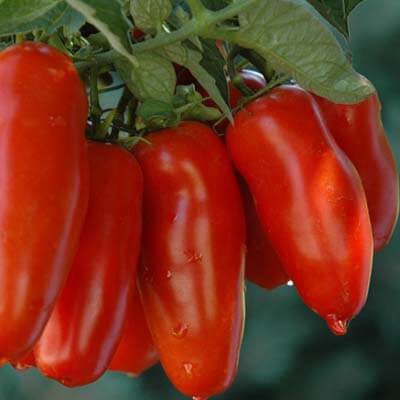 San Marzano
(80 Days) Indeterminate, Heirloom. Favorite Italian paste tomato. Small deep red elongated fruits with meaty flesh for canning and making sauces with rich tomato flavor. Good for fresh eating as well. Fruits cluster 5 or 6 with each tomato 3-5". Very few seeds.
---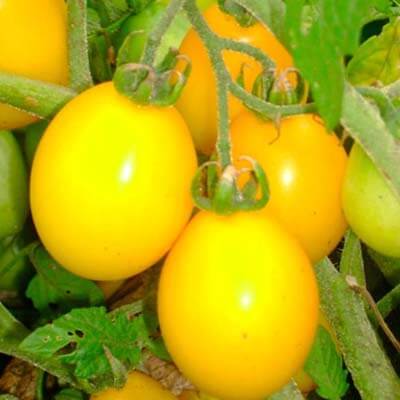 San Marzano
(85 Days) Indeterminate, Heirloom. Enormous number of yellow, bit-sized, baby pear shaped fruits from this extremely old variety on vigorous plants. Deliciously tangy, making a perfect addition to your summer party trays. A very popular variety.
---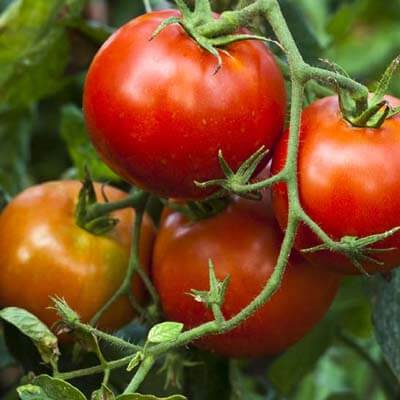 Stupice
(52 Days) Indeterminate, Heirloom. Great tomato! The ABSOLUTE very best tasting early heirloom variety. This tomato from Czech Republic has big flavor, sweet and tangy. A small 3-4 ounce red, round fruit. Very early with an abundant yield from small plant. Grows and bears well in hot and cold weather. Excellent variety for coastal areas that don't get a lot of heat.
---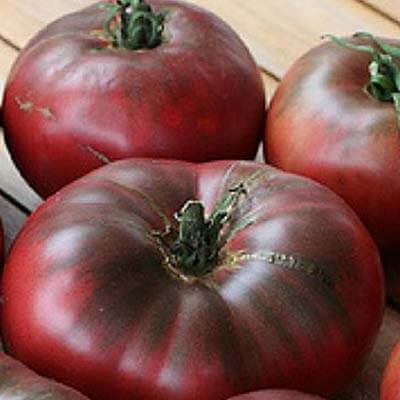 Cherokee Purple
(85 Days) Indeterminate, Heirloom. Legendary. Sweet, smoky and lusciously rich flavor. Often compared to Brandywine. 12 ounce dusky rose-purple tomato with purplish brick red interior from Tennessee thought to have been handed down from Cherokee gardeners. Very attractive sliced tomato.
---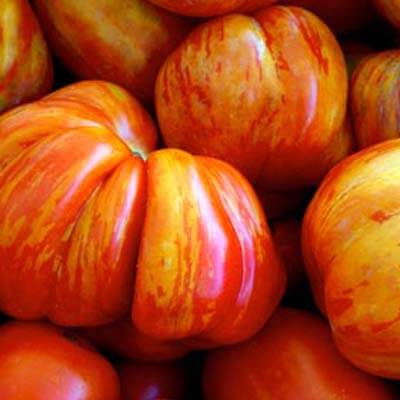 Old German
(80 Days) Heirloom. 80 Days. Huge heirloom variety. Each fruit can get up to 3 pounds. Attractive reddish yellow fruit with pink striping and beautiful yellow shoulders on large lobed fruits. The flavor is rich, robust, traditional tomato taste. Absolutely beautiful tomato. The Old German tomato plant is a potato-leafed variety. It performs best in a hot, full sun garden!
---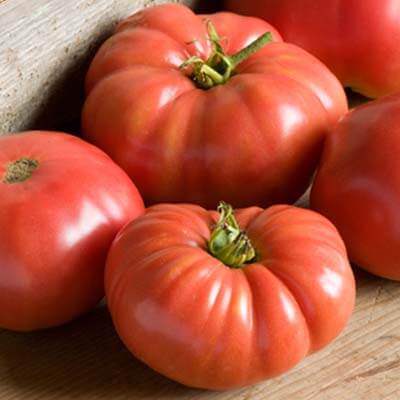 German Johnson
(78 Days) Indeterminate, Heirloom. A large prolific plant from North Carolina. Producing HUGE beautiful pinkish-red beefsteak type tomatoes often more than one pound in size. Excellent, rich tomato flavor from this large one pound pink-skinned, meaty fruit. Thought to be one of the famous parents of Mortgage Lifter (aka Radiator Charlie).
---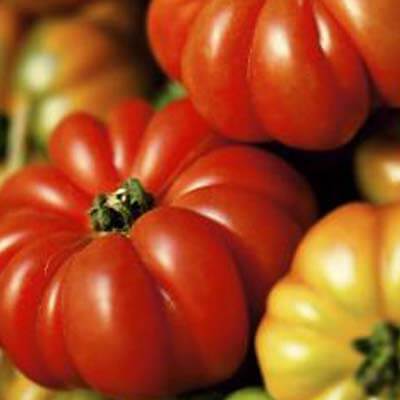 Cuostralee
(85 Days) Indeterminate, Heirloom. French beefsteak heirloom tomato. Hearty, prolific plant with lots of huge red tomatoes up to 3 pounds. Gigantic unusually shaped, lobed fruits with superb, intense, balanced tomato flavor. Definitely a winner in the taste category.
---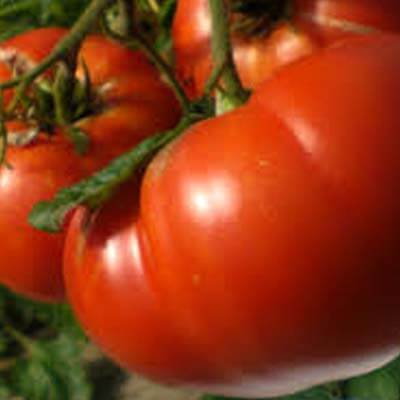 Radiator Charlie (aka Mortgage Lifter)
(79 Days) Indeterminate, Heirloom. As the story goes, this very popular well known heirloom from the 1930's came from a farmer facing bankruptcy. He selected his biggest, best tasting tomato and sold the plants to pay off the mortgage. Huge, very flavorful, meaty pink-red fruits can reach up to 3 pounds each. Bragger size. Very prolific plant. Consistent taste test winner.
---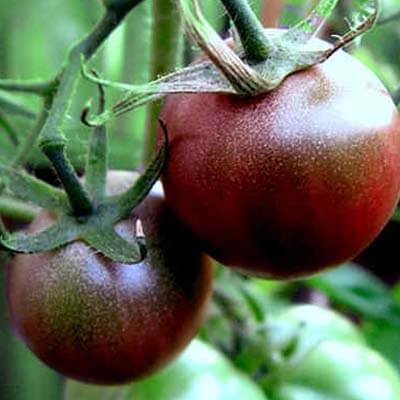 Black Cherry
(65 Days) Indeterminate, Heirloom. The beautiful dark burgundy color on this cherry really stands out. Mixed well with red and gold cherry tomatoes. Rich, sweet, smoky tomato flavor that keeps you wanting more. Fruit grows in abundant clusters of 1 ounce fruits.
---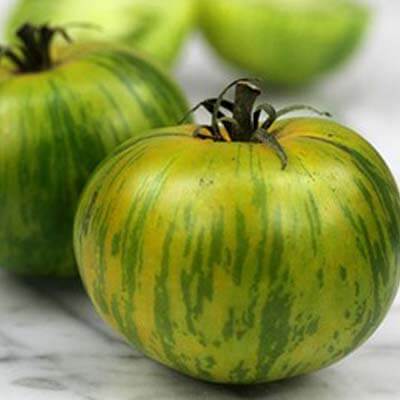 Green Zebra
(75 Days) Indeterminate, Heirloom. Visually enchanting, yellow and green stripes over an amber background. Utterly gorgeous to behold. Tangy and deeply sweet with lingering flavors like a fine wine. Abundant production of 2 inch round fruit with a lime emerald interior that has an invigorating lemon-lime flavor. Good for smaller gardens, as the plants tend to be on the tame side.
---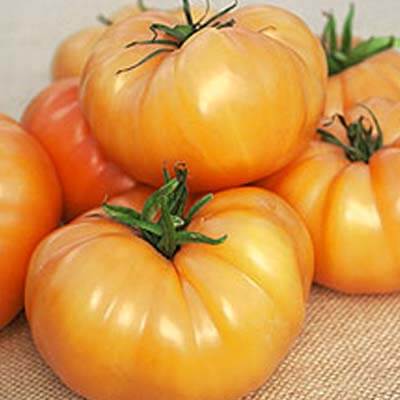 Kellogg's Breakfast
(80 Days) Indeterminate, Heirloom. 80 Days. Wow your family with these large orange, beef steak type tomatoes that can grow to 1-2 pounds each. Tomatoes are juicy and meaty with good old fashioned tomato flavor. When the tomato is sliced, it displays its bright orange meat. Fabulous for slicing.