Enjoy Unique Tomato Varieties from Vilardi Gardens
Grown locally by Vilardi Gardens, these tomato plant starts are sure to inspire the foodie in you!
Tomato Varieties Include:
Amy's Apricot - This heirloom tomato plant is tall, indeterminate and yields large amounts of sweet 3/4-inch golden cherry tomatoes.
Cream Sausage - Also known as Banana Cream. This heirloom tomato is determinate and bushy. It produces numerous 3-inch long, creamy whitish-yellow, elongated, sweet tomatoes. Excellent in salsas and sauces.
Dark Galaxy - This tartindeterminate tomato plant boasts a sweet, tart flavor with colorful blue/red 1.5-4 oz fruits that have golden speckles.
Dwarf Golden Heart - This determinate dwarf variety boasts a heavy yield of yellow, sweet, medium to large (4-10 oz), heart-shaped fruit.
Indigo Rose - This dark purple, sweet and tangy tomato contains a naturally-occurring anti-oxident found in blueberries (anthocyanins). This compact indeterminate plant boasts large yields of 1-2 oz round fruits with dark red, plummy flesh.
Dwarf Lemon Ice - This dwarf indeterminate tomato boasts strong yields of sweet, heart-shaped, pale-yellow fruits 4-6 oz in size.
Dwarf Mr. Snow- This indeterminate dwarf variety produces large 5-12 oz, whitish yellow, meaty beefsteak fruits with minimal seeds and a sweet flavor with a hint of citrus.
Napa Chardonnay Blush - This sweet indeterminate cherry tomato has a light yellow-blush color and exceptional flavor.
Sweet Carnero's Pink - This indeterminate variety produces small, 2-4 oz round, sweet, rose-pink fruits with golden stripes. fruits with
---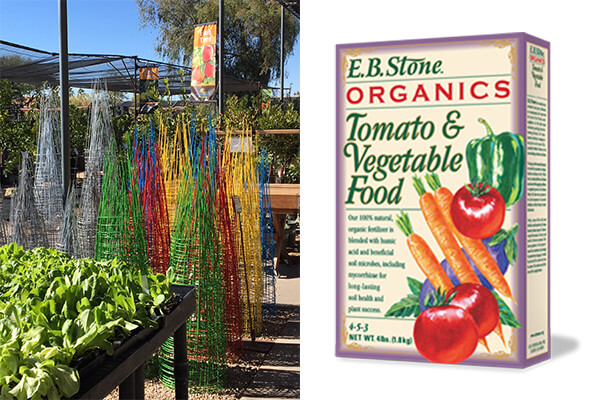 For the Best Fruits
For superior fruits and yields, we recommend E.B. Stone Organics Tomato & Vegetable Food and supporting the growth of your tomato plants with tomato cages, available at your local SummerWinds Nursery.
To amend your soil for in-ground planting, we recommend SummerWinds Natural & Organic Planting Mix or Happy Frog® Soil Conditioner by FoxFarm. For containers, SummerWinds Organic Potting Soil or Strawberry Fields® Potting Soil by FoxFarm.
Protect your tender plant starts from the heat with shade cloth—available by the foot.
Want more tomato inspiration? Read our blog, "The Joys of Growing Your Own Tomatoes ."