Safe & Natural Ways to Deter Mosquitoes & Other Pests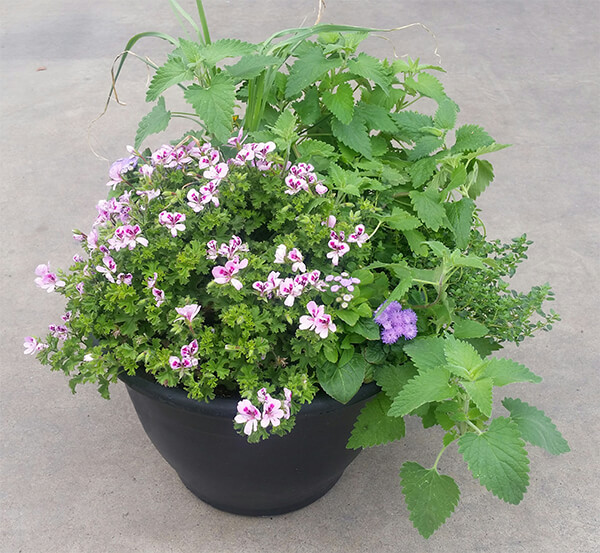 Wondering what the best technique is to rid your garden landscape of mosquitoes? At SummerWinds Nursery, we have a variety of methods to choose from, including plants and packaged solutions...
Beauty & Brawn - Mosquitoes Beware!
Looking for a ready-to-go mosquito deterring arrangement? This 12" arrangement (shown left) is beautiful and can be dropped into your favorite pot or enjoyed as is! Available for $44.99 ea. while supplies last.
---
Plants that Deter Pests
Basil (Ocimum basilicum)
Basil isn't just delicious! It helps repel flies, mosquitoes, carrot flies, asparagus beetles and whiteflies. Available in a number of varieties.

Lavender (Lavandula)
Sweet smelling lavender repels moths, fleas, flies and mosquitoes. Available in a number of varieties.

Lemongrass (Cymbopogon)
Many health benefits have been atributed to this lemon-scented tall perennial grass, including relief from a long list of physical ailments. Lemongrass is availalbe in a numerious varieties. Citronella, a natural oil found in lemongrass, is often used in candles, soaps and oils due to its insecticidal properties that are effective on pests such as mosquitoes, lice and fleas.

Lemon Verbena (Aloysia triphylla)
This perennial herb can be planted in your garden landscape and near windows and doorways to help deter mosquitoes. It has a pleasant and distinct lemon scent. In addition to deterring mosquitoes, lemon verbena boasts a number of health benefits and is often used medicinally.

Rosemary (Rosmarinus officinalis)
Rosemary is availalbe in a number of varieties and is an all-purpose repellent that works on mosquitoes and a variety of insects harmful to vegetables.


Scented Geraniums (Pelargonium spp.)
The many varieties of deer resistant and drought-tolerant Scented Geraniums help repel insects by emitting a range of fragrances such as coconut, citrus, pine and rose (depending on the variety). The citrus variety is particulary effective on mosquitoes, while the rose variety is a tick repellent.

Society Garlic (Tulbaghia violacea)
Society Garlic can be used to repel fleas, ticks and mosquitoes. When planted in a border, it may also help deter other unwanted garden visitors, such as: cats, deer, dogs, gophers, groundhogs, moles, rabbits, snails and snakes.
---
Other Effective Ways to Deter Mosquitoes
Mosquito Dunks 6-Pack - $14.99/pack
Kills mosquitoes before they are old enough to bite!
The only product with BTI, a bateria toxic only to mosquito larvae
Lasts up to 30 days and treats 100 square feet of surface water
Non-toxic to all other wildlife, pets, fish and humans
Apply to standing water or water garden
Kills within hours
For Organic Gardening (USEPA) - a highly effective low impact product
---
Mosquito Bits® - $14.99 for 8 oz. Container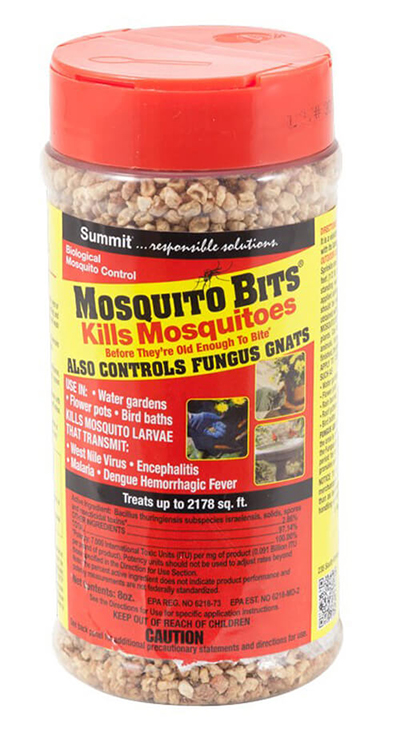 Sprinkle in marshy, swampy areas inundated with larvae, as a shock to quickly annihilate the larval population
Corn cob granules coated in BTI provide a punch and turn water that's black with larvae to a clear pool void of future mosquitoes
Also controls Fungus Gnats in plant beds or pots
Can be sprinkled on the soil's surface or mixed with potting soil prior to planting, to kill fungus gnat larvae
---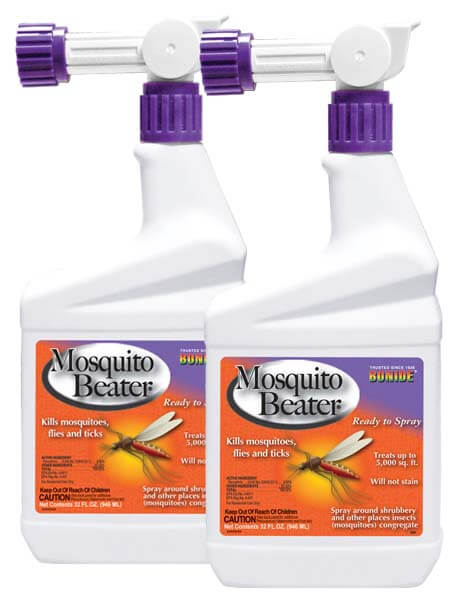 Bonide Mosquito Beater RTU - $19.99 ea.
32 oz. - Ready to Spray
Kills mosquitoes, flies and ticks
Treats up to 5,000 sq. ft.
Kills and Repels bugs in your yard and around your home
---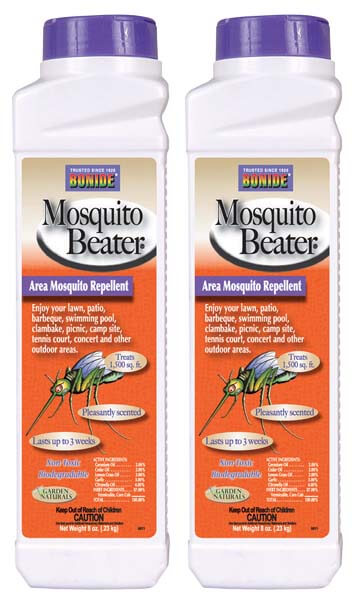 Bonide Mosquito Beater Repellent - $9.99 ea.


Area Mosquito Repellent
8 oz. Container
Enjoy your lawn, patio, barbecue, swimming pool, picnic, camp site and other outdoor areas
Treats 1,500 sq. ft.
Pleasantly scented
Lasts up to 3 weeks
To learn more about integrated pest management, read our blog.