Time is Running Out for Home-Grown Tomatoes
Stop by your local SummerWinds Nursery to explore our selection; available while supplies last!
At SummerWinds, we offer a wide variety of tomatoes:


Beefstake—large, juicy tomatoes great for eating straight from the garden.
Better Boy—a large, globe-shaped tomato that commonly produces one-pound fruits. The plant produces high yields with deep-red very meaty fruit.
Better Bush—the strongest of tomato plant varieties, this plant produces a large number of leaves that protect and shade the fruit as it ripens. Great for both gardens and containers.
Big Boy—this mid-season variety continues bearing large fruit until early fall frosts. Deep-red fragrant fruit can grow up to one pound in size.
Celebrity—this flavorful plant is popular for its large fruit, disease resistance and classic flavor. Often used on sandwiches or sliced.
Champion—this compact plant produces extremely early in the season. Its large yield produces big, round and meaty fruit.
Cherry - Red and Large Red—these small and tasty tomatoes can easily be grown indoors or outside. Great in salads, sandwiches or on their own as a snack.
Cream Sausage—3-inch long, creamy white-yellow, sausage type paste tomatoes with small pointed end. Very good sweet flavors excellent for use in sweet salsa or as a tasty yellow pasta sauce.
Early Girl—the most popular all-round early hybrid tomato is often sliced and served on a plate, in a salad or on a sandwich. Bears fruit early in the harvest and continues producing through summer.
Green Zebra—Characteristic dark green and yellow stripes with a simultaneously sweet and tangy taste make this tomato a chef's favorite.
Husky Red—great for container gardens, this high-yielding plant produces delicious, disease-resistant tomatoes.
Juliet Grape—smaller than a Roma tomato, this plant bears delicious, vitamin and antioxidant rich sweet mini fruits that are crack resistant.
Lemon Boy—this extremely disease resistant plant grows vigorously and has a mild flavor and bright lemon yellow skin.
Patio—designed to grow on patios, decks and in balcony containers. Produces relatively large fruits for a high-yield dwarf variety.
Roma—a popular, firm and slender plum tomato often used in canning and to make tomato paste.
Supersweet 100—this reliable, high-yielding cherry tomato variety produces great tasting fruits perfect for salads, dips or fresh off the vine.
Sweet 100—these easy-to-grow, vitamin-rich cherry tomatoes grow well in containers or garden beds.
We also have a variety of Heirloom tomatoes including: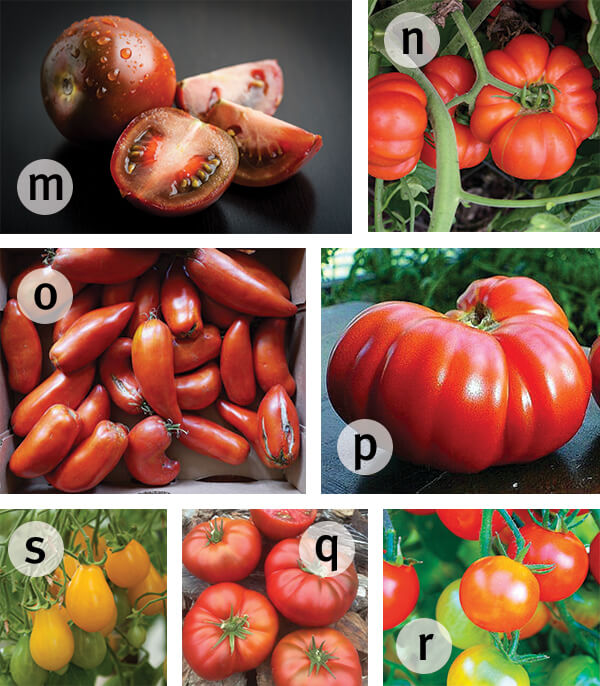 Black Krim (m)—An heirloom beefstake-type tomato with deep red color that grows 6 to 12 ounces and has a rich sweet flavor.
Glacier—this compact, semi-determinate plant begins producing 2- to 3-inch redish orange fruit early in the season. Excellent in salads.
Long-keeper—this heirloom variety is perfect for a late harvest and produces huge quantities of 6 ounce, round fruits. Known for its long storage ability.
Mortgage Lifter (n)—A large heirloom beefsteak with heavy yields of low-acid pink fruits. A consistent taste-test winner due to its rich, sweet taste.
Rutgers—large, red fruit with excellent flavor with a large initial crop followed by several smaller crops.
San Marzano Redorta (o)—This very large plum tomato is enjoyable fresh, as a paste, in sauces, canned or dried. Wonderfully complex and flavorful. Siletz—a deep red, flavorful slicing tomato that is 10- to 12-ounces in size and an early season producer. Yields well even in cool weather.
Sudduth's Strain Brandywine (p)—This 1-2 lb. large, pink heirloom tomato boasts a wonderfully rich, intense and delicious flavor.
Tasmanian Chocolate (q)—This dwarf variety grows 3 to 4 feet tall and is great for containers. Fruits range from 5-12 ounces and ripen to a deep mahogany color. Flavor is full, balanced and delicious.
Taxi (r)—a great yellow tomato for short season gardeners. Produces mild, non-acidic tomatoes over 3 to 4 weeks.
Yellow Pear (s)—Very sweet 1.5 inch yellow, pear-shaped fruits with a mild flavor. Great for eating fresh off the vine or for making preserves.
Selection varies by location; available while supplies last.
---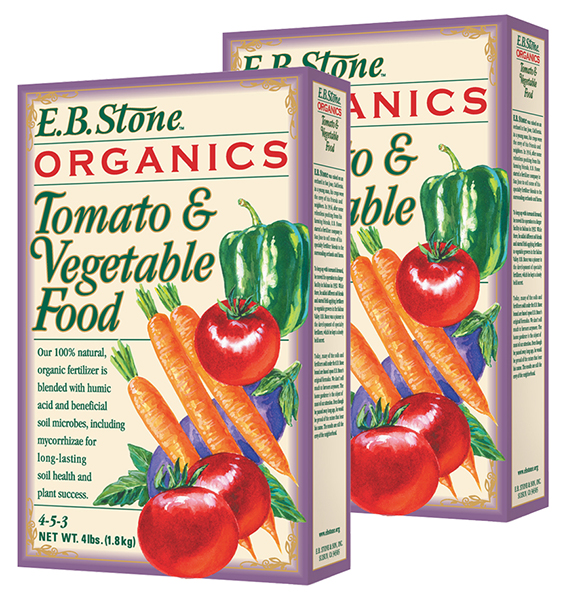 Organic Tomato & Vegetable Food
Ensure your edible garden succeeds with E.B. Stone Tomato & Vegetable Food. Formulated with quality natural organic ingredients for use throughout the vegetable garden as well as with soft fruits like strawberries. It will contribute to even plant growth without producing excessive foliage at the expense of fruit. The additional phosphorous helps to ensure the production of high quality fruits and vegetables. 4 lb. Box - $9.99.
At SummerWinds, We Guarantee Success!