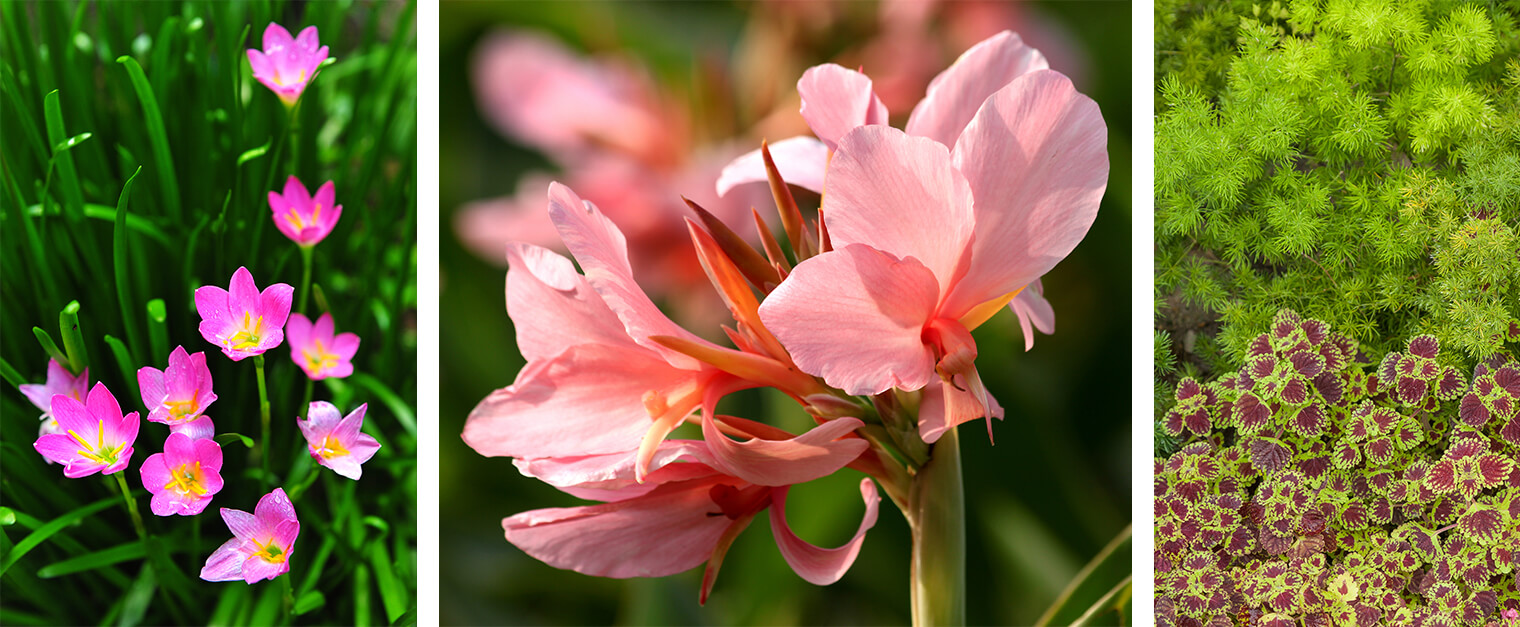 Palms, Grasses, Trees & More
At SummerWinds Nursery, we have a variety of beautiful grasses, palms, plants and trees perfect for your desert garden landscape, including these: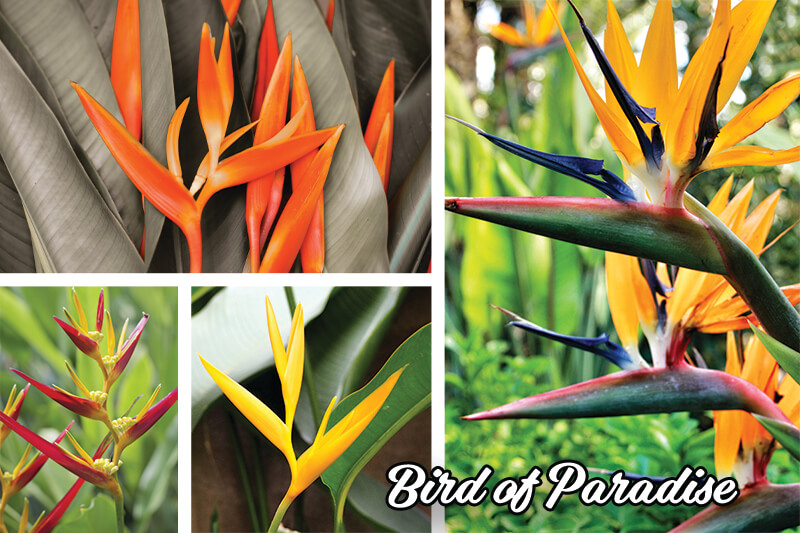 Bird of Paradise
This low-maintenance evergreen perennial boasts dramatic, bird-like flowers and makes a great houseplant. The Bird of Paradise (Strelitzia reginae) can grow to be 6.5 feet tall, with large, long-lasting flowers once they bloom.
---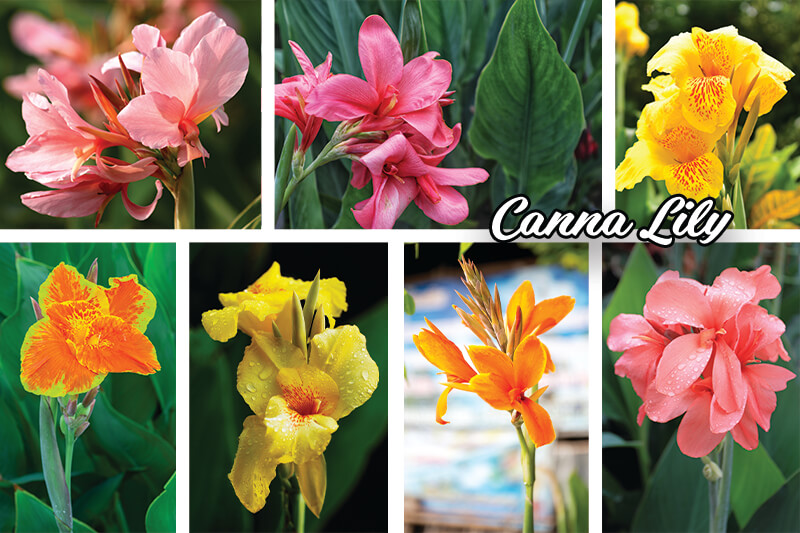 Canna Lily
The Canna Lily (Canna) has large foliage and beautiful, colorful lily-like blooms most often from red, to orange and yellow—or a combination of these colors. Foliage ranges from solid-green to brownish, maroon or variegated leaves. Some canna varieties can grow 6.6 to 9.8 feet tall, although many smaller varieties are available.
---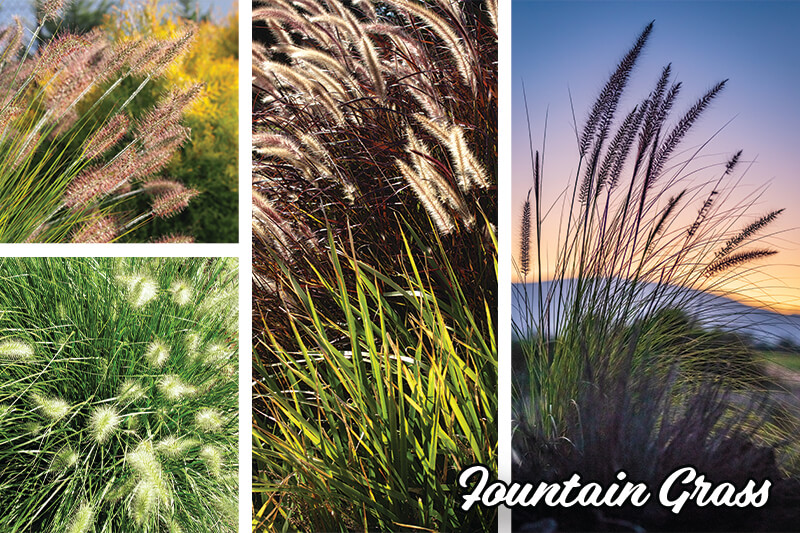 Fountain Grass
There are numerous varieties of Fountain Grass (Pennisetum). These ornamental grasses can be annual or perennial grasses. They can range in size from petite to large with very tall stems. Some fountain grasses can grow plumelike-bristles.
---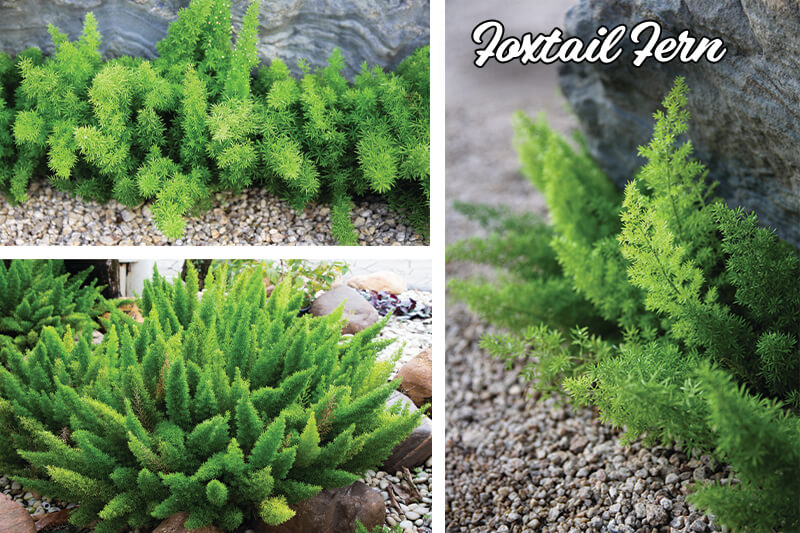 Foxtail Ferns
The Foxtail Fern (Asparagus densiflorus 'Myers') is a perennial that offers unusual texture for your garden landscape. Long, upright, plume-like stems hold soft, needle-like green leaves. It develops red ornamental berries in the fall. Is wonderful in handing baskets and containers. Grows best in part-shade to part-sun.
---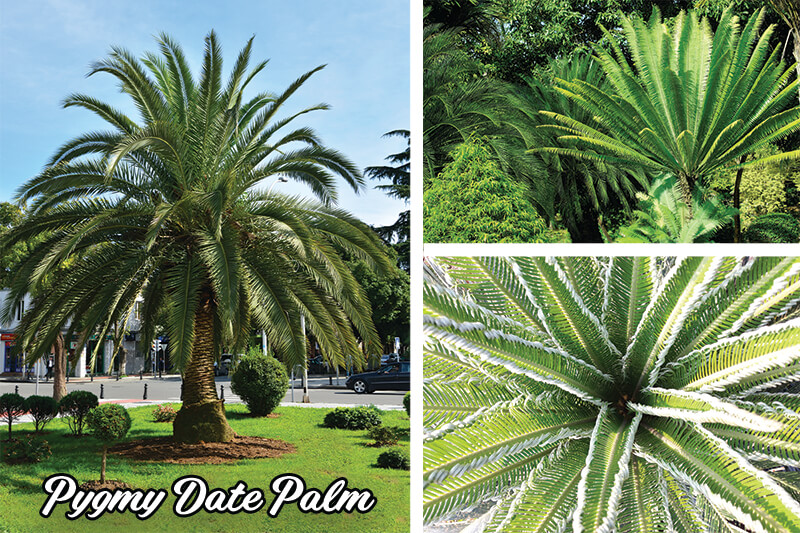 Pygme Date Palm
These slow-growing palms are easy to care for and can reach a height of 6 to 10 feet tall. Pygmy date palms (Phoenix roebelenii) have small, yellowish flowers, which become sweet, sugary, tiny purplish dates. The pygmy date palm has a thin, solitary turnk and a crown of deep green fronds. Is it moderately drought tolerant, once established.
---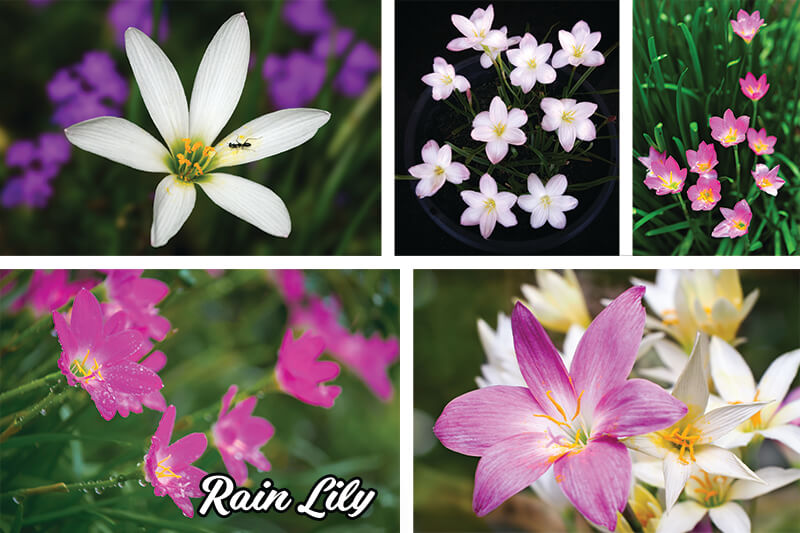 Rain Lily
There are numerous varieties of Rain Lilies (Zephyranthes). These perennial bulbs can tolerate desert conditions and flower in a wide range of colors—from white to yellow and pink.
---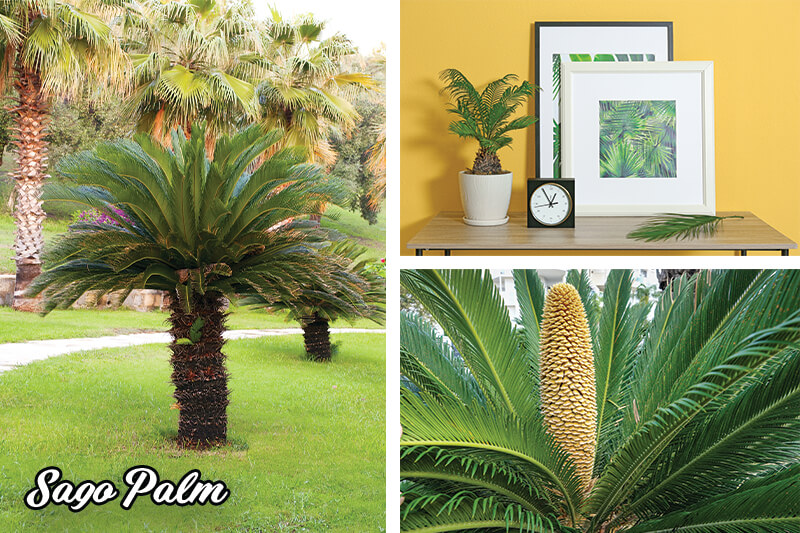 Sago Palm
This ornamental palm has a crown of shiny, dark-green leaves on a thick, shaggy trunk. In 50-100 years, the Sago Palm (Cycas revoluta) can grow a trunk that is over 20 ft. tall. These trunks can branch off and produce multiple heads with leaves. It is fairly drought tolerant and grows well in full sun or outdoor shade.
---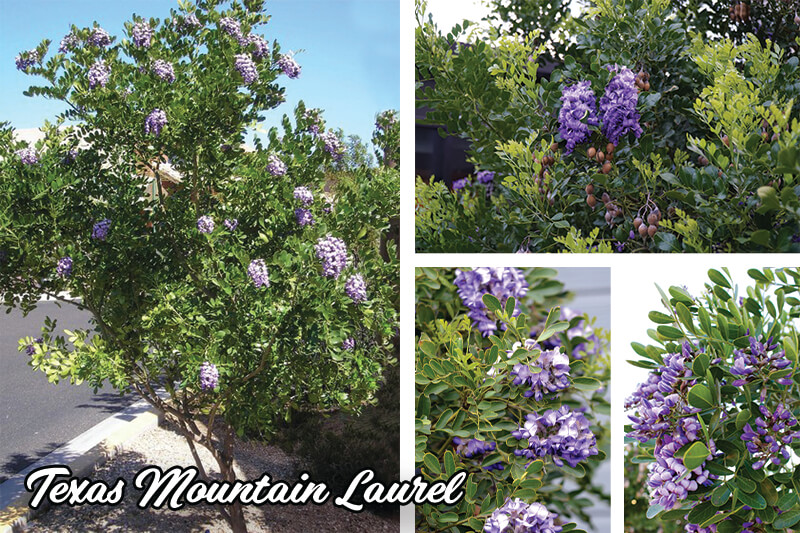 Texas Mountain Laurel
This desert native produces fragrant, violet-blue flowers that smell like grape bubble gum and grow in terminal clusters against a backdrop of shiny dark-green foliage. The flowers smell like grape bubble gum. The Texas Mountain Laurel (Sophora secundiflora) is a slow-growing evergreen has multiple stems and can be grown as a large shrub or small tree. Makes an wonderful espalier or patio tree. Thives in warm, sunny, arid environments. Available in 1, 5 and 15 gallon sizes, while supplies last.
---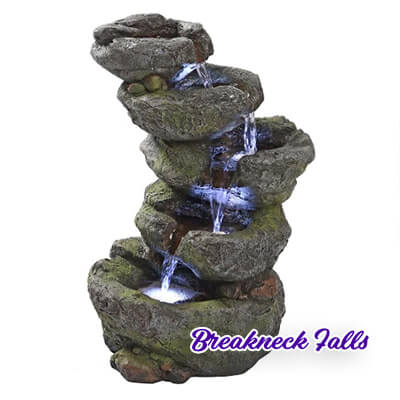 Lightweight Fountains
Perfect for your deck or patio, Design Toscano's affordable, quality, resin-casted fountains make a delightful addition to any garden. Relax in your garden, as you enjoy the soothing sound of trickling water...
Breakneck Falls Illuminated Garden Fountain
Tranquil cascading streams of water flow down four tiers of craggy weathered stones into four LED illuminated poosl. Hand-finished to replicate a natural stone waterfall. 11"W x 9"D x 17.5"H, 10 lbs.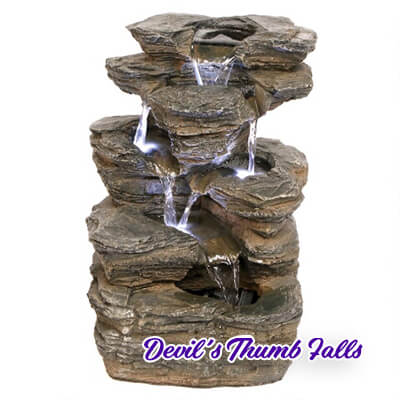 Devil's Thumb Falls Illuminated Garden Fountain
Hand-finished to replicate a natural stone waterfall with amazing detail. Six streams of water cascade down four tiers of a rocky canyon, where they are met by four LED illuminated pools. 13"W x 10"D x 17.5"H, 12 lbs.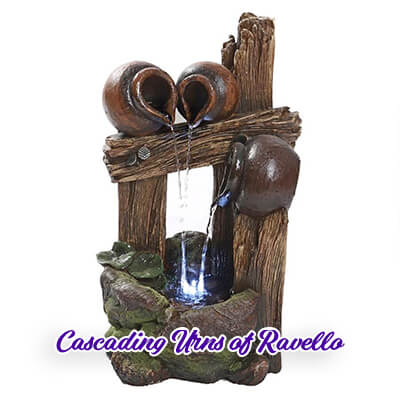 The Cascading Urns of Ravello Illuminated Garden Fountain
Inspired by the beautfiul and peaceful mountain retreat that is Ravello, Italy, this fountain boasts three aged urns cascading streams of water into an LED illuminated pool made of faux moss-covered stones. Hand-finished to replicate wood, stone and terracotta. 11"W x 9.5"D x 18"H, 10 lbs.
Willow Bend Illuminated Garden Fountain
Willow tree roots naturally seek water and are depicted as growing right into a rocky riverbed where streams of water cascade down five tiers of gnarled tree trunk into cool, LED illuminated pools. Hand-finished to replicate wood and mossy stone. 10.5"W x 10"D x 18"H, 9 lbs.
Stop by your local SummerWinds Nursery to explore our selection of fountains, flowers, grasses and other garden accessories.

At SummerWinds Nursery, We Guarantee Success!