Tomato & Pepper Plant Starts Arriving Now!
Stop by your local SummerWinds Nursery to explore our selection...
A Small Taste of our Many Tomato Varieties: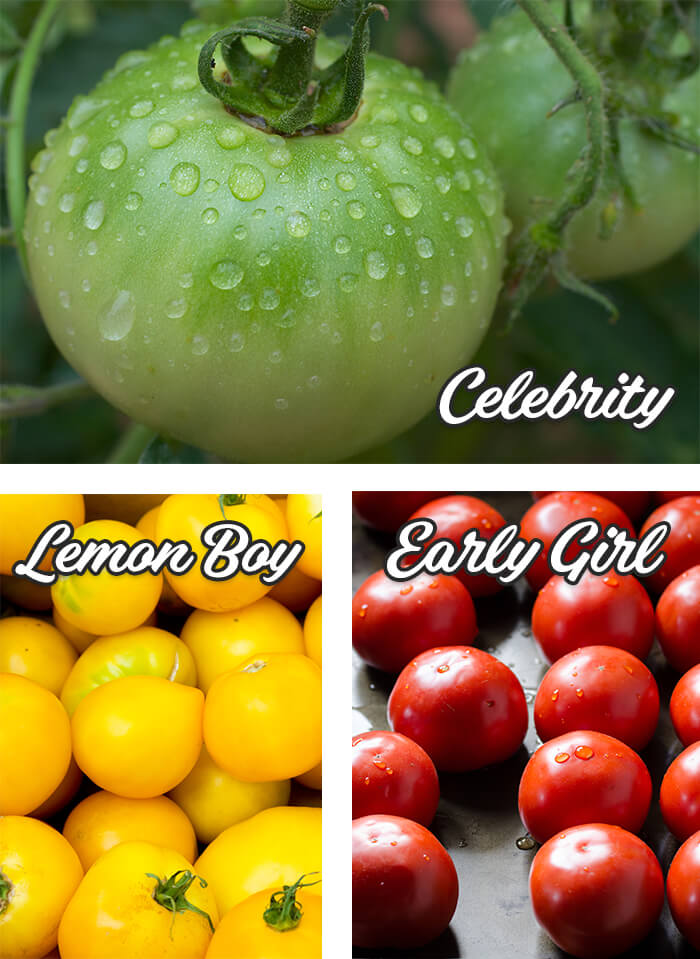 Celebrity – this flavorful plant is popular for its large fruit, disease resistance and classic flavor. Often used on sandwiches or sliced.
Champion – this compact plant produces extremely early in the season. Its large yield produces big, round and meaty fruit.
Early Girl – the most popular all-round early hybrid tomato is often sliced and served on a plate, in a salad or on a sandwich. Bears fruit early in the harvest and continues producing through summer.
Husky Red – great for container gardens, this high-yielding plant produces delicious, disease-resistant tomatoes.
Lemon Boy – this extremely disease resistant plant grows vigorously and has a mild flavor and bright lemon yellow skin.
Patio – designed to grow on patios, decks and in balcony containers. Produces relatively large fruits for a high-yield dwarf variety.
Roma – a popular, firm and slender plum tomato often used in canning and to make tomato paste.
Sweet 100 – these easy-to-grow, vitamin-rich cherry tomatoes grow well in containers or garden beds.
Selection varies by location; available while supplies last.
---
Numerous Sweet & Hot Pepper Varieties: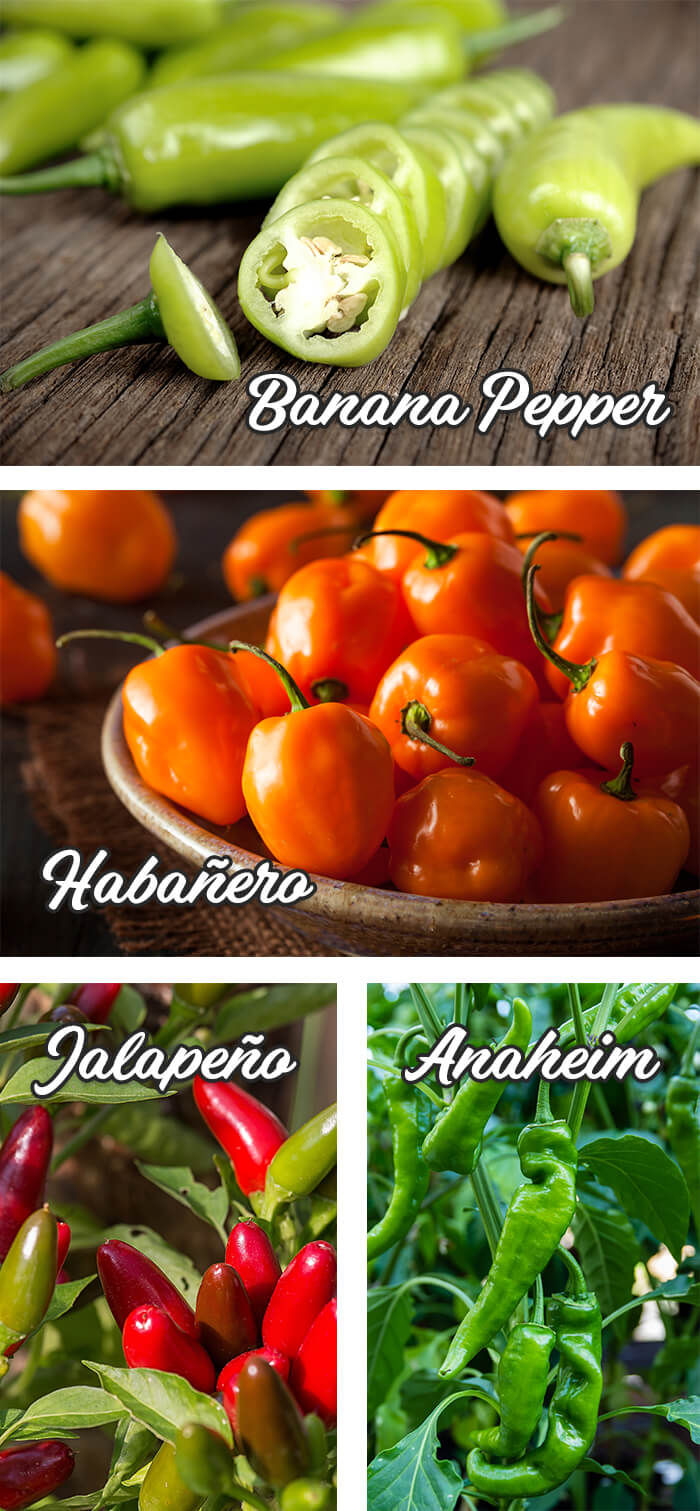 Anaheim Pepper – This versitle sweet chile has a glossy, semi-thick waxy skin. When eaten raw it is slightly peppery in flavor. When cooked (depending on preparation method), it's rich, sweet and tangy flavors emerge. Ranges from 500 to 2,500 SHU (Scoville heat units). Also known as a Hatch chile, green chile and red chile.
Ancho & Poblano Pepper – When this chile pepper is used green, it is known as a Poblano pepper and is the preferred pepper for making chile rellenos. When it is rippened to red and dried, it is called an Ancho pepper. The pepper has a thick wall and is midly hot with rich flavor. 1,000 - 2,000 SHU.
Banana Pepper – These hot mild, medium-sized chiles have a tangy taste and range from 0-500 SHU.
Baron Red Pepper – This sweet red bell pepper produces high yields of fleshy thick-walled fruits great for stuffing, roasting or eating fresh. 0 SHU.
Better Belle Pepper – This fast growing pepper is great for growing on a patio or deck. It is ready to harvest earlier than many other varities and is a favorite in salads and vegetable trays. It has a thick wall and matures from green to deep orange. 0 SHU.
Big Early Hibrid Pepper – This giant sweet peppers is among the earliest of its size. It's very sweet, bright red and thick walled. 0 SHU.
Bull Nose Pepper – This medium-large bell pepper is wonderful in salads or cooked. It ripens to red and has excellent flavor. 0 SHU.
California Wonder Pepper – This sweet heirloom bell pepper is excellent when stuffed. It is juicy, crunchy, flavorful and has a thick wall. 0 SHU.
Chocolate Habañero Pepper – This lantern-shaped chocolate-brown pepper is flaming hot, ranking at 300,000 SHU.
El Jefe Jalapeño – This hot chipolte jalapeño pepper has a thick wall and a small cavity and matures from dark green to red. 5,000 to 30,000 SHU.
Fresno Pepper – More heat, more smoke and more fruitiness (when red) than the average jalapeño. 2,500 - 10,000 SHU.
Golden Bell Pepper – These mildly sweet green or yellow bell pepper are delicious in stir-fries, salads, grilled, stuffed or roasted. 0 SHU.
Habañero Pepper – Most commonly grown in orange and red colors (green when unripe). Habañero peppers have a unique, citrus-like taste and is fabulous in sauces, rubs and powders. These very hot chiles range from 100,000-350,000 SHU.
Hungarian Wax Pepper – These medium heat peppers are akin to a Jalapeño but can have more than 4x the heat. Excellent for making chiles rellenos, on salads or pickled. Ranges from 1,000-15,000 SHU.
Jalapeño Pepper – These mild to moderate peppers are the most popular of the chile peppers. Usually picked when green, these peppers ripen into red peppers. Jalapeños have a wide variety of culinary uses and range from 2,500-8,000 SHU.
Lemon Drop Pepper – This golden-yellow pepper has both a citrus tang and a peppery spice. Excellent in spicier salsas and hot sauces. 15,000 - 30,000 SHU.
Numex Centennial Pepper – This colorful hot pepper grows upright and turns from purple, to yellow, to orange, to red when mature. Excellent in sauces, it has 1,000-5,000 SHU.
Orange Belle Pepper – This very sweet hybrid pepper ripesn to a stunning deep tangerine orange. It has thick walls and is excellent in salads, salsas or cooked. 0 SHU.
Pepperoncini – This mild pepper is a favorite in Italian cuisine. It is often enjoyed pickled and atop pizzas, sub sandwiches, salads and other Italian dishes. 100-500 SHU.
Purple Bell Pepper – Similar to traditional green and red bell peppers but with a striking purple color. This sweet bell pepper is excellent in vegetable trays, sandwiches, salads and more. 0 SHU.
Red Beauty Pepper – This sweet bell pepper turns from green to bright red when ripe. Delicious in salads, stuffings and more. 0 SHU.
Red Knight Pepper – This large hybrid bell pepper is excellent in stir-fries, stuffed, roasted and grilled. Can be enjoyed from very mild when green to almost sugary when red. 0 SHU.
Red Mushroom Pepper – This mushroom-shaped heirloom pepper ripens from green to red when mature. It is excellent when pickled or dried and ranks 30,000-50,000 SHU.
Santa Fe Grande Pepper – Also known as a Guero pepper, it ripens from yellow to orange-red. Excellent cooked or fresh in salads, salsas and more. Has mild heat and slight sweetness and rates 500-750 SHU.
Scotch Bonnet – Popular in Caribbean cuisine, this pepper has heat and a fruity tang. Distinguished from the habanero for it's overall sweetness and slight tang. 100,000-350,000 SHU.
Serrano Pepper – This small hot chili pepper is about three times as hot as a jalapeno. Can be harvested green or red, brown, orange or yellow (when ripe). Typically enjoyed raw for their bright, biting flavor. Excellent in pico de gallo and salsa. 10,000-23,000 SHU.
Snackabelle Red Pepper – This small sweet pepper has thick walls and can be enjoyed fresh whether green or red. Also excellent grilled or stuffed. Great for containers. 0 SHU.
Siracha Hybrid Pepper – This mildly hot dark-green chili pepper has thick walls and a flavor that is not overpowering. Excellent for slicing, roasting and pickling. 2,200 SHU
Yolo Wonder Pepper – This thick-skinned sweet bell pepper begins yellow, turns green and matures to bright red. Excellent baked, stuffed or eaten raw in salads. 0 SHU.
Selection varies by location; available while supplies last.
---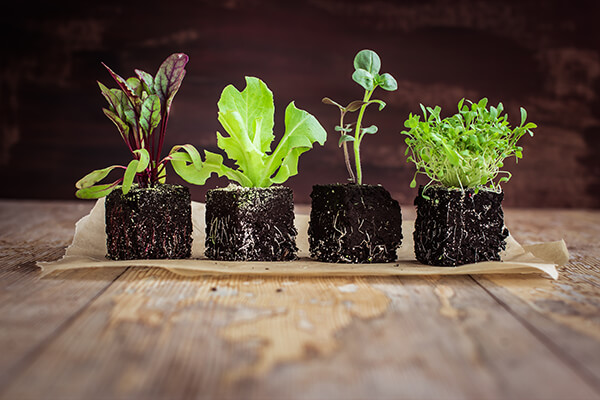 Prep your Soil to Enjoy the Tastiest of Fruits!
The soil you grow your plants in makes all the difference. Click on the button below to learn more about the soils, amendments and fertilizers we recommend for superior delicious fruits!