Give Your Garden a Boost with Companion Plants

Companion Plants Can Help with Flavor & Common Garden Concerns
Did you know that you can use companion plants to benefit your tasty garden. Companion plants assist with a wide variety of common garden desires, including: growing the most flavorful foods, attracting beneficial insects to your garden, weed prevention, and by acting as natural pesticides.

Here is a sample of some companion plants and how they can benefit your Tasty Garden:


Marigolds (yellow and orange flowers shown above left) - Planting marigolds can help deter unwanted insects. They are often planted near tomatoes, potatoes, strawberries—and even roses


Rosemary - Not only is rosemary a delicious addition to some of your favorite recipies, this beneficial culinary perennial herb helps stabilize soils and provides nutrients to soil life long after annual garden crops have been removed. In addition, the aroma from rosemary helps prevent pests, while the blooms simultaneously attract pollinators to your garden. It's drought resistant and heat and cold tolerant.

Society Garlic (light purple flowes shown above left) - The leaves from this South African native are often used as a mild culinary replacement for more traditional, pungent garlic. However, this fast-growing annual blooms ornamental spherical clusters of star-shaped, lavender-pink flowers atop 12-inch tall, narrow leaves with a garlicy odor and a clump-forming habit. In the garden, society garlic is said to help deter snakes and moles and repel deer. Crushed leaves can also be rubbed onto the skin to repel fleas, ticks and mosquitoes. These edible flowers make a colorful and flavorful addition to salads and attract beneficial pollinators to your garden. We do not recommend planting it near beans or peas (same goes for planting beans near onions, parsley or mint and all will influence the flavor or your beans).


Sweet Allysum (purple flowers shown above center) - Lobularia maritima, Sweet Allysum, is a low-growing plant with small, generally white, flowers that give off a pleasant scent while behaving like a living mulch in your garden (its shallow roots help hold the soil in place). Its roots can also be left in the garden at the end of the season for soil enrichment. Sweet allysum also attracts butterflies to your garden during its long blooming period.

Important Note: the strong citrus-like aroma repels bees, so be certain to plant it far from plants that may rely on bees for pollination.


Green Feverfew (white flowers with yellow centers shown above right) - Tanacetum parthenium, Green Feverfew, is a cold-hardy evergreen perennial that is a natural insect repellant that deters mosquitoes and other flying, biting insects. It's great for planting near seating areas, pathways, windows and doors—for maximum benefit, plant in conjunction with lavender.

---

Edible Flowers as Companion Plants
Edible flowers make ideal companion plants! They attract pollinators and predator bugs, look beautiful and deter pests. While not all flowers are edible, you may be suprised to learn how many are edible. Many herbs provide edible flowers, such as lavender, thyme, dill, cilantro, chives and basil.
Important Note: be certain to thoroughly research any "edible flower" before you eat it. Some varieties look similar to others but may not be edible (and may be poisonous). In addition, there may be only certain parts that are edible, while other parts should be avoided (in some cases this includes a plant's anthers, berries, etc.). Make sure you take every precaution to ensure you are eating a flower variety that is edible and that you understand which part/s of the flower are okay to eat. It is also important to research to ensure it will not adversly interact with any medication you may be on. If you are (or will be growing) edible flowers in your garden, be certain to plan accordingly so that you only use pesticides and chemicals that are approved for use with edible plants.
Below is a list of edible flowers:
Begonias (tuberous and wax) - shown immediately above as 'a'
Lilac (Syringa vulgaris)
Calendula/Marigolds (Calendula officinalis) - yellow and orange flowers shown at very top of page, left
Linden (Tilla spp.)
Carnations (Dianthus caryophyllus – aka Dianthus)
Marigold (Tagetes tenuifolia – aka T. signata)
Chrysanthemums (Chrysanthemum coronarium)
Nasturtiums (Tropaeolum majus) - orange and yellow flowers shown immediately above in 'b'
Clover (Trifolium species)
Pansy (Viola X wittrockiana)
Cornflower (Centaurea cynaus - aka Bachelor's Button) - purple flowers shown immediately above in 'b'
Peony (Paeonia lactiflora) - pink flower shown at very top of page, left
Dame's rocket/violet (Hesperis matronalis)
Phlox, Perrennial Phlox (Phlox paniculata)
Dandelions (Taraxacum officinalis)
Pineapple Guave (Feijoa sellowians)
Day Lilies (Hemerocallis species)
Primrose (Primula vulgaris) - shown immediately above as 'c'
English Daisy (Bellis perennis) - shown immediately above as 'd'
Queen Anne's Lace (Daucus carota)
Fuchsia (Fuchsia X hybrida)
Roses (Rosa rugosa or R. gallica officinalis)
Garden Sorrel (Rumex acetosa)
Snap Dragon (Antirrhinum majus) - shown immediately above as 'e'
Gladiolus (Gladiolus spp)
Squash blossoms
Hibiscus (Hibiscus rosa-sinensis)
Sunflower (Helianthus annus)
Hollyhock (Alcea rosea)
Sweet Woodruff (Galium odoratum)
Honeysuckle (Lonicera japonica)
Tulip Petals (Tulipa)
Impatiens (Impatiens wallerana)
Violets (Viola species)
Johnny-Jump-Ups (Viola tricolor)
Yucca Petals (Yucca species) - large all white petals shown at very top of page, left
Edible Flower Do's & Don'ts: For addtional details, and do's and don'ts about the above varieties, refer to our source article from "What's Cooking America.net.
---
Want to learn more about Companion Planting?
Click the link below to dig deeper into this beneficial garden practice.
---
Healthy Soil Can Make All the Difference
Want to grow the most flavorful vegetables, fruits and herbs?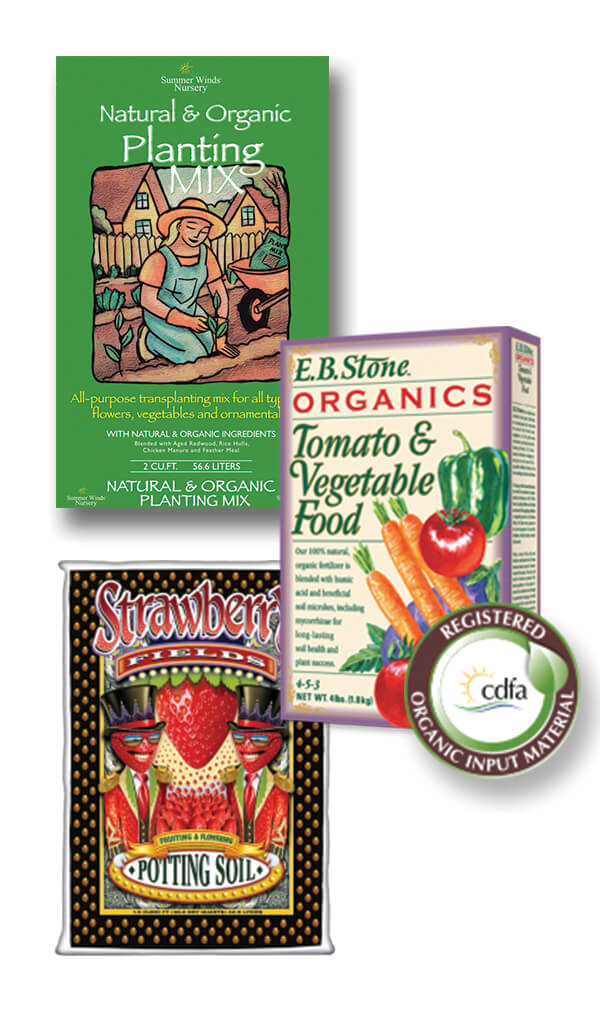 Growing delicious edibles begins with your soil. At SummerWinds Nursery, we have a wide range of helpful soils, amendments and fertilizers to assist you in growing the Tasty Garden you've always wanted! Below are just a few of our recommendations.
SummerWinds Natural & Organic Planting Mix (developed with E.B. Stone Organics): Ideal for all types of flowers, vegetables and ornamentals, including annuals, perennials, ground covers, shrubs, fruit and shade trees. For best results, pair with E.B. Stone Organics Sure Start fertilizer.


E.B. Stone Organics Tomato & Vegetable Food 4-5-5: Can be used throughout your vegetable garden, in addition to being used with soft fruits (such as strawberries) to produce high-quality fruits and vegetables. Registered cdfa.


Strawberry Fields™ Potting Soil (by FoxFarm): Specially formulated to encourage vigorous fruiting and flowering characteristics in your plants. This includes herbaceous species, berries, melons and heavy bloomers. Strawberry fields contains generous amounts of coco, peat moss, aged forest products, perlite, beneficial microbes and premium select fertilizers to pump up your blooms, fruits and berries.

To learn more, stop by your local SummerWinds Nursery today and speak with one of our Trusted Garden Advisors.