Fruit Trees Available Now
New selection of fruit trees available around mid-January to February of each new year and are available while supplies last. Selection varies by store.
We select only the best bareroot fruit tree varieties from Dave Wilson Nursery. And to ensure your success in planting, growing and ultimately harvesting fruit from your bareroot fruit tree, we first trim away any damaged branches ourselves, pot them, in-store, using the best planting mix and the right amount of fertilizer—all to give your fruit tree every advantage prior to you planting it. The pots we use are biodegradable, so that all you have to do is poke a few holes in the pot at planting time and plant it directly in the ground.
4 Types of Fruit Trees:
Choose the right tree for your backyard orchard.
Please note, that some varieties may only be available at select locations. .
Fruit Tree Essentials
1. Fruit Salad Tree
This is by far our most popular variety and this year we made sure to bring in a huge selection. This incredible tree produces FIVE different fruits on ONE Tree.

Peaches, Apricots, Nectarines and Plums
Gold Dust Peach - Best early season yellow peach: very high scores for flavor and overall appeal in Dave Wilson Nursery blind taste tests. Semi-freestone ripens mid to late June in Central California, 2-3 weeks ahead of Redhaven. All purpose, superb for eating fresh. Not an early bloomer.
Independence Nectarines - Bright red skin, firm yellow freestone. Rich flavor, tangy and sweet, one of the best. Consistently very high-scoring in taste tests. Winter and frost hardy, very reliable producer.
July Elberta Peach - Also called Early Elberta. Reliable heavy crops. Juicy, sweet, very flavorful yellow freestone fruit for canning, freezing, or fresh use.
Late Santa Rosa Plum - Medium to large, reddish-purple skin, red-streaked amber flesh. Tart-sweet with rich flavor when fully ripe. Harvest about one month after Santa Rosa.
Blenheim Apricot - All-purpose freestone. Sweet, aromatic, flavorful - the long-time No. 1 apricot in California. Early bloom. Chilling requirement 400 hours or less.
---
2. Multi-Grafted Trees
These fruit trees will grow different varieties of the same fruit on a single tree.
Multi-Bud Apple Tree
Braeburn - New, from New Zealand. Superb late season fruit: very crisp and tangy, more flavorful than Granny Smith. Excellent keeper. Green with dark red blush.
Fuji - Introduction from Japan that quickly became California's favorite apple. Sweet, very crisp and flavorful, excellent keeper. Dull reddish orange skin, sometimes russeted. Excellent pollenizer for other apple varieties. Proven producer in So. Calif. low chill climates.
Gala - Wonderful dessert apple from New Zealand. Crisp, nice blend of sweetness and tartness, rich flavor. Skin reddish orange over yellow. Early harvest. Good pollenizer for other varieties. Adapted to cold- and warm-winter climates. Chilling requirement less than 500 hours.
Golden Delicious - Sweet, crisp, superb flavor, even in hot climates. Greenish-yellow with red blush to full red. Dessert/cook, good keeper. 8-10 ft. tree, smaller with pruning.
Gravenstein - Famous for sauce and baking, also used fresh. Crisp, juicy, flavorful and tart. Early bloom, early harvest. Not a pollenizer for other varieties.
Red Delicious - Sweet, crisp, flavorful - perhaps the best Red Delicious. Small, compact tree. Good pollenizer for most other apples.
Multi-Bud Cherry Tree
Black Tartarian - Huge cherries that are bursting with flavor! These juicy cherries are perfect for snacking and baking.
Bing Cherries - Large and heart-shaped with a firm, meaty, purplish-red flesh and a semi-free stone that is easily removed—making them ideal for fresh eating and preserves.
Lapins Cherry - Delicious dark fruit nearly one inch in diameter and has purplish red flesh that is firm and sweet.
Van Cherries - Often compared to the Bing cherry, Van cherries are the most widely planted varietal, but is even sweeter, juicier, crunchier and more flavorful.
Multi-Bud Asian Pear Tree
Hosui - Consistently rated the best-tasting Asian pear at Dave Wilson Nursery fruit tastings. Large, juicy, sweet, flavorful, refreshing, crisp like an apple. Brownish-orange russeted skin.
Shinseiki - Juicy, sweet, refreshing, crisp like an apple. Easy to grow. Keeps well. Bright yellow skin. Vigorous, heavy bearing (usually by 2nd year).
20th Century - Juicy, sweet, mild flavored fruit is crisp like an apple. Keeps well. Easy to grow, heavy bearing small tree.
Chojuro - Russeted golden brown skin. Crisp like an apple when ripe. pear.
Multi-Bud Pluot Tree
Flavor King - Taste test winner. Unique plum-apricot hybrid with sensational bouquet and sweet, spicy flavor. Reddish-purple skin, crimson flesh. Naturally small tree. It's an interspecific plum, includes plum and apricot in its parentage.
Flavor Queen - Exquisite plum/apricot hybrid with candy-like sweet, wonderfully pleasing flavor. Greenish-yellow skin, amber-orange flesh.
Dapple Dandy - Taste test winner. Ranks with Flavor King Pluot® among the all-time top five best flavored fruits. Creamy white and red fleshed freestone with wonderful plum-apricot flavor. Skin greenish-yellow with red spots, turning to a maroon and yellow dapple.
Flavor Supreme - Taste test winner. Plum/apricot hybrid with sweet, richly flavored, firm red flesh. Greenish-maroon mottled skin.
Multi-Bud Pear Tree
Comice - The famous gift pack pear. Sweet, aromatic, fine texture, superb flavor and quality - one of the best. Short neck, greenish-yellow skin with red blush.
Bartlett - World's most popular pear. High quality, tolerates hot summers. Self-fruitful in most climates of Western U.S.
Bosc - Long and narrow shape, brown skin. Superb quality, one of the best. Use fresh or cooked. Susceptible to fire blight in warm, moist climates.
D'Anjou - Large, short necked, firm, good quality, keeps well.
Red D'Anjou - Large, short necked, firm. Stores well, excellent quality and smooth texture. Ripens with D'Anjou around September 1st. Strong full red color is very even, unlike Red Bartlett which has a blushed color. 800 hours pollenized by Bartlett.
Flemish Beauty - Fruits are large with a rounded shape and have creamy-yellow skin blushed with red.
---
3. Semi-Dwarf Tree
Smaller size makes this tree well suited for gardening in smaller spaces and offers one variety of the tastiest fruit around. Select from apples, apricots, apriums, pears, cherries, nectarines, peaches and plums.
Apple:

Fuji Apple Tree
Introduction from Japan that quickly became California's favorite apple. Sweet, very crisp and flavorful, excellent keeper. Dull reddish orange skin, sometimes russeted. Ripe mid-September. Excellent pollenizer for other apple varieties. Low chilling requirement - less than 500 hours. Self-fruitful. USDA Zones 6-9.
Honeycrisp Apple Tree
Winter hardy tree from the University of Minnesota. Fruit is crisp and juicy with an aromatic flavor. Striped red over yellow color. Stores well. Ripens mid-August. Pollenized by Gala, Granny Smith, Empire, McIntosh and Red Delicious. USDA Zones 3-8.
Pink Lady® Apple Tree
Hot climate apple from Western Australia. Very crisp, sweet tart, distinct flavor, good keeper. Skin reddish pink over green when ripe. White flesh resists browning. Harvest begins late October in Central CA, about three weeks after Fuji. Self-fruitful. 300-400 hours. USDA Zones 6-9.

---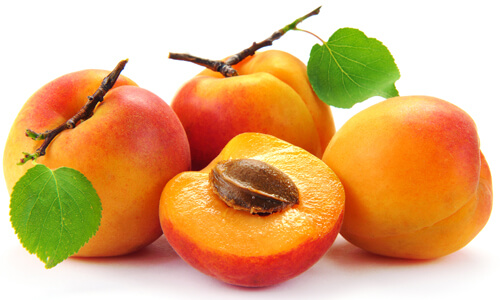 Apricots:

Blenheim (Royal) Apricot Tree
All-purpose freestone. Sweet, aromatic, flavorful - the long-time No. 1 apricot in California. Early bloom. Late June harvest in Central CA. 400 hours or less. Self-fruitful. USDA Zones 7-8.
Hunza Apricot TreeNative to northwest Pakistan, the fruit is sweet and flavorful. Very cold hardy.

---
Jujube:

Lang Jujube Tree
Pear-shaped fruits are reddish-brown, dry, wrinkled,sweet and chewy (like dates) when fully ripe in early Fall. Attractive, easy to grow tree: hardy, drought resistant, virtually pest and disease free.
Li Jujube Tree
Round shaped fruits are larger than Lang. Reddish brown, dry and wrinkled, sweet and chewy (like dates) when fully ripe in early Fall. Attractive, easy to grow tree: hardy, drought resistant, virtually pest and disease free. Requires long, hot summer. Very low chilling requirement. Self-fruitful. USDA Zones 5-10.
Sugar Cane Jujube Tree
Round fruit is smaller than Li. Sweet, crunchy flesh. Tree is precocious, hardy, drought resistant, virtually pest and disease free. Requires long, hot summer. Very low chill requirement. Partly self-fruitful.

---
Cherries:

Royal Rainier Cherry
These large yellow cherries are slightly more red blush than the traditional Rainier cherries. Excellent flavor and a taste test winner. Blooms late midseason and harvest early midseason. Harvest dates are approximately between May 18 to June 4.
Montmorency Sour Cherry
Typically heavy bearing, this cherry is larger for a sour cherry. It has light red skin, yellow flesh and is excellent for pies, tarts, other baked goods and preserves.
Black Tartarian
Huge cherries that are bursting with flavor! These juicy cherries are perfect for snacking and baking.
Bing Cherries
Large and heart-shaped with a firm, meaty, purplish-red flesh and a semi-free stone that is easily removed—making them ideal for fresh eating and preserves.
Lapins Cherry
Delicious dark fruit nearly one inch in diameter and has purplish red flesh that is firm and sweet.

---

Mulberry Trees:

Pakistan Fruiting Mulberry Tree
Morus alba 'Pakistan' Long (3 inches), firm, red to black, sweet fruit. Non-staining juice. Month-long early summer harvest. Fruit used fresh and for pies, jams and jellies. Large, vigorous, disease-resistant tree.
Persian Fruiting Mulberry Tree
Morus nigra 'Persian' Densely foliated tree to 25-30 ft. Large heart-shaped leaves. Large fruit is juicy, dark red to black and good for jam. USDA Zones 7-9.

---

Nectarines:

NEW

Arctic Sprite Miniature White Nectarine
The perfect complement to the early, super-sweet Arctic Babe. Arctic Sprite yields a white-fleshed, freestone fruit with delightfully tangy-sweet flavor, ripening in late midseason. Spectacular spring bloom. Small, naturally dwarfed tree is very easy to thin and harvest, and easy to cover to protect from spring frost.
Double Delight Nectarine Tree
Sensational fruit: consistently the best flavored yellow nectarine plus magnificent, double pink flowers. Dark red-skinned, freestone fruit is sweet, with unusually rich flavor. Very high scoring in taste tests. Heavy bearing tree.
Fantasia Nectarine Tree
Popular, large yellow freestone. Early harvest fruit is firm ripe and tangy, later harvest is sweet with rich flavor: high scoring in taste tests. Late July/early August in Central CA. 500 hours or less. Self-fruitful.
Necta Zee Miniature Nectarine Tree
Sweet, very flavorful yellow freestone, beautiful red skin. Mid-June to early July in central CA. Strong, vigorous tree to 6 ft. Best self-fruitful miniature nectarine. 400 hours or less. Self-fruitful.
Snow Queen White Nectarine Tree
Taste test winner. Sweet, juicy, early season white freestone. Late June harvest in Central CA, 2-3 weeks ahead of Babcock peach. Long-time favorite in So. Calif. Low chilling requirement, 250-300 hours. Self-fruitful.

---

Peaches:

NEW

Snow Babe Miniature White Peach
The first Zaiger miniature white peach! Doubly unique for its peach-plum ancestry. Smoothly sweet, flavorful mid-season white-fleshed freestone with a pleasing, plummy after taste. Spectacular spring bloom. Self-fruitful. Small, naturally dwarfed tree is very easy to thin and harvest, easy to cover to protect from spring frost.
Babcock White Peach Tree
Long-time favorite white-fleshed freestone. Sweet and juicy, aromatic, low in acid. High scoring in taste tests. Ripens mid-July in Central CA.
Honey Babe Miniature Peach Tree
Sweet, yellow freestone, rich peach flavor. Heavy bearing 5 ft. tree. Early to mid-July in Central California. Excellent choice for home orchard. 400 hours or less. Partly self-fruitful, sometimes shy-bearing without a pollenizer.
July (Kim) Elberta Peach Tree
Reliable heavy crops. Juicy, sweet, very flavorful yellow freestone fruit for canning, freezing, or fresh use. 400-500 hours. Self-fruitful.
Sauzee Swirl White Peach Tree
For white peach lovers! Sauzee Swirl is a new saucer ("donut") style peach from Zaiger Genetics. Beautiful white flesh with red marbling and a flavor that keeps you wanting more.

---

Pears:

20th Century Asian Pear
Juicy, sweet, mild flavored fruit is crisp like an apple. Early to mid-August in Central CA. Keeps well. Easy to grow, heavy bearing small tree. 300-400 hours. Self-fruitful or pollenized. by Shinseiki, Bartlett, or other.
Shinseiki Asian Pear Tree
Juicy, sweet, refreshing, crisp like an apple. Easy to grow. Keeps well. Harvest late July/early August in Central CA. Bright yellow skin. Vigorous, heavy bearing (usually by 2nd year). 250-300 hours. Self-fruitful.
Bartlett Pear Tree
World's most popular pear. Early midseason, high quality, tolerates hot summers. 500-600 hours. Self-fruitful in most climates of Western U.S. Elsewhere, pollenized by Bosc, D'Anjou, Winter Nelis.

---

Persimmons Tree:

Fuyu (Jiro) Persimmon
Medium size, flat shape, still crunchy when ripe, non-astringent. Cool or hot climate. Hardy, attractive tree, practically pest free. Fall harvest. 200 hours. Self-fruitful.

---

Plums:

Burgundy Plum Tree
Maroon colored skin and semi-freestone flesh. Sweet, with little or no tartness and a very pleasing, mild flavor. High taste test scores. Prolonged harvest, mid-July to mid-August in Central CA.
Flavor King Pluot® Interspecific Plum
Taste test winner. Unique plum-apricot hybrid with sensational bouquet and sweet, spicy flavor. Reddish-purple skin, crimson flesh. Harvest mid-August in Central CA. Naturally small tree.
Santa Rosa Plum
Most popular plum in California & Arizona. Juicy, tangy and flavorful. Reddish purple skin, amber flesh tinged red. Late June in Central CA. 300 hours. Self-fruitful.

---

Prunes:

French Improved Prune
California's commercial prune. Reddish purple skin,dark amber flesh. Very sweet, high quality fruit dessert/can/dry.
Italian Prune
Large, purple skin, freestone. Rich flavor, very sweet when fully ripe. Fresh/dried/canned. Vigorous, cold hardy tree. Late bloom. Late summer harvest. 800 hours. Self-fruiting.

---

4. Ultra Dwarf Fruit Tree - Coming Soon!

It's not uncommon for today's home gardener to have a confined or smaller space to work within. Many of us are even limited to a balcony or patio space to grow our favorite fruits and veggies, eliminating the idea of growing a fruit tree. The ability to grow an Ultra Dwarf Fruit Tree is now an option. Reaching anywhere from 5' to 8' tall, these small trees produce abundant, standard-sized fruits that taste far better than anything you can purchase at your local grocery store.

Our Ultra Dwarf Selection Includes:



NEW

Ambrosia Apple - Unlike any other apple it has a sweet, honeyed flavor. And a few other unique qualities:

A naturally low acid content slows browning from happening once it is cut (use lemon juice to slow this in other apple varieties)
Fussy eaters, no need to peel this apple because the skin is not as thick or waxy
Cut sugar measurements up to half when baking or cooking because of the unique flavor"




Fuji Apple Tree - produces firm, crunchy, juicy and slightly acidic fruit. Excellent flavor and outstanding shelf life. Self-fertile. Prefers sun to part shade and very well-drained, moist soil. Ripens in September.




Blenheim Apricot Tree - produces medium-sized, deep yellow, oval fruit that is sweet firm and of excellent quality. Mnay homemakers leave the pit in when canning this variety. Can be used as a pollinizer. Self-fertile. Prefers sun to part shade and very well-drained soil. Ripens late May through mid-June.




20th Century Asian Pear - produces fruit that combines the flavor and sweetness of a pear with the crispness and quality of an apple. Best when tree ripened. Often called "salad-pears". Self-fertile - but does better with barlett. Ripens in mid-August. Prefers sun to part shade.





Weeping Santa Rosa Plum - one of the most flavorful, aromatic plums when fully ripe. Of all my fruit trees, this one stands out from the rest not only because of its stately manner but for its beautiful weeping structure. In full bloom, the tree looks like it's covered in a soft blanket of pure white snow.





Bing Sweet Cherry - excellent variety has dark burgundy-red skin when ripe. Fruit it firm and sweet. Ripens in late June. Self-fertile. Prefers sun to part shade.






Nectarine Snow Queen - this self-fertile, low-chill white Nectarine has the most satisfying, sweet flavor of any variety to date! Attractive pink spring flowers produce firm, red-tinged fruit with sweet white flesh. Dark green foliage has wonderful fall color.





Early Elberta Peach - After a showy spring display of fragrant pink flowers, this improved variety produces delicious freestone peaches, two weeks earlier than its parent, Elberta. One of the few yellow peaches with excellent flavor that ripens well when picked slightly green.





HoneyCrisp Apple - Charming pinkish-white flowers provide a showy spring display, then produce large, showy red fruit with exceptional flavor and crispness. Great for fresh eating, cooking or pressing for cider. Stores well in cool conditions.

---

Planting Your Fruit Tree Pruning Your Fruit Tree Small Fruits

---

The Essentials




Liqui-Cop Copper Fungicidal Garden Spray

Contols many diseases attacking citrus, fruits, nuts, vegetables and ornamentals.

---

SummerWinds Planting Mix

All-purpose planting mix for flowers, trees, vegetables and ornamentals.

---

Liquid Copper Fungicide

Controls powdery mildew, black spot, downy mildew, early blight and other plant diseases on roses and on fruits and vegetables.

Bonide - Ready to Spray
16 oz.

---

Sure Start Fertilizer

A starter fertilizer for use at planting time. This 100% natural, organic fertilizer is blended with humic acid and beneficial soil microbes, including mycorrhizae for long-lasting soil health and plant success.

E.B. Stone Organics
4 lb.

Citrus & Fruit Tree Food

For long term care of your fruit tree, we recommend E.B. Stone's Citrus and Fruit Tree Food.

E.B. Stone Organics
4 lb.
100% Natural and Organic Fertilizer
Long Lasting & Non Burning Formula
Feed every 6-8 weeks during the growing season

It is formulated to encourage new growth, lush green foliage and to support bountiful crops. It is blended with humic acid and beneficial soil microbes including mycorrhizae. Itis blended with humic acid and beneficial soil microbes including mycorrhizae. NPK: 7-3-3 Derived from: Blood Meal, Dried Chicken Manure, Bat Guano, Alfalfa Meal, Kelp Meal, Potassium Sulfate, Humic Acid, and soil microbes including mychorrhizal fungi.

---