Selection may vary by location and like all of our plants are only seasonally available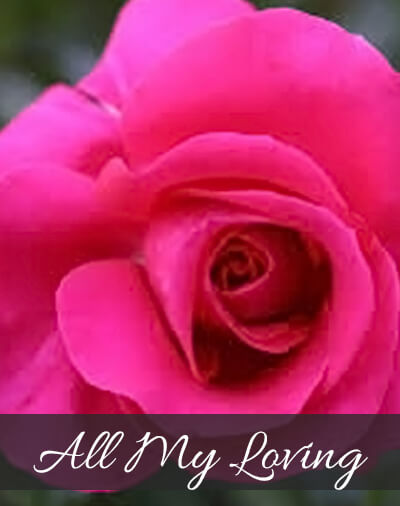 All My Loving
Hybrid Tea - When you see the name "All My Loving", does that make you think of the famous song by The Beatles? Well, that would be a step in the right geographical direction as this lovely rose was created in England by the talented breeder Gareth Fryer. The long cutting stems are great for bouquets and the plant's excellent vigor guaranties a profuse flower production. The shapely flower buds are held right on top of the plant for a great show and enjoyment. All My Loving is a true Hybrid Tea with one large flower per stem. Whether you live in a colder rainy area of the country or the sunshine state of California, the color will stay true until the petals drop and the plant will reward you with large clean leaves.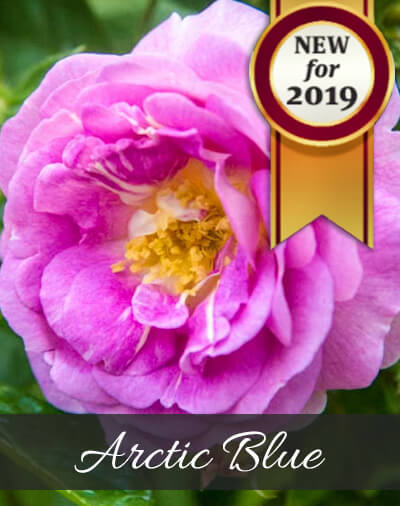 Arctic Blue - New for 2019
Floribunda - The cold arctic breeze is coming to your garden carrying with it tons of lilac pink blossoms of the Arctic Blue rose. The cool tones are chilled by the unique lavender blue finish and iced with a cream color on the reverse of the petals, refreshing for a hot summer day. The very shapely flower buds open slowly, as if they were frozen in time at their most beautiful stage for longer enjoyment; the blooms are attractive to the very end when the opened flowers let go of their petals, showering the ground in iced lavender blue snow. Don't expect spring to come too quickly as the vigorous plant is dressed with glossy green winter jacket leaves, isolating and protectingthe upright bush from mother nature's diseases, allowing the plant to produce a nonstop snow storm of flowers.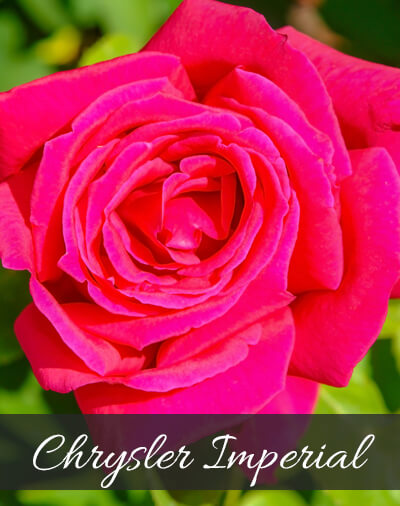 Chrysler Imperial
Hybrid Tea - A landmark rose that still hypnotizes people with a powerful rich rose fragrance and velvety red petals. The large full shapely flowers are proudly held atop straight stems clothed with dark matte-green leaves. Vigorous and at its happiest in hot temperatures.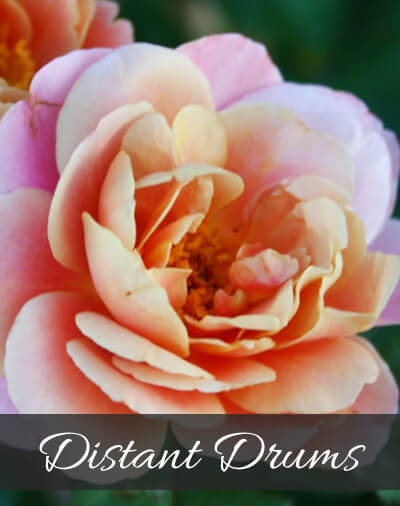 Distant Drums
Floribunda - Stop, look and listen up! Here's a striking color amongst the hardy roses released by the late Dr. Griffith Buck. Distant Drums grows much like a Floribunda in habit, drumming out clusters of pointed brunette buds that swirl open to reveal ruffles washed with orchid pink. All this set to music against dark green foliage makes for a toe-tapping commotion in the landscape.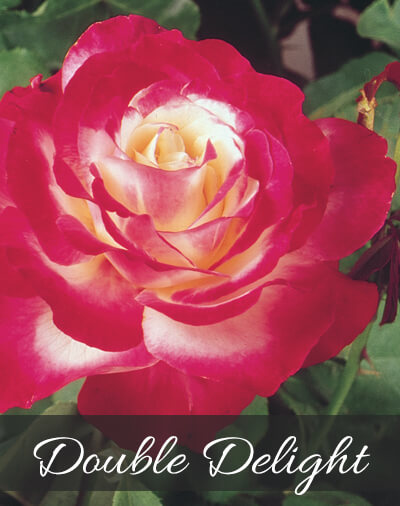 Double Delight
Hybrid Tea - Fragrant — One of the most popular varieties of the last 30 years. Double Delight fulfills the two highest demands of a rose—an eye-catching color combo and fantastic nose-pleasing fragrance. The prolific bush provides lots of creamy pointed buds that blush red with the rays of the sun. Deep green leaves.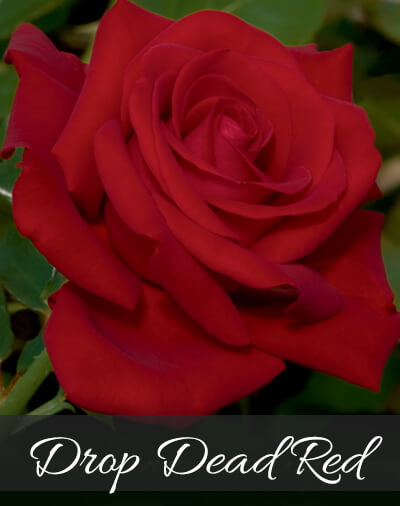 Drop Dead Red
Floribunda - This rose has glossy foliage, great flower power, bushy habit and disease resistance with even brighter green foliage and a delectable peachy golden yellow color that holds to the very end. Consistent in every climate. Great in mass plantings. Moderate fruity fragrance.
Available in 24" Patio Tree Rose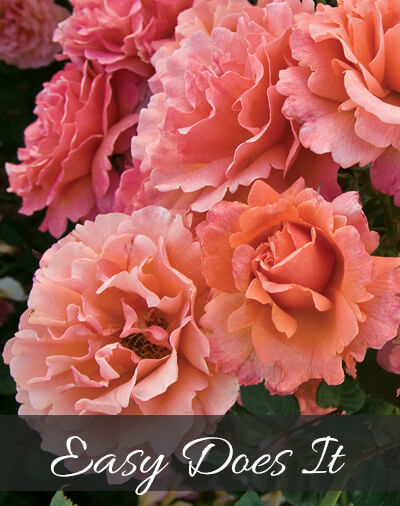 Easy Does It
Floribunda - Delectable colors of mango orange, peach-pink & ripe apricot bounce off the mirrored glossy green leaves, providing a flamboyant fruit salad for the landscape. Her free-flowing swirling shades of sunset show up in fragrant large colorful clusters atop a rounded bushy plant. A disease resistant, vigorous, flowerful & fabulous seductress of the garden.
Available in 24" Patio Tree Rose and 36" Standard Tree Rose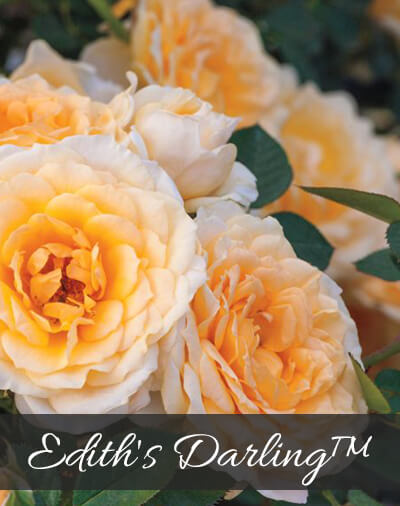 Edith's Darling™
Shrub - Edith's Darling, the new addition to the popular series of roses inspired by Downton Abbey characters, is a fitting tribute to Lady Edith and her beloved daughter Marigold. The joy Edith finds in her daughter is what you will feel when you're growing this true old-fashioned soft apricot-gold gem of a flower. Although diminutive in size, with a short, compact & bushy habit, rest assured that Edith's Darling is perfect to fill a border or confined spot in the landscape with a great flowering show of full-sized blooms with long lasting coloration. This darling of a rose exudes a strong fresh cut apple and fruity perfume that evokes Edith's unconditional motherly love. Now use your clippers to bring some blooms into the house to create a warm and fragrant ambiance around the dining table!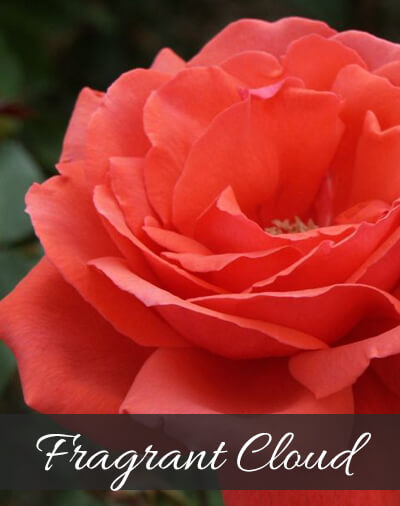 Fragrant Cloud
Hybrid Tea - It's hard to find words to describe the heady delicious perfume that effuses from this captivating well-formed coral-range—sometimes clove, often spicy, definitely sweet and mostly rose. Lots of large shapely blooms are produced on a vigorous bushy plant with dark glossy green foliage.
Gingersnap
Floribunda - It just takes one bloom to open for the dazzling orange tones of the tough ruffled flowers to snap your eyes to attention. The rounded bushy plant flowers readily. Dark green foliage. Brightest color in cool conditions.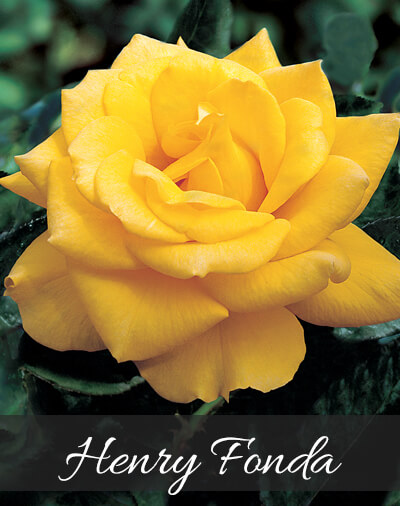 Henry Fonda
Hybrid Tea - Immensely popular, Henry Fonda boasts beautiful distinctly deep yellow blossoms surrounded by deep green and clean foliage. This rose shows remarkable vigor and disease resistance all season.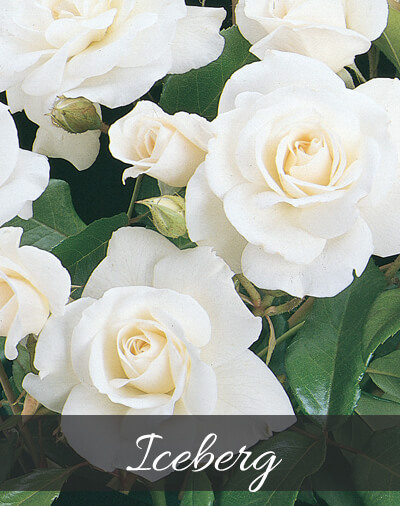 Iceberg
Floribunda - Of the top ten roses of the world and the best landscape white around, Iceberg is extremely disease resistant, vigorous and floriferous. The long pointed buds and crisp white flowers are borne in great profusion with the least of care. The bushy rounded plant is robed in dark green foliage. Great for hedges. Hardy & floriferous. Best in mass planting.
Available in 24" Patio Tree Rose and 36" Standard Tree Rose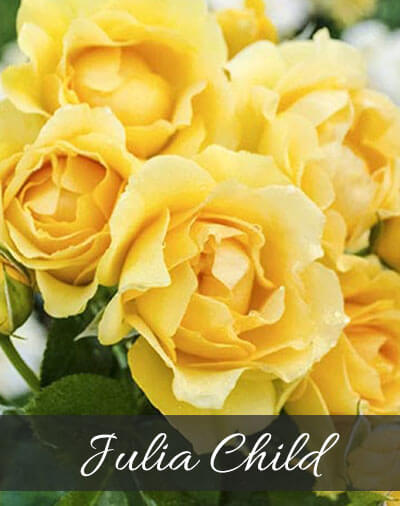 Julia Child
Floribunda - Just before our wonderful American icon left us, she selected this exceptional rose to bear her name. Julia loved the even butter gold color & the licorice candy fragrance. The perfectly rounded habit, super glossy leaves & great disease resistance finish off the dish. Consistent, hardy and floriferous in all climates. Very disease resistant.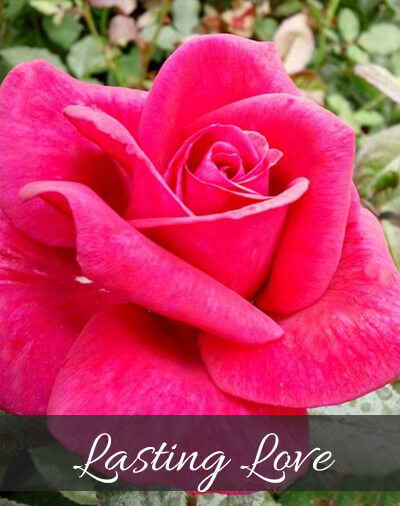 Lasting Love
Hybrid Tea — It's been a while since a heavenly fragrant red HT has come 'round. Lasting Love is not the bright red of Olympiad, but the powerful perfume will give Mister Lincoln a run for his money. Big showy blooms of blended dusky red and dark pink glimmer against foliage so gloriously glossy it almost looks artificial. Burgundy red new growth makes a most handsome plant for all to enjoy. More red in milder temperatures.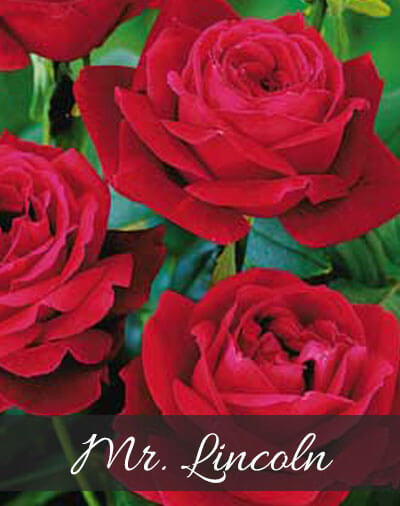 Mister Lincoln
Hybrid Tea — Fragrant — A historic American milestone in red roses that's still hard to beat. The large pointed buds and rich red well-formed blooms have a velvety quality that you must feel to believe. The powerful damask rose fragrance seduces even the hardest heart. Vigorous, tall and proud with long stems & dark green leaves. Likes consistent warm days & cool nights.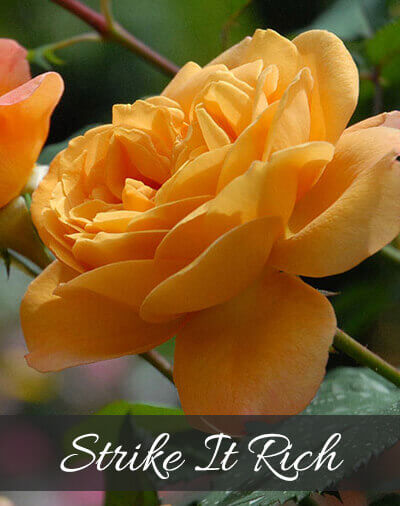 Strike It Rich
Grandiflora - Fragrant — Spicy fragrance, loads of bloom & super-long elegant buds of gold polished with rosy pink. The long-lasting sparkling yellow-orange tones are rich & opulent enough to bring out the gold digger in any gardener. But it doesn't take a stash of expensive chemicals to. The natural disease resistance & strong vigor keep this good lookin' girl happy in the landscape. Very dark green leaves & unusual red stems set off the many showy clusters of blossoms.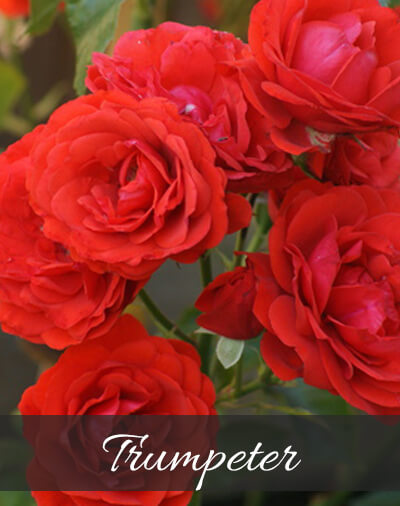 Trumpeter
Floribunda - If you're looking for a bright red landscape addition, let this low-care rose-musician blow his horn. His brilliant scarlet colors of the long-lasting ruffled blossoms blare out against the disease- resistant glossy green foliage. Naturally compact and bushy, put him in the front row of your garden. Great in mass plantings. Good landscape performer, hardy and likes a little heat.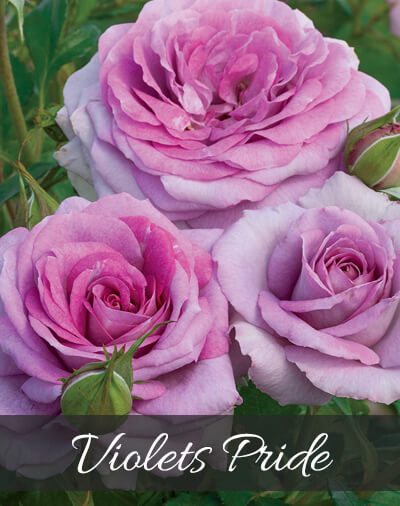 Violet's Pride
Floribunda - Violet's Pride undeniably belongs to the aristocracy of the rose world as it was named in honor of Downton Abbey's Lady Violet. The blooms of this lavender rose unfold to reveal a exquisite magenta-colored heart and a sophisticated grapefruit and fruit-like fragrance. Fierce, like her name sake, this lovely lady is quite resilient to diseases and proudly holds her elegant buds and flowers on top of a vigorous and even rounded densely foliaged bush.
Available in 24" Patio Tree Rose
---
These classic beauties, strong and intense with sweet fragrance, come in an array of colors. Choose from hybrid taes, floribundas and grandifloras.
Please Note: selection may vary by location
24" Patio Tree Roses 36" Standard Tree Roses
---
Source: Weeks Roses at weeksroses.com