Beautiful, Fragrant and Timeless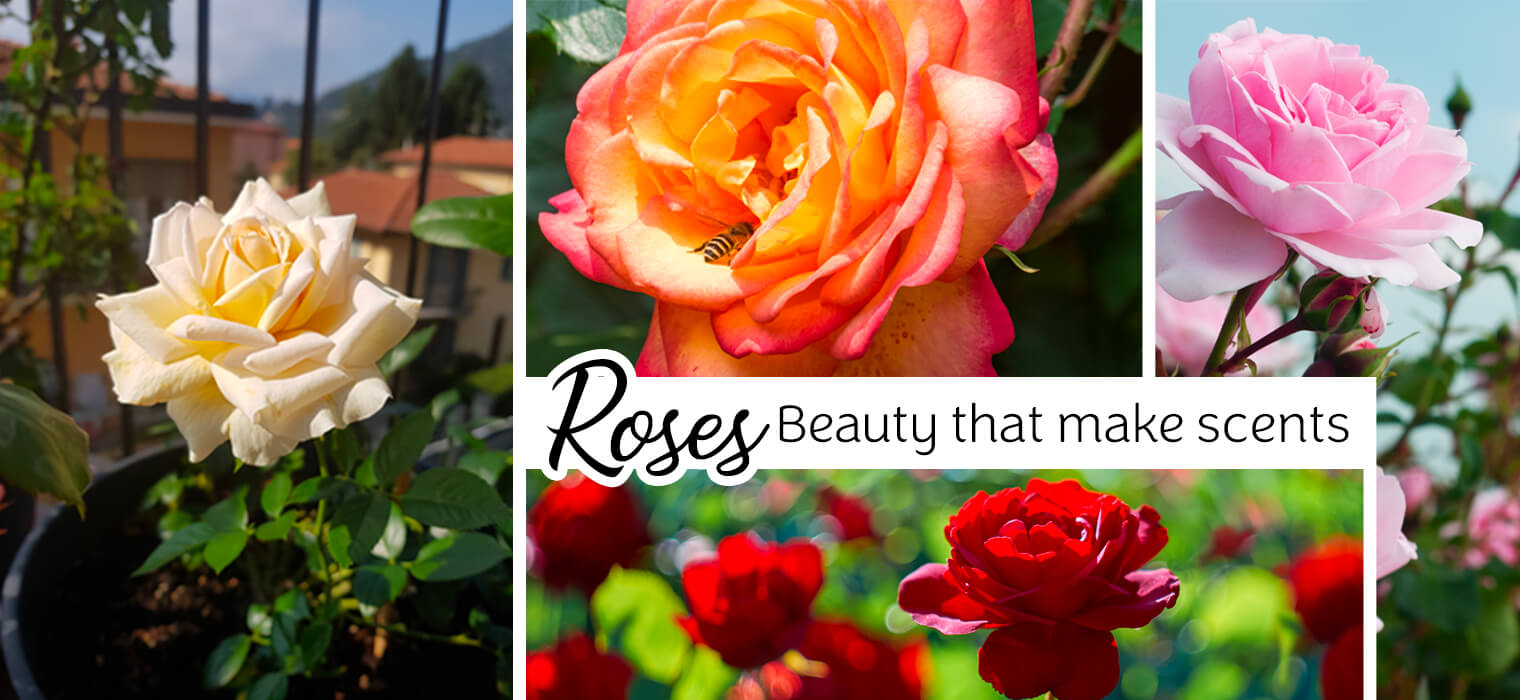 Weeks Roses
Hybrid Teas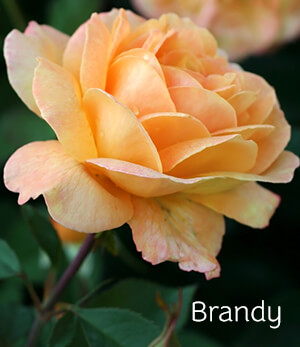 All My Loving - Hybrid Tea
This lovely rose was created in England by the talented breeder Gareth Fryer. The long cutting stems are great for bouquets and the plant's excellent vigor guaranties a profuse flower production. The shapely flower buds are held right on top of the plant for a great show and enjoyment. All My Loving is a true Hybrid Tea with one large flower per stem. Flower color is a light red to dark pink
Flower Size – Large, around 4-5 inch diameter, single
Intro Year – 2017
---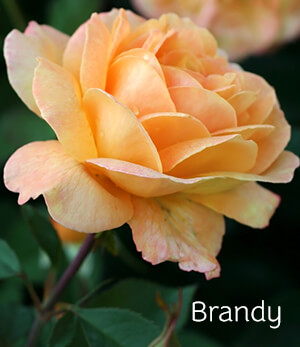 Brandy - Hybrid Tea
Very lovely large classically-formed flowers possess the richest apricot color yet in roses. Elegant pointed buds are carried atop cutting stems with dark green leaves. Requires protection in harsh climates. Established plants give the most bloom. Best when cool.
Flower Size – Large
Intro Year – 1982
---
Chris Evert - Hybrid Tea
No, not a subtle color. In fact, it's a 'grand slam' as far as most eyeballs are concerned. Some might call it orange-yellow, others yellow-orange — but the scarlet blush 'served' at the finish of the flower is 'game point'. The'match' is completed by a well-behaved clean plant for these showy well-formed blossoms. Deep red new foliage and large green leaves put on the final 'top-spin'. You'll 'love' it. Better size in cool weather. Consistent color.
Flower Size – Large
Intro Year – 1982
---
Chrysler Imperial - Hybrid Tea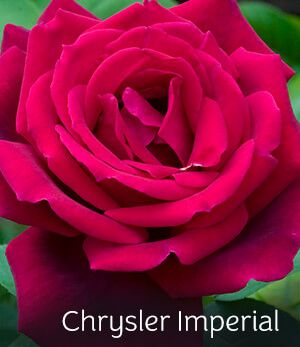 A landmark rose that still hypnotizes people with a powerful rich rose fragrance and velvety red petals. The large full shapely flowers are proudly held atop straight stems clothed with dark matte-green leaves. Vigorous and at its happiest in hot temperatures.
Flower Size – Large
Intro Year – 1953
---
Double Delight - Hybrid Tea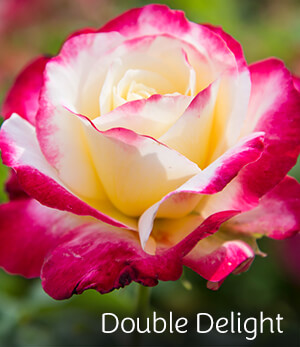 The most popular new variety of the last 30 years. Double Delight fulfills the two highest demands of a rose—an eye-catching color combo and fantastic nose-pleasing fragrance. The prolific bush provides lots of creamy pointed buds that blush red with the rays of the sun. Deep green leaves. Best color/flower size in warm days & coolnights.
Flower Size – Large
Intro Year – 1977
Also available as Standard Tree Rose
---
Fragrant Cloud - Hybrid Tea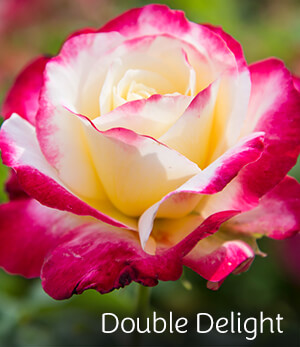 It's hard to find words to describe the heady delicious perfume that effuses from this captivating well-formed coral-range—sometimes clove, often spicy, definitely sweet and mostly rose. Lots of large shapely blooms are produced on a vigorous bushy plant with dark glossy green foliage. Color is deep coral red-orange
Flower Size – Large
Intro Year – 1968
---
Good as Gold™ - Hybrid Tea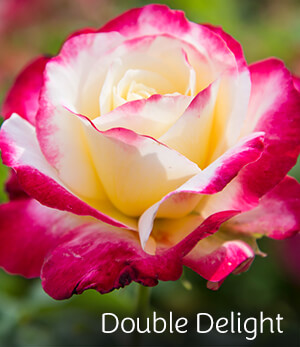 Some might say "orange", some "gold", some "amber" or maybe it is even double-dipped yellow". However you perceive it, it is bold & beautiful, especially with the kiss of red on the finish. This handsome bushy bouquet machine will fill your garden with loads of long-stemmed lovelies clothed with a clean gown of rich green.
Flower Size – Medium to large, up to 5" in diameter
Intro Year – 2014
---
Henry Fonda - Hybrid Tea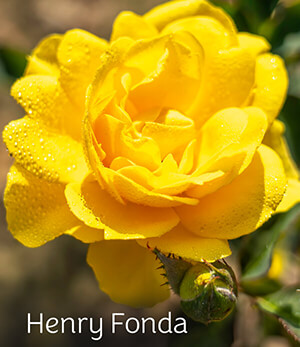 Immensely popular, Henry Fonda boasts distinctly deep yellow blossoms surrounded by deep green and clean foliage. This rose shows remarkable vigor and disease resistance all season.
Flower Size – about 4 ½ diameter
Intro Year – 1996
---
Honor - Hybrid Tea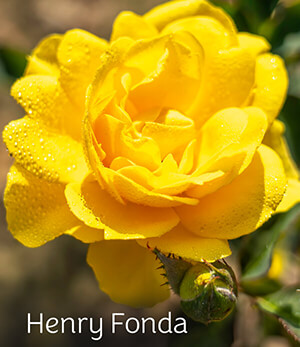 Huge well-formed clear white blooms are carried on this tall vigorous plant. The large dark green leaves and bronzy-red new growth are very disease resistant. Honor will yield lots of long stems suitable for cutting. Happiest on the Pacific Coast.
Flower Size – Very large
Intro Year – 1980
---
Ingrid Bergman - Hybrid Tea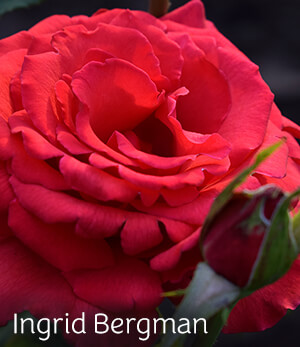 No better tribute to a radiant star than a radiant red rose. Ingrid will perform like a trooper in your garden with clear lasting full brilliant blossoms set against deep green resistant foliage. But she won't dominate the garden stage by overpowering other rosy performers. Coming from Denmark, the plant is compact yet vigorous & hardy.
Flower Size – Very Large
Intro Year – 1985
---
John F. Kennedy - Hybrid Tea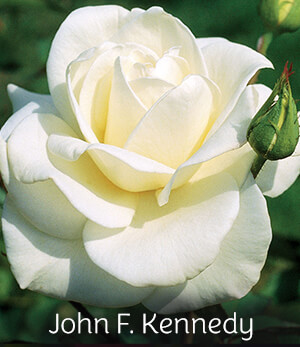 Cherished mostly as a tribute to the popular President, the slow-opening fragrant flowers of rich white start off with an unusual greenish cast in the bud stage. The extra full petalage stands up well to hot weather. Beloved by many. Needs warm night temps to open best.
Flower Size – large
Intro Year – 1965
---
Just Joey - Hybrid Tea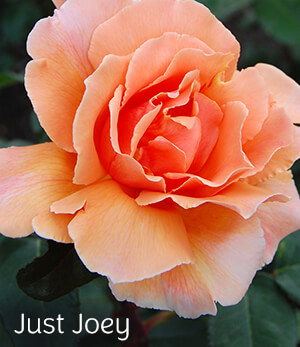 Just scrumptious or just wonderful or just apricot is understandable— but Just Joey? Nevertheless, the big brandy-colored buds, the large ruffled apricot flowers steeped with fruity fragrance, and the huge glossy green leaves have intoxicated many a rose lover. An immigrant from England, the bushy vigorous plant takes well to our shores. Deepest color in moderate consistent temperatures.
Flower Size – Large
Intro Year – 1972
Also available as Standard Tree Rose
---
Mister Lincoln - Hybrid Tea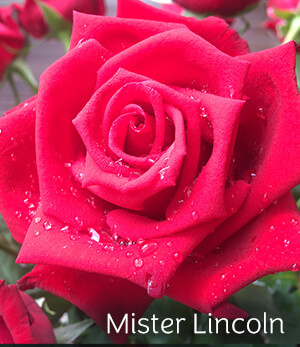 A historic American milestone in red roses that's still hard to beat. The large pointed buds and rich red well-formed blooms have a velvety quality that you must feel to believe. The powerful damask rose fragrance seduces even the hardest heart. Vigorous, tall and proud with long stems & dark green leaves. Likes consistent warm days & cool nights.
Flower Size – Large
Intro Year – 1965
Also available as Standard Tree Rose
---
Pope John Paul II - Hybrid Tea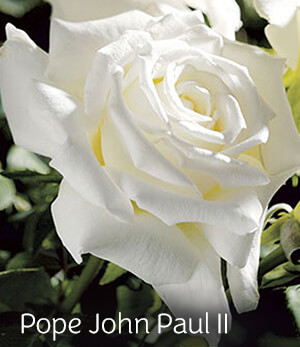 Among the finest, most fragrant white roses of all time, this exceptional Hybrid Tea has received top ratings for vigorous growth, bushy full habit, disease resistance, abundance of flower & perfect flower form. The Pope John Paul II rose produces large & luminous pure white blossoms with a delightful, fresh citrus fragrance. The lavishly petaled flowers shine against the abundance of dark green foliage. Comments: Larger flower size in the cool spring. More pink in cooler conditions.
Flower Size – up to 6 inch diameter
Intro Year – 2013
Also available as Standard Tree Rose
---
Additional Hybrid Tea Roses
---
Floribundas
Distant Drums - Floribunda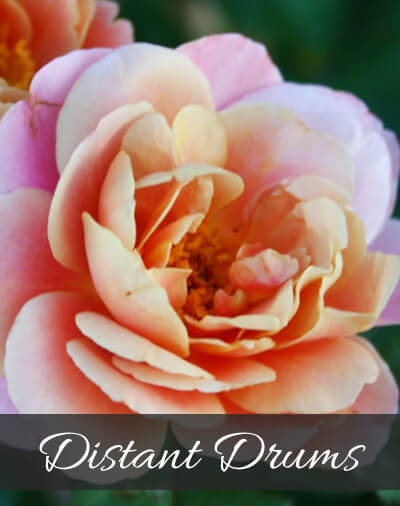 Stop, look and listen up! Here's a striking color amongst the hardy roses released by the late Dr. Griffith Buck. Distant Drums grows much like a Floribunda in habit, drumming out clusters of pointed brunette buds that swirl open to reveal ruffles washed with orchid pink. All this set to music against dark green foliage makes for a toe-tapping commotion in the landscape.
Flower Size – Medium, 3 to 3½ inch diameter
Intro Year – 2003
---
Ebb Tide™ - Floribunda
Dusky deep purple buds swirl open to very double old-fashioned flowers of velvet plum washed with a haze of sultry smoke. The intense clove fragrance can nearly bowl you over. Beautiful deep, green foliage. Gets all the better with establishment.
Flower Size – medium 3 to 4 inch diameter
Intro Year – 2006
Available in a Bush and Tree
---
Iceberg - Floribunda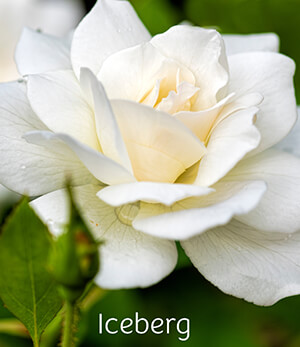 Of the top ten roses of the world and the best landscape white around, Iceberg is extremely disease resistant, vigorous and floriferous. The long pointed buds and crisp white flowers are borne in great profusion with the least of care. The bushy rounded plant is robed in dark green foliage. Great for hedges. Hardy & floriferous. Best in mass planting. Available budded & own-root.
Flower Size – medium
Intro Year – 1958
Also available as Standard Tree Rose
---
Julia Child - Floribunda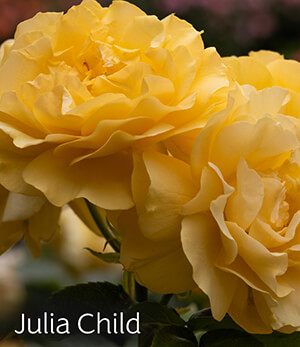 Just before our wonderful American icon left us, she selected this exceptional rose to bear her name. Julia loved the even butter gold color & the licorice candy fragrance. Yet it wasn't just the old-fashioned blooms that inspired the recipe. The perfectly rounded habit, super glossy leaves & great disease resistance finish off the dish. An awesome AARS award winner—a right & proper honor for a dear friend. Consistent, hardy & floriferous in all climates. Very disease resistant. Available budded & own-root.
Flower Size – Medium up to 3 ½ diameter
Intro Year – 2006
Also available as Standard Tree Rose
---
Ketchup & Mustard™ - Floribunda
Slap a layer of the brightest red onto a backside of darkest yellow & set it atop the greeniest glossiest leaves. Better yet, the flowers hold on to their attention-getting tones to the very end…dropping from the well-behaved rounded plant just in time to welcome the next round of abundant bloom. Tidy enough to tuck into a landscape, lend an accent to a container or top a rose tree. No buns or weenies required. Best flower size in cooler conditions. Bold & beautiful!
Flower Size – Medium
Intro Year – 2012
---
Sexy Rexy - Floribunda
There's no other more powerful flowerful Floribunda. The name is just a little kinky, but the plant is profusely pinkie–the most prolific producer of perfect pink blossoms you can place in a pot or a garden. Musters lots of clusters. Clamorous yet glamorous. Vigorous and rigorous with mean green leaves. Proven consistent performer in all climates.
Flower Size – Medium
Intro Year – 2005
---
Additional Florbunda Varieties Available:
Arctic Blue
Burst of Joy
Life of The Party
---
Grandifloras
Dick Clark - Grandiflora
Black-red buds spiral open to show off swirls of cream edged & washed with vibrant cherry pink. But that's not the end of the exhibit on these classically-formed fragrant flowers. When the sun strikes the petals, they begin to blush burgundy, finishing as a deep dark red. Put all this color against super-shiny-green foliage with nice long cutting stems and you've got a killer combo. Easy to grow & great vigor. Largest flower size in cooler temps.
Flower Size – Around 30
Intro Year – 2011
---
Strike It Rich® - Grandiflora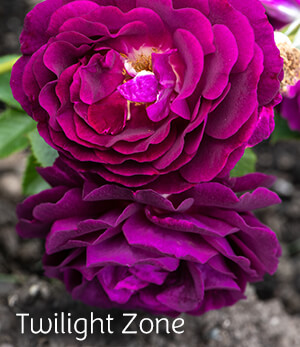 Strike It Rich® Spicy fragrance, loads of bloom & super-long elegant buds of gold polished with rosy pink. The long-lasting sparkling yellow-orange tones are rich & opulent enough to bring out the gold digger in any gardener. But it doesn't take a stash of expensive chemicals to keep this good lookin' girl happy in the landscape. The natural disease resistance & strong vigor do the deed. Very dark green leaves & unusual red stems set off the many showy clusters of blossoms. 'Scent-sational' for a bouquet & 'beauty-full' in the landscape.
Flower Size – Large, up to 5 inch diameter
Intro Year – 2007
---
Queen Elizabeth - Grandiflora
You would be hard pressed to find any better rose to carry the name of England's beloved monarch than this American turning-point in roses. This first and finest Grandiflora adorns gardens all over the world with a profusion of pleasing pink buds and large blooms on long-stemmed clusters. Proven consistent performer. Lots of color.
Flower Size – Medium-large
Intro Year – 1955
---
Additional Grandiflora Varieties
Please Note: selection may vary by location
---
Rose Gardening Essentials
We want to make all of your gardening projects a success and have selected our favorites when it comes to planting, pruning and caring for your roses.
EB Stone Organics Rose and Flower Planting Soil and Food
E.B. Stone Organics Rose & Flower Potting or Planting is a versatile mix that can be used as both a soil amendment or as a ready-to-use potting soil. It is a 100% natural organic soil mix that was blended for growing flowers and roses. This soil is slightly acidic and contains just the right ingredients to get your lovely flowers off to a good start.
E.B. Stone Organics Rose and Flower Food is a blend of select natural ingredients designed to encourage sturdy growth and flowering in roses, perennials and other flowering plants. Roses are especially heavy feeders and need to be fed regularly. E. B. Stone Rose and Flower Food is also an excellent source of long lasting, slow release nitrogen. It is blended with humic acid and beneficial soil microbes including mycorrhizae.
Boss Long Cuff Gloves
Boss Guardian Angel Extended Sleeve Garden Gloves feature padded, synthetic leather palms that provide durable wear and protection from sharp thorns. The extra-long cuff protects forearms while the stretchable back provides comfort and fit. Select colors and sizes available
Corona Bypass Pruners - 1inch
Corona pruners are crafted out of forged steel for the professional gardener. Their strength and durability means everyday use isn't a problem. If you need to get job done day in and day out, you can depend on these pruners.
Bond Bypass Pruners - 8inch
Professional grade - Cuts with a clean, scissor-like action. High carbon steel heat-treated blades