Available - in May each year. Selection may vary by location and like all of our plants are only seasonally available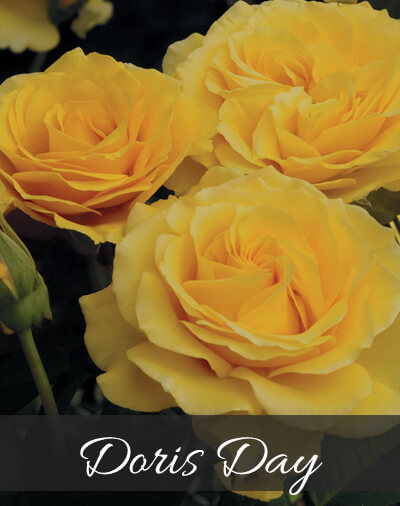 Doris Day
Floribunda - Inspired by big screen and singing legend, 'America's Sweetheart' Doris Day, this lovely yellow rose beautifully personifies this joyful, charming and amazingly talented icon. Doris Day's blooms are full of sunshine and will sweeten up your garden with their fruity and sweet spice aroma. The old-fashioned blooms are produced in beautiful rounded clusters on vigorous stems. You get to enjoy the gold yellow coloration until the petals drop.
Available in 36" Standard Tree Rose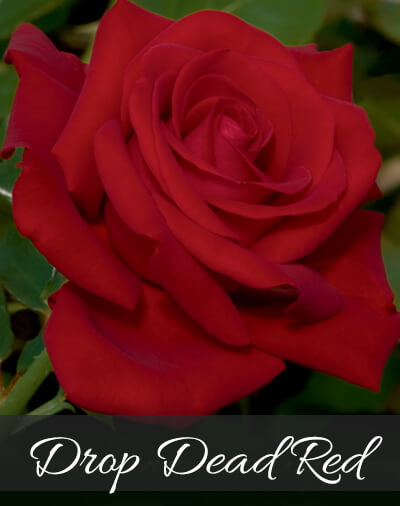 Drop Dead Red
Floribunda - This rose has glossy foliage, great flower power, bushy habit and disease resistance with even brighter green foliage and a delectable peachy golden yellow color that holds to the very end. Consistent in every climate. Great in mass plantings. Moderate fruity fragrance.
Available as Bush Rose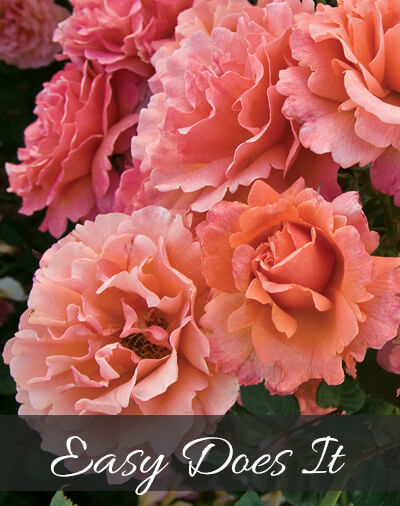 Easy Does It
Floribunda - Delectable colors of mango orange, peach-pink & ripe apricot bounce off the mirrored glossy green leaves, providing a flamboyant fruit salad for the landscape. Her free-flowing swirling shades of sunset show up in fragrant large colorful clusters atop a rounded bushy plant. A disease resistant, vigorous, flowerful & fabulous seductress of the garden.
Available in Bush Rose and 36" Standard Tree Rose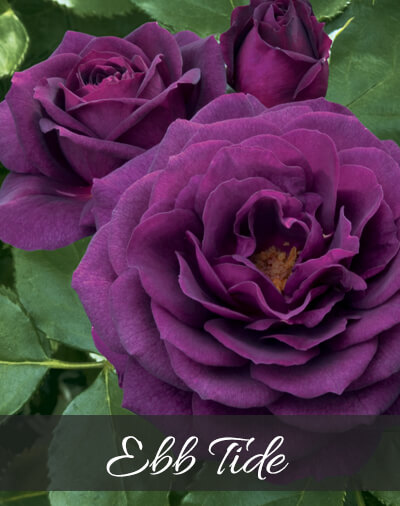 Ebb Tide
Floribunda — Fragrant. Dusky deep purple buds swirl open to very double old-fashioned flowers of velvet plum washed with a haze of sultry smoke. The intense clove fragrance can nearly bowl you over. Beautiful deep, green foliage. Gets all the better with establishment.
Available as Bush Rose and 36" Standard Tree Rose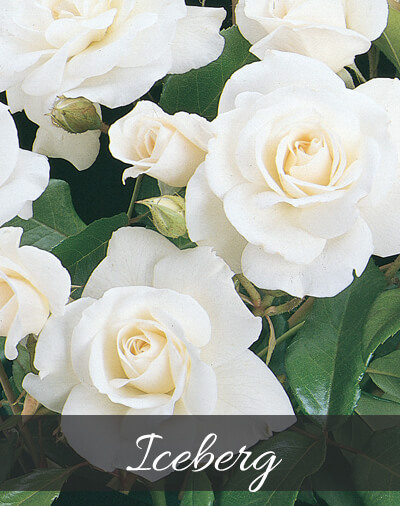 Iceberg
Floribunda - Of the top ten roses of the world and the best landscape white around, Iceberg is extremely disease resistant, vigorous and floriferous. The long pointed buds and crisp white flowers are borne in great profusion with the least of care. The bushy rounded plant is robed in dark green foliage. Great for hedges. Hardy & floriferous. Best in mass planting.
Available as Bush Rose and 36" Standard Tree Rose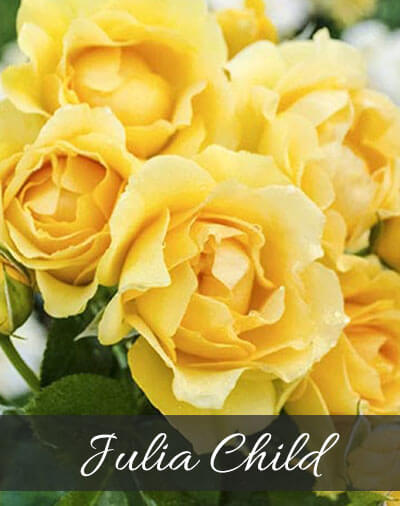 Julia Child
Floribunda - Just before our wonderful American icon left us, she selected this exceptional rose to bear her name. Julia loved the even butter gold color & the licorice candy fragrance. The perfectly rounded habit, super glossy leaves & great disease resistance finish off the dish. Consistent, hardy and floriferous in all climates. Very disease resistant.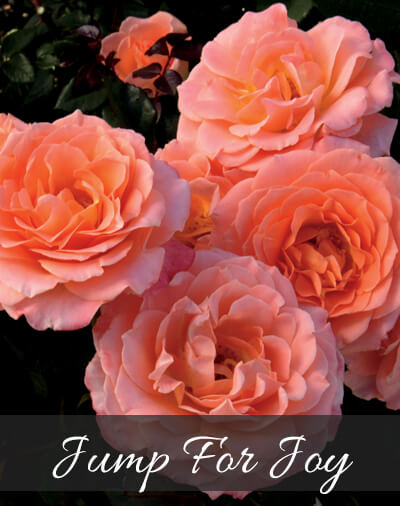 Jump For Joy
Floribunda - Lusciously lovely, delectable peachy-pink color sets apart this sister seedling of Sparkle & Shine. They may have their differences (peach-pink vs. deep yellow). But, like most sisters, they share some likenesses, too. Both are distinctive because of their large showy clusters, long-lived flowers with lovely color, round bushy super-flowerful habit, loads of glossy green leaves & consistent dark red new growth.
Ketchup and Mustard
Floribunda - Slap a layer of the brightest red onto a backside of darkest yellow & set it atop the greeniest glossiest leaves. Better yet, the flowers hold on to their attention-getting tones to the very end…dropping from the well-behaved rounded plant just in time to welcome the next round of abundant bloom. Tidy enough to tuck into a landscape, lend an accent to a container or top a rose tree. No buns or weenies required. Best flower size in cooler conditions. Bold & beautiful!
Available as Bush Rose and 36" Standard Tree Rose
Life of the Party™ - New for 2019
Floribunda - You know the fun is going to begin when the life of the party arrives! The rose Life of the Party is sure to entertain you in the garden as this blooming machine is a party animal when it comes to flower production. The cuppy yellow old-fashioned flowers are kissed with a pink blush when the party is over, but not too early, keeping the coloration until the petals drop. If you are too shy to invite your neighbors for a garden party, don't worry as the strong fruity smell that EXCLUDES from its flowers will serve as a formal invitation and attract people from far away! The long lasting blossoms are enthusiastically produced in medium sized clusters on top of an upright & blushy plant. The clean dark glossy green leaves are feeding the flower production by generating the needed energy so the party can go on and on and on!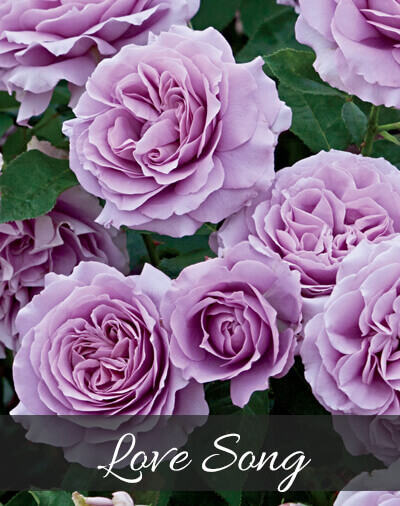 Love Song
Floribunda - Loads of big beautiful blooms can nearly cover this sultry siren. Her profusion of pulchritude is only matched by the surprising duration of the display. Those lovely lavender old-fashioned flowers just seem to last and last...without turning a lurid gray. Underneath all that beauteousness is a bushy rounded plant clothed with great rich green leaves. Largest flower size in cool temps.
Available as Bush Rose and 36" Standard Tree Rose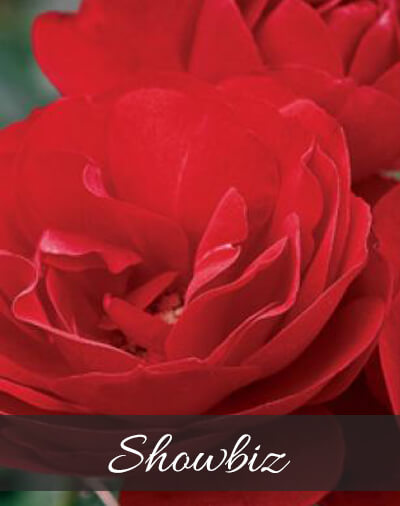 Showbiz
Floribunda - There's no biz like this German variety. No other red Floribunda has the brilliantly colored blooms borne in great sprays on a very compact round ball of a plant. Beneath all those pointed buds and long-lived flowers are lots of glossy dark green leaves with excellent disease resistance. Great in mass plantings or for borders. Proven consistent performer. Compact & hardy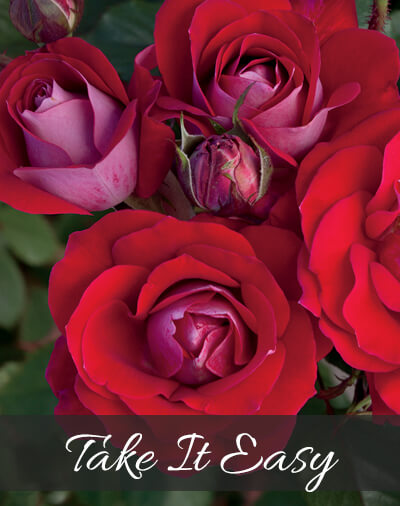 Take It Easy
Medium Shrub - You won't have much work to do in the garden after planting this new rose for which natural disease resistance is a true statement. The dark green, shiny & healthy foliage is the perfect background to showcase the many clustering buds and flowers. Of a classic red color, this dynamite of a rose has ideal pointy and very elegant buds. The red coloration doesn't go too pink or blue as the petals are falling away. A touch of lighter pink reverse light up the show of this blooming 'machine'. And that's not all. The plant's excellent vigor and the naturally self-maintained habit are other reasons why you can Take It Easy!
Available as Bush Rose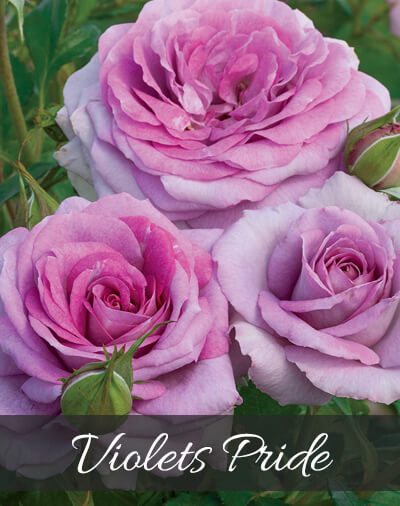 Violet's Pride
Floribunda - Violet's Pride undeniably belongs to the aristocracy of the rose world as it was named in honor of Downton Abbey's Lady Violet. The blooms of this lavender rose unfold to reveal a exquisite magenta-colored heart and a sophisticated grapefruit and fruit-like fragrance. Fierce, like her name sake, this lovely lady is quite resilient to diseases and proudly holds her elegant buds and flowers on top of a vigorous and even rounded densely foliaged bush.
Available as Bush Rose
---
These classic beauties, strong and intense with sweet fragrance, come in an array of colors. Choose from hybrid taes, floribundas and grandifloras.
Please Note: selection may vary by location
Bush Roses 36" Standard Tree Roses
---
Source: Weeks Roses at weeksroses.com