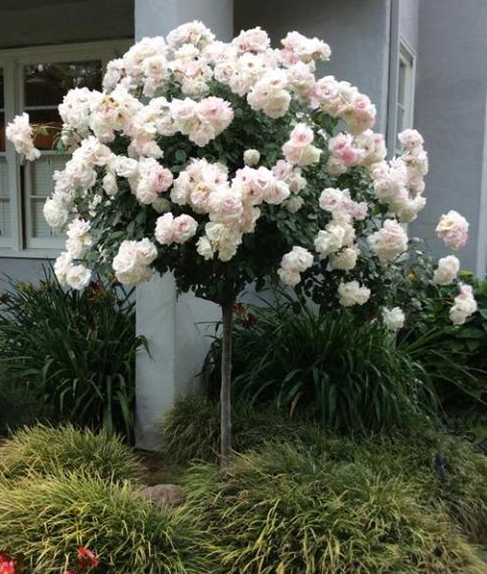 36-inch Standard Tree Roses
Our lovely selection of 36" tree roses have arrived. Unlike the roses of the past, today's roses are incredibly easy to care for, are disease resistant and will be a delight in your landscape for years to come.
Selection may vary by location and like all of our plants, are only seasonally available
---
Hybrid Tea Varieties
Double Delight - Hybrid Tea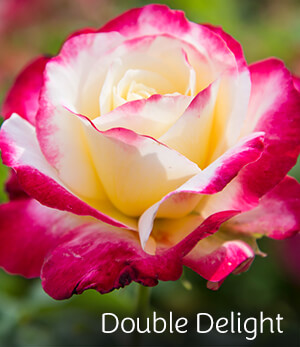 The most popular new variety of the last 30 years. Double Delight fulfills the two highest demands of a rose—an eye-catching color combo and fantastic nose-pleasing fragrance. The prolific bush provides lots of creamy pointed buds that blush red with the rays of the sun. Deep green leaves. Best color/flower size in warm days & coolnights.
Flower Size – Large
Intro Year – 1977
Also available as Bush Rose
---
Just Joey - Hybrid Tea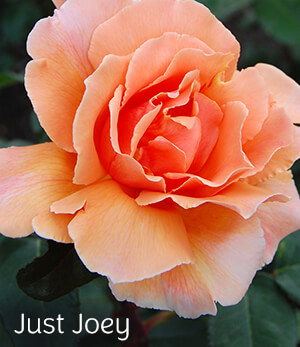 Just scrumptious or just wonderful or just apricot is understandable— but Just Joey? Nevertheless, the big brandy-colored buds, the large ruffled apricot flowers steeped with fruity fragrance, and the huge glossy green leaves have intoxicated many a rose lover. An immigrant from England, the bushy vigorous plant takes well to our shores. Deepest color in moderate consistent temperatures.
Flower Size – Large
Intro Year – 1972
Also available as Bush Rose
---
Mister Lincoln - Hybrid Tea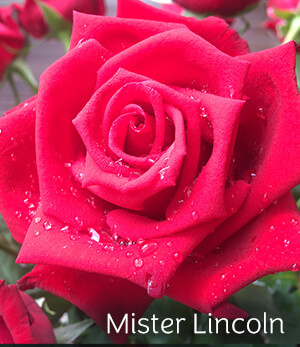 A historic American milestone in red roses that's still hard to beat. The large pointed buds and rich red well-formed blooms have a velvety quality that you must feel to believe. The powerful damask rose fragrance seduces even the hardest heart. Vigorous, tall and proud with long stems & dark green leaves. Likes consistent warm days & cool nights.
Flower Size – Large
Intro Year – 1965
Also available as Bush Rose
---
Pope John Paul II - Hybrid Tea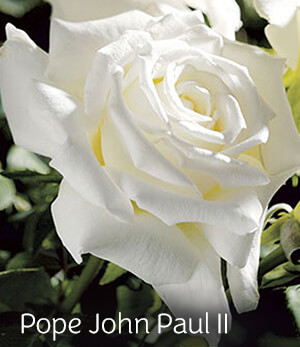 Among the finest, most fragrant white roses of all time, this exceptional Hybrid Tea has received top ratings for vigorous growth, bushy full habit, disease resistance, abundance of flower & perfect flower form. The Pope John Paul II rose produces large & luminous pure white blossoms with a delightful, fresh citrus fragrance. The lavishly petaled flowers shine against the abundance of dark green foliage. Comments: Larger flower size in the cool spring. More pink in cooler conditions.
Flower Size – up to 6 inch diameter
Intro Year – 2013
Also available as Bush Rose
---
Pretty Lady Rose™ - Hybrid Tea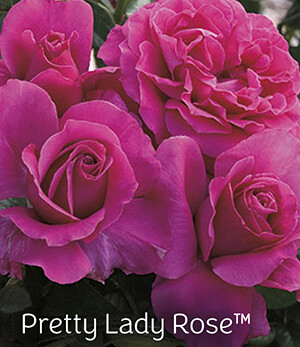 "Don't call me m'lady, call me Rose." Inspired by Lady Rose, niece and goddaughter of the Dowager Countess Violet, Pretty Lady Rose is the second in a collection of garden roses named after characters of the popular Downton Abbey series. Lady Rose's namesake shares many attributes with the character such as elegance and strength. The era in which this British show takes place is well represented by the LARGE old-fashioned and English style multi-petaled aristocratic-like deep pink flowers of this pretty rose. The very long lasting flower coloration is enhanced by the sweet scented peony-like and spices fragrance similar to the perfume a noble woman of the period might have worn. Like an upper class damsel, the plant is well dressed with an evening gown of healthy bright glossy medium green foliage. With her compact habit, this selection brings elegance to smaller spaces of the garden and also looks great in pots. Pretty Lady Rose holds her flowers at the perfect height to be admired and to allow you to enjoy their aroma.
Flower Size – large, 4 to 5 inches in diameter
Intro Year – 2016
Also available as Bush Rose
---
Floribunda Varieties
Iceberg - Floribunda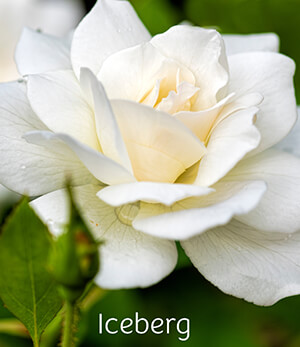 Of the top ten roses of the world and the best landscape white around, Iceberg is extremely disease resistant, vigorous and floriferous. The long pointed buds and crisp white flowers are borne in great profusion with the least of care. The bushy rounded plant is robed in dark green foliage. Great for hedges. Hardy & floriferous. Best in mass planting. Available budded & own-root.
Flower Size – medium
Intro Year – 1958
Also available as Bush Rose
---
Julia Child - Floribunda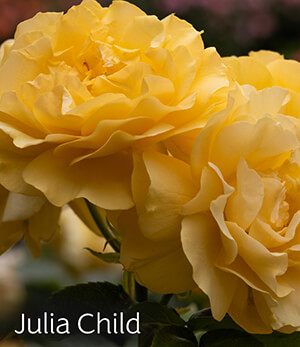 Just before our wonderful American icon left us, she selected this exceptional rose to bear her name. Julia loved the even butter gold color & the licorice candy fragrance. Yet it wasn't just the old-fashioned blooms that inspired the recipe. The perfectly rounded habit, super glossy leaves & great disease resistance finish off the dish. An awesome AARS award winner—a right & proper honor for a dear friend. Consistent, hardy & floriferous in all climates. Very disease resistant. Available budded & own-root.
Flower Size – Medium up to 3 ½ diameter
Intro Year – 2006
Also available as Bush Rose
---
24" Patio Tree Roses Bush Roses
---
Source: Weeks Roses at weeksroses.com