Now is the perfect time to start your Tasty Garden and our nursery is exploding with edibles. Choose from traditional and organic herbs, fruits and vegetables.
Don't forget your vegetable and herb Garden Essentials
Please note - Not all varieties available at all locations
Cucumbers
A & C Pickling
Armenian Green
Cucino Persian
Diva
Early Spring Burpless
English Slender
Eversweet
Green Finger
Homemade Pickles
Japanese Climbing
Japanese Green Dragon
Lemon
Lemon (heirloom)
Persian Peticue
Pick A Bushel
Saladmore Bush
Straight 8

Beets - Bulls Blood, Burpee Golden
Lettuce - Buttercrunch, Green Romaine, Lolla Rossa, Nevada Crisphead, Sucrine
Beans - French Haricot Bush Bean, Emerite or Maxibel
Patty Pan Squash
Zucchini Black Beauty
Peas - Cascadia Sugar Snap Dwarf Vine, Oregon Giant Snow Pea, Super Sugar Snap
Kale - Mix and Toscano
Greens - Arugula, Chard Bright Lights, Chard Canary Yellow, Chard Silverado, Mizuna
---
Fruits & Citrus
---
Don't Forget The Essentials
---
Raised Bed & Potting Mix
E.B. Stone | 1.5 cu ft. Bag
E.B. Stone Raised Bed and Potting Mix is an ideal soil for any raised bed. It can be used as a stand alone soil or mixed with garden soil. Their Raised Bed and Potting Mix is designed with carefully selected, premium ingredients. Rich compost holds the nutrients plants need, Coir (Coconut fiber) hold moisture in the root zone, Naturally-aged forest fiber feeds soil microbes and provides organic matter, Volcanic pumice drains away excess water, Beneficial microbes enhance plant's root zone. Contains: Regionally Sourced Bark, Coir, Compost, Pumice, Earthworm Castings, Aged Chicken Manure and Mycorrhizae.

---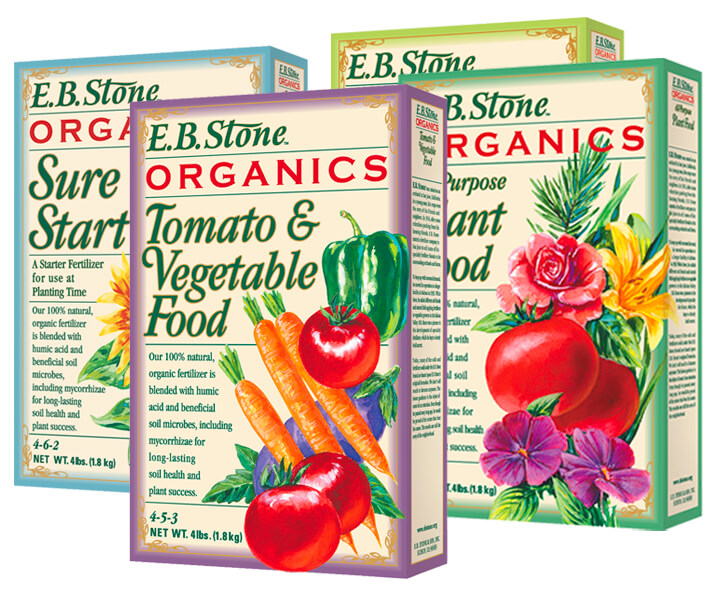 E.B. Stone Organic Plant Food
Choose from Sure Start, All-Purpose, Tomato & Vegetable, Azalea, Camellia & Gardenia Food, Citrus & Fruit Tree Food and Rose & Flower Food.
---
Tomato and Vegetable Food
E.B. Stone Organics | 4 lb.
E.B. Stone Tomato & Vegetable Food is formulated from quality natural organic ingredients for use throughout the vegetable garden as well as with soft fruits like strawberries. It will contribute to even plant growth without producing excessive foliage at the expense of fruit. The additional phosphorous helps to ensure the production of high quality fruits and vegetables. The calcium in our Tomato & Vegetable fertilizer aids in preventing disorders like blossom end rot and helps to correct acidic soil conditions.
---
E.B. Stone Chicken Manure
Naturals
E.B. Stone Chicken Manure is both a fertilizer and a soil amendment. This manure contains the highest levels of plant nutrients of any of our soil amendments. It is an ideal soil conditioner for use when starting a new garden or lawn or upgrading an existing one.
---
E.B. Stong Organic Compost
E.B. Stone Organics Organic Compost is an invaluable addition to any garden. Composts and the organic matter they contain are the foundation of rich garden soils and a key component of successful organic gardens of all kinds. E.B. Stone Organic Compost is ideal for use in vegetable gardens and flower beds, around trees and shrubs, and even on lawns. It can be added to the soil at time of planting or used as a surface mulch later on.
---
Bonide Insecticidal Soap
Suitable for organic gardening
Potassium Salts of Fatty Acids From Plants Kills insects on contact. Ideal for houseplants, vegetables, flowers, fruits...Patented formula does not persist in the environment and may be used up to day of harvest. 32 oz. - Ready-To-Use Spray
---
Sluggo
The Sluggo Snail and Slug Control helps to eliminate snails and slugs. This slug control contains iron phosphate and remains effective up to 4 weeks. The slug control breaks down into organic fertilizer and can be used in the garden and around pets and wildlife. The slug control remains effective after rain and works well in cool weather.
---
Tomato Cages
Available in an assortment of colors and sizes
---
EarthBox is Back at SummerWinds
These incredibly well designed little planters are perfect for growing your Tasty Garden. They are portable, easy to plant and easy to use.
For more information on EarthBox® . Plus, don't forget to join us this weekend for our Spring Garden featuring EarthBox®
---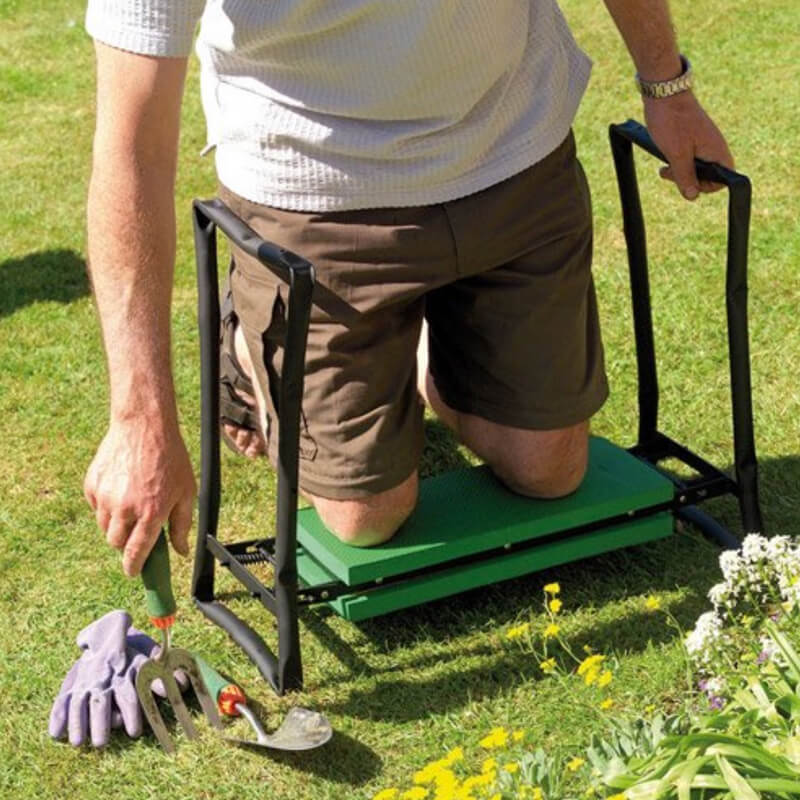 New Fold Away Kneeler at SummerWinds!
These are the perfect tool for gardening
---
Companion Plants
Marigolds and Allysum
We have a beautiful selection of Marigolds and Alyssum that not only look great in your garden, they are great companions to Herbs and Vegetables
---
Selection May Vary By Location