This Valentine's Day, show them that your love will continue to grow...
12 Lovely Valentine Gift Ideas

Fresh cut flowers for Valentine's Day is nice but this year, give your loved one a gift that won't fade. Check out these 12 beautiful gift ideas that will last: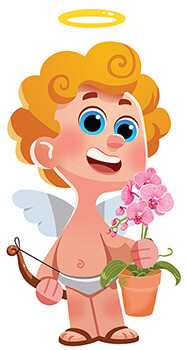 Need A Little Help From Cupid?
We will have our very own cupid at each of our locations on Valentine's Day, Thursday February 14 to assist you in your choices for your loved one.
---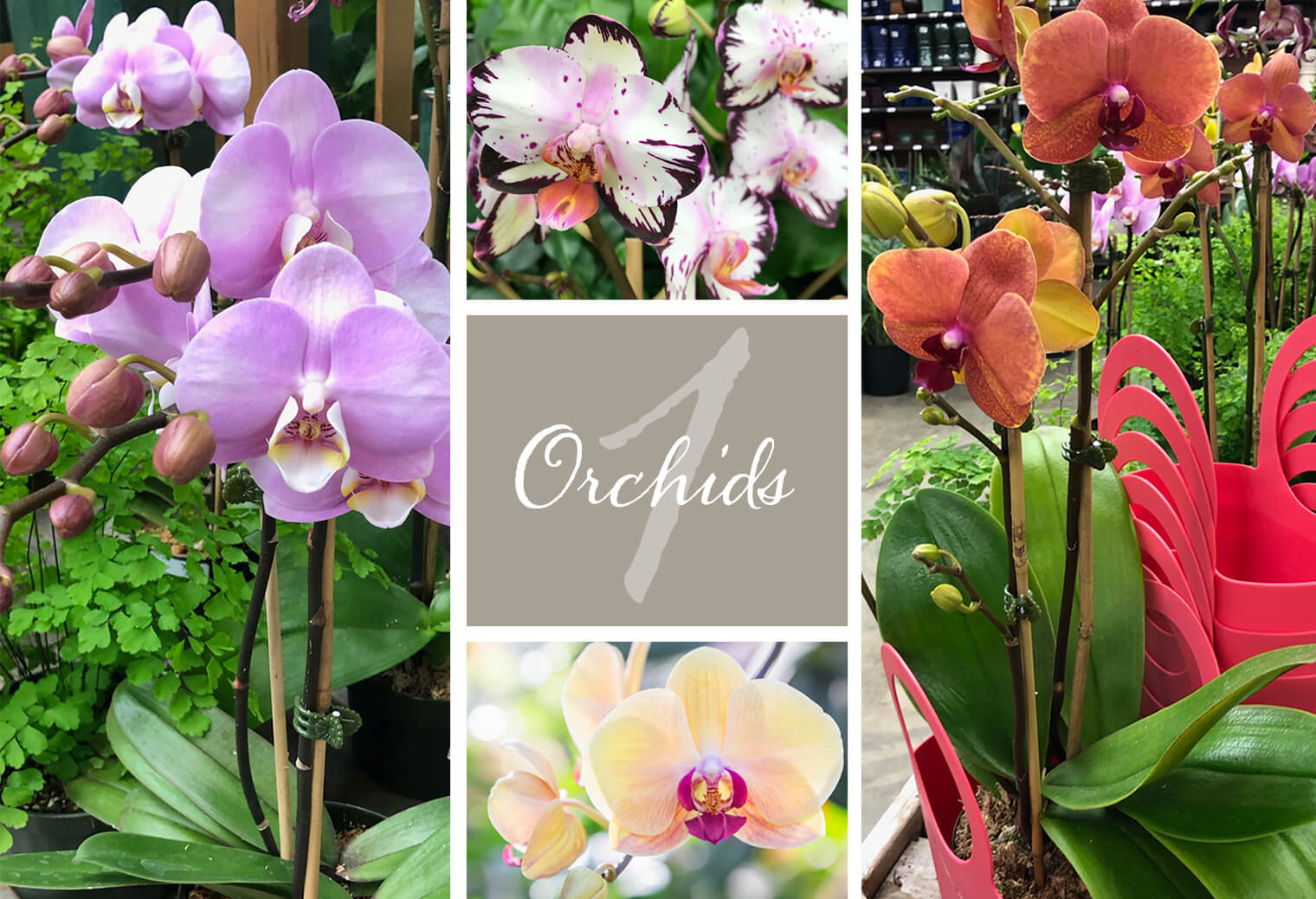 1. Orchids
Due to their namesake, orchids are associated with fertility, virility, and sexuality. These associations, coupled with their exotic appearance, have given them a long history of being associated with love, fertility and elegance throughout various cultures and time periods. Orchid Symbolism and Color:
White orchids symbolize innocence and purity, as well as elegance and reverence.
Pink orchids symbolize femininity, grace, and joy.
Yellow orchids symbolize friendship and new beginnings. They make great gifts for a friend to celebrate an accomplishment.
Purple orchids symbolize royalty and admiration, and are traditionally given as a sign of respect.
Orange orchids symbolize pride, enthusiasm, and boldness.
---
2. Terrariums
We have a beautiful selection of Syndicate Home & Garden Terrariums. Choose from an assortment of sizes for a tabletop or mini hanging terrariums made from recycled glass.
Terrariums are a great way to add a low-maintenance miniature garden to any space of your home or office. It's like having a tiny garden or forest enclosed serenely in a glass world. This lovely little container makes a great gift for a loved one.
How To Make A Terrarium
---
3. Air Plants Tillandsia
Air plants grow without dirt and come in all sizes and colors. Although air plants used to be a rare greenery, these hardy plants have become popular in the past couple years.

Many air plants grow with strap-shape or slender triangle-shape leaves, and most have attractive tubular or funnel-shape flowers. These exotic and super easy to care for plants make a great gift. Pair with a hanging terrarium.
---
4. Succulents
Succulents come in array of colors, shapes and textures. These happy little beauties can easily be planted in almost any container and require very little effort to care for. Create a special planter on your own or choose one already planted. Your gift will have more of an impact, last a long time and will cost way less money than a dozen roses that will sadly fade.
12 Fun Succulents
---
5. Houseplants
Colorful fresh cut flowers are a lovely statement but what does giving a houseplant say to your loved one? It states longevity and life. Houseplants are known to improve ones work environment simply by being "under the influence of plants." Plants improve concentration, memory and productivity.
The Best Houseplants
Chinese Money Plant
Repotting Your Houseplant
5 Places For A Houseplant
8 Romantic Houseplants
---
6. Hydrangea
Flowers brighten up our lives with their beauty and fragrance, but the power of a flower goes a lot deeper than just the surface appeal of a bloom. Humans are masters of symbolism, and it is natural that a flower serves a double purpose as a symbol too. Hydrangeas are common landscaping shrubs that dot suburbs and rural homesteads alike, and their meanings make them an attractive flower for adding to your garden.
What Does the Hydrangea Flower Mean?
The vigorously growing Hydrangea shrub symbolizes diverse meanings including:
Heartfelt and honest emotions of any kind
Gratitude and thanksgiving to someone else
Developing a deeper understanding between two people
Abundance and prosperity
the 4th wedding anniversary for a couple
7. Staghorn Fern
No symbolism - just a really cool plant! There are dozens of species of staghorn ferns, and until recently, they were quite rare. They are increasingly popular house plants.
Though you can find young staghorn ferns sold in pots, mature plants need to be mounted to a board or hung in a hanging basket. Why? Because, like air plants, staghorn ferns are epiphytic plants, which means that in they grow on other plants or trees in their natural growing environments. Selection may vary by location
8. Syndicate Home & Garden Moss Decor
The Bella Moss Collection features all-natural, sustainably-sourced, dried and preserved mosses that add a lush, natural accent to any creative project.
9. Freesia
Delicate freesias are best known for their dainty blooms and profuse citrus scent. While they are spring blooming in their native environment, they are always in season with florists. Because seven or more funnel-shaped blooms open along one side of the stem, they are easy to arrange to show off their beauty. The first freesias donned petals of white and yellow, but cultivation has produced freesias in a range of colors to suit any celebration. Freesias may be either single of double blooms.
What Does the Freesia Flower Mean?
The beautiful freesia has several related meanings. Freesia blooms typically mean:
Innocence
Thoughtfulness
Trust
Friendship
Sweetness
10. Hummingbird Feeder
We have a beautiful selection of hummingbird feeders for the bird lover in your life. These decorative feeders serve a bigger purpose of feeding our flying friends who in turn beautify our gardens and world through pollination.
11. Flowering Shrubs - Camellias, Forsythias, Lilacs, Roses and More
Each time that lovely shrub/bush blooms, it will remind your loved one of your love for them. Our knowledgeable associates can help you choose the right plant.
12. Jasmine
Jasmine is a popular flower associated with love and romance. Its showy white blooms and heavenly fragrance are ideal for moon gardens where lovers spend time whispering sweet nothings under the stars. As a cut flower, it fills the home with a relaxing scent perfect for drifting off to sleep. Some gardeners prefer to plant jasmine outside the bedroom window to allow its fragrance to drift in on the night air.
What Does the Jasmine Flower Mean?
The jasmine flower is associated with love.
Jasmine also symbolizes beauty and sensuality.
In some cultures, Jasmine represents appreciation and good luck.
When used in religious ceremonies jasmine represents purity.
Jasmine's meanings varies depending on the culture and setting.
---
Source: Flower Meaning & Symbolism | http://www.flowermeaning.com/
Source: Stag Ferns | https://shop.pistilsnursery.com