Fall and Winter Blooms - Camellias
When your garden feels lifeless and colors are fading during the Fall and Winter months, Camellias are blooming! They can provide those pretty pops of color and right now we have a beautiful and large selection of camellias.
Here are 30 of the prettiest Monrovia® Camellias available at SummerWinds Nursery...
Selection may vary by location
---
1. Apple Blossom Camellia
Camellia sasanqua 'Apple Blossom'
A versatile camellia displaying profuse pink-edged white blooms with yellow stamens. Dense, glossy dark green foliage makes a perfect hedge, screen or espalier specimen. Early to mid season bloomer. Evergreen. Filtered Sun. Blooms Fall through Winter
---
2. April Remembered Ice Angels Camellia
Camellia japonica 'April Remembered'
The timeless beauty of camellias carried beyond their traditional range with a full hardiness zone more cold tolerant than most varieties; typically blooms later in colder regions. Semi-double flowers with luscious pink petals, creamy centers with golden stamens, and lustrous evergreen foliage. An excellent hedge, screen or foundation shrub. Full Shade to Filtered Sun. Blooms Fall through Mid-Spring
---
3. Bob Hope Camellia
Camellia japonica 'Bob Hope'
Large, deep red, semi-double flowers with yellow stamens and beautiful ruffled petals adorn glossy, dark green foliage. A prized camellia for milder regions. Mid-season bloomer. Evergreen. Filtered Sun. Blooms in Winter
---
4. Bonanza Camellia
Camellia sasanqua 'Bonanza'
A versatile spreading habit with a profusion of bold scarlet peony-like blooms and glossy, dark green foliage. Use to create a colorful low hedge, espalier, or tall groundcover or as an evergreen foundation plant for sheltered sites with bright shade. Excellent flowers for cutting. An early season bloomer. Partial Shade to Partial Sun. Blooms in Fall
---
5. Buttermint Camellia
Camellia x 'Buttermint'
Beautiful, pale, buttery yellow, semi-double blooms adorn this mid-to late season bloomer. Its glossy, dark green leaves and lightly fragrant, ruffled flowers are plentiful enough to cut and bring indoors. This showy evergreen is perfect for brightening up a shady woodland garden. Filtered Sun. Blooms Winter to Early Spring
---
6. Chandleri Elegans Variegated Camellia
Camellia japonica 'Chandleri Elegans Variegated'
Spectacular, rose pink blooms with an anemone form and occasional white mottling. The lovely flowers contrast beautifully with the glossy, dark green foliage. A prized mid-season bloomer for milder regions of the United States. Use to dress up lightly shaded beds and foundation plantings, or to create a flowering evergreen hedge. Filtered Sun. Blooms in Winter
---
7. Chansonette Camellia
Camellia sasanqua 'Chansonette'
A versatile flowering shrub, displaying profuse, brilliant pink, double blooms and glossy dark green leaves with a short, pendulous habit. Flowers are perfect for cutting. An excellent choice for a colorful low hedge, espalier, or groundcover. A mid-season bloomer. Evergreen. Filtered Sun. Blooms Fall through Winter
---
8. Colonel Firey Camellia
Camellia japonica 'Colonel Firey'
Spectacular, formal, dark red blooms that are very large in size. Flowers make a great contrast with the glossy, dark green foliage. A prized plant for milder regions.. Mid to late season bloomer. Evergreen. Filtered Sun. Blooms Winter through Mid-Spring
---
9. Coral Delight Camellia
Camellia x 'Coral Delight'
Deep, coral pink, semi double blooms with yellow stamens are backed by thick, lustrous, dark green foliage. A prized plant for the milder regions. Midseason bloomer. Evergreen. Filtered Sun. Blooms January to March
---
10. Debutante Camellia
Camellia japonica 'Debutante'
Abundant, large, light pink, peony-style blooms are a delightful contrast to the glossy, dark green leaves. Perfect for milder regions, and one of the earliest to bloom. Mass in foundation plantings or use as an accent in lightly shaded beds or patio containers. Evergreen. Full shade to filtered sun. Blooms Winter to Early Spring
---
11. Jean May Camellia
Camellia sasanqua 'Jean May'
A versatile performer displaying profuse shell pink double blooms, with deeper shades of pink towards the center. Glossy, dark green foliage make it an excellent choice for a colorful hedge or screen, espalier, and border shrub. Mid season bloomer. Evergreen. Filtered Sun. Blooms in Winter
---
12. Jury's Pearl Camellia
Camellia x 'Jury's Pearl' (C. pitardii x Tomorrow)
Exceptional peony-like flowers are large, luminous, pearly white with a pale pink blush and bright yellow centers. The prolific blooms nearly glow against glossy, deep green foliage over an extended season, from December to late March in mild climates. A compact, upright form, with a neat, self-cleaning habit. Evergreen. Partial shade or partial sun. Blooms early winter to mid-spring
---
13. Kanjiro Camellia
Camellia sasanqua 'Kanjiro'
A truly stunning cerise pink semi-double bloom edged in red with golden stamens and a slight fragrance. Truly outstanding cut flower. Dense semi-weeping habit and glossy, dark green foliage produces an exceptional evergreen for foundation planting and backgrounds. A mid-season bloomer. Filtered Sun. Blooms Fall through Winter
---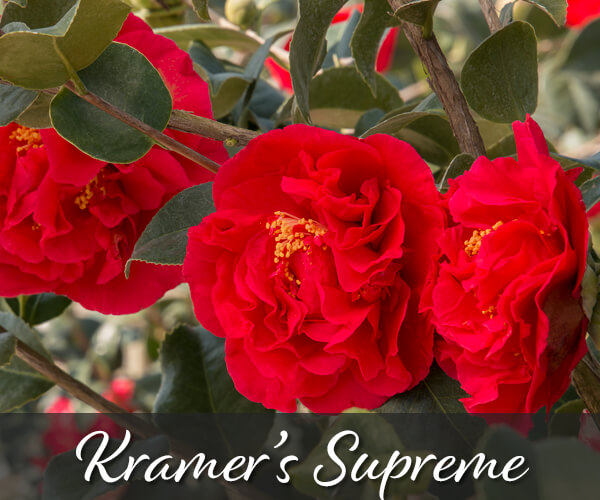 14. Kramer's Supreme Camellia
Camellia japonica 'Kramer's Supreme'
Deep red buds open to magnificent peony-like, rosy-red flowers with a delightful fragrance. The mid-season blooms create a dazzling contrast against the glossy, dark green foliage, brightening lightly shaded settings. Stunning in woodland borders and foundation plantings, or as a hedge. An old favorite for milder regions of the U.S. Evergreen. Full shade to filtered sun. Blooms in Winter
---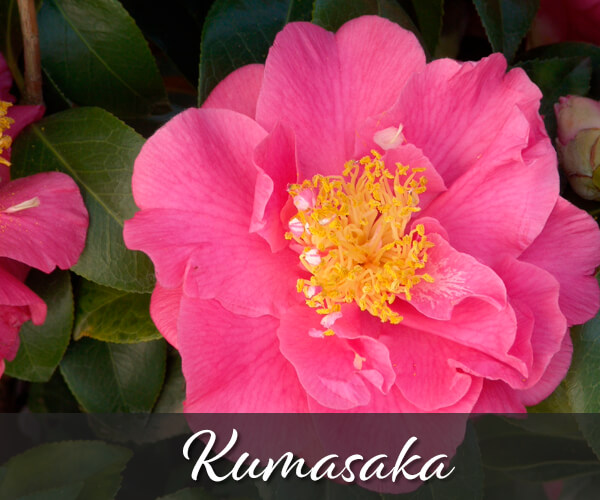 15. Kumasaka Camellia
Camellia japonica 'Kumasaka'
Spectacular, bright, rose pink, double blooms are displayed against glossy, dark green foliage. Colorful accent for the shade. A prized plant for the milder regions of the U.S. Mid to late season bloomer. Evergreen. Filtered Sun. Blooms Winter through mid Spring
---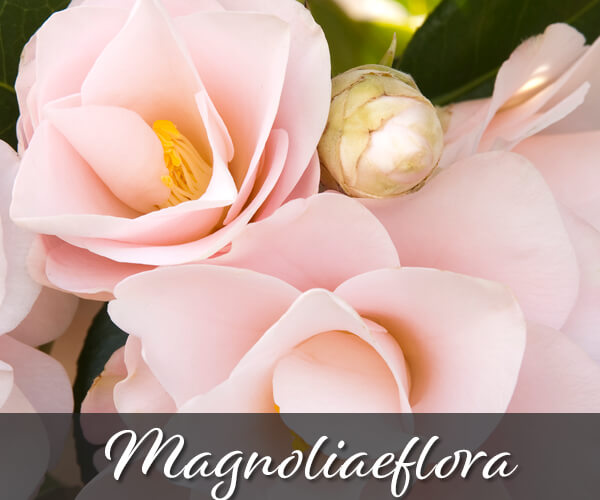 16. Magnoliaeflora Camellia
Camellia japonica 'Magnoliaeflora'
Spectacular, blush pink, semi-double blooms. Flowers make a great contrast with the glossy, dark green, foliage. A prized plant for the milder regions of the U.S. Mid season bloomer. Evergreen. Filtered Sun. Blooms in Winter
---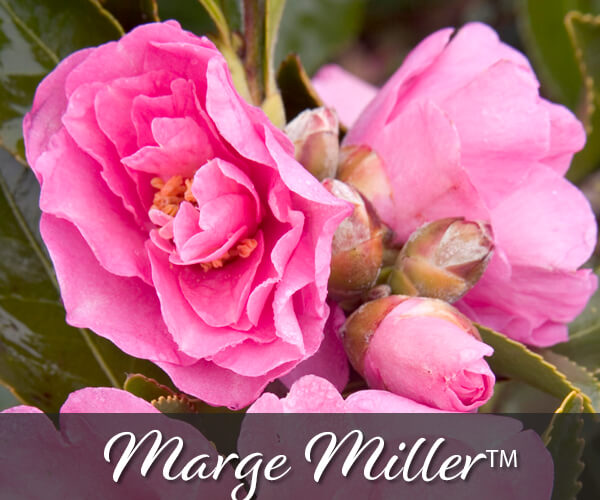 17. Marge Miller Camellia
Camellia sasanqua 'Marge Miller'
This Australian introduction is the first prostrate camellia in the world, a natural for groundcover, or spilling over walls and out of hanging baskets, and often trained trained into cascading upright forms. Full, soft pink early season blooms are backed by glossy deep green foliage. Evergreen. Filtered Sun. Blooms Fall through Winter
---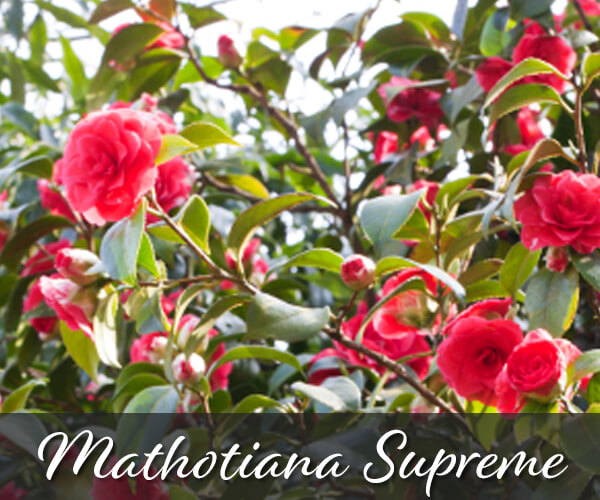 18. Mathotiana Supreme Camellia
Camellia japonica 'Mathotiana Supreme'
Extremely large, double blooms with loose, irregular, flaming crimson petals. Flowers make a great contrast with the glossy, dark green foliage. A prized plant for the milder regions of the U.S. A mid-season bloomer. Evergreen. Filtered Sun. Blooms in Winter
---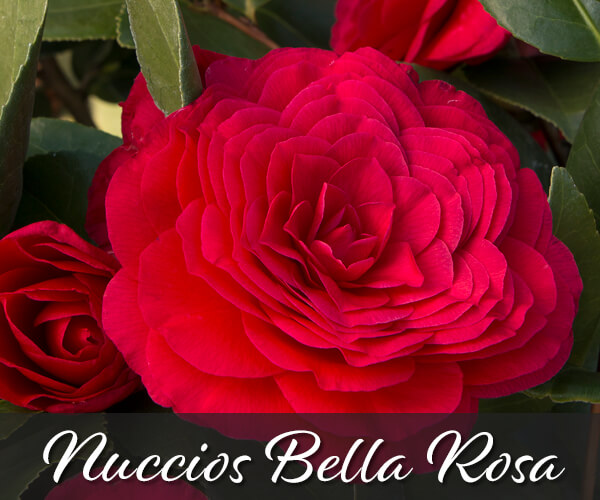 19. Nuccio's Bella Rosa Camellia
Camellia japonica 'Nuccio's Bella Rossa' Plant Patent
An abundance of formal, four-inch, crimson red blooms open slowly over a long period for an especially long bloom season. Even young plants show an extra heavy bud set. Looks right at home in Asian gardens when massed or as a specimen in a container. Glossy, dark green foliage makes this a prized plant for the milder regions. Evergreen. Full Shade to Partial Sun. Blooms Late Winter to Mid-Spring
---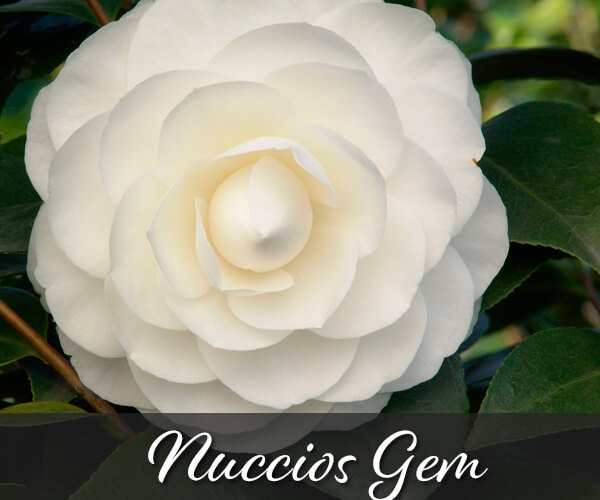 20. Nuccio's Gem Camellia
Camellia japonica 'Nuccio's Gem'
Sparkling white, formal, double blooms contrast well with the glossy, dark green foliage. This mid-season bloomer is a prized plant of the milder regions of the U.S. Evergreen. Filtered Sun. Blooms in Winter
---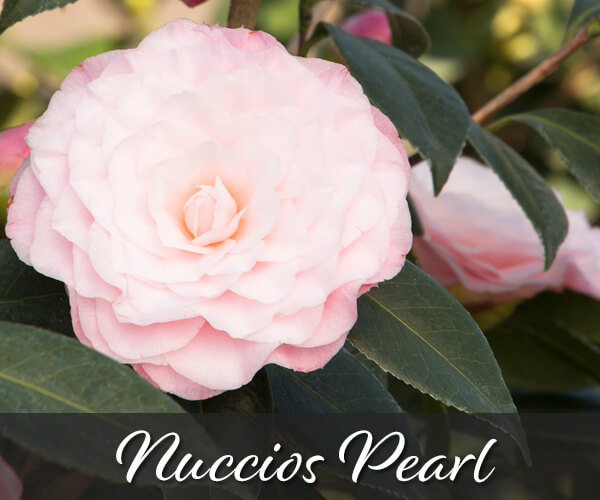 21. Nuccio's Pearl Camellia
Camellia japonica 'Nuccio's Pearl'
Spectacular, fully double blooms with pure white petals edged with an orchid pink blush. Flowers make a dazzling contrast against the glossy, dark green foliage. Adds an elegant, formal appearance to any garden. A mid-season bloomer. Evergreen. Filtered Sun. Blooms in Winter
---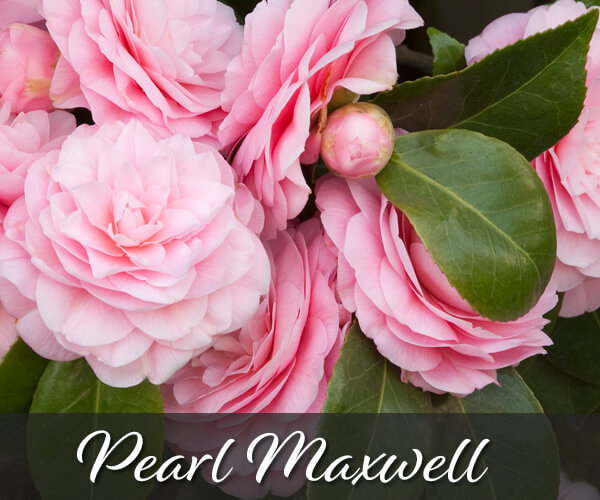 22. Pearl Maxwell Camellia
Camellia japonica 'Pearl Maxwell'
Spectacular, soft, shell pink, formal double blooms in mid- to late winter. Flowers create a dazzling contrast against the glossy, dark green foliage. A prized plant of the milder regions of the U.S. Evergreen. Filtered Sun. Blooms Winter to Early Spring
---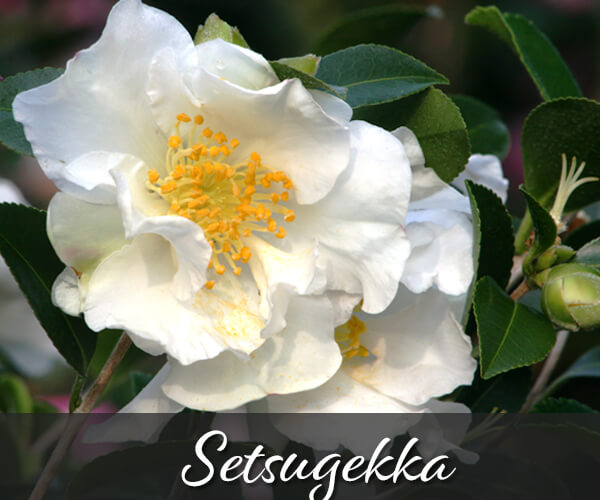 23. Setsugekka Camellia
Camellia sasanqua 'Setsugekka'
Large, perfectly formed, semi-double, white flowers with ruffled edges and a bright center of golden stamens. The dense, semi-weeping habit and glossy, dark green foliage create an exceptional evergreen foundation planting or espalier. A mid-season bloomer. Filtered Sun. Blooms Fall through Winter
---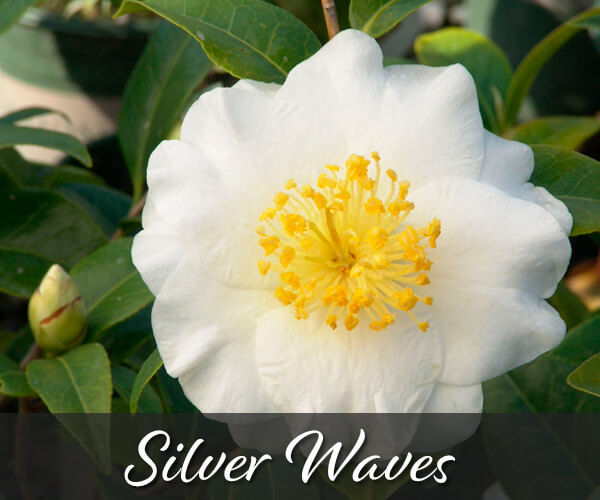 24. Silver Waves Camellia
Camellia japonica 'Silver Waves'
Abundant, large, silvery white, yellow-centered, semi-double blooms contrast the glossy dark green leaves beautifully. An excellent early to mid-season bloomer for milder regions. Use to accent lightly shaded beds, or mass in foundation plantings or to create a flowering evergreen hedge. A wonderful choice for espalier to dress up a drab wall. Full shade to filtered sun. Blooms Winter to early Spring
---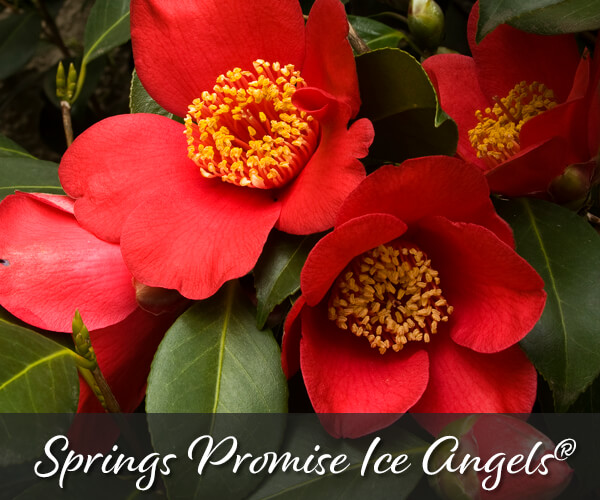 25. Spring's Promise Ice Angels Camellia
Camellia japonica 'Spring's Promise'

Spring's Promise extends the timeless beauty of Japanese Camellias beyond their traditional cold hardiness range. They are an entire climate zone hardier than other varieties. Vivid, rose colored blossoms reach 2-3 inches wide with petals radiating out from a center of contrasting golden stamens. Mid to late season bloomer. Evergreen. Filtered Sun. Blooms Winter to early Spring
---
26. Swan Lake Camellia
Camellia japonica 'Monke'
Very large, snow white, semi-double, peony-like blooms contrast beautifully against the glossy, dark green foliage. Excellent as an evergreen specimen in a woodland garden, as a privacy screen, or in a container. Cut flowers are lovely floating in a bowl of water. A prized mid-to late season bloomer for milder regions. Filtered Sun. Blooms Winter to Early Spring
---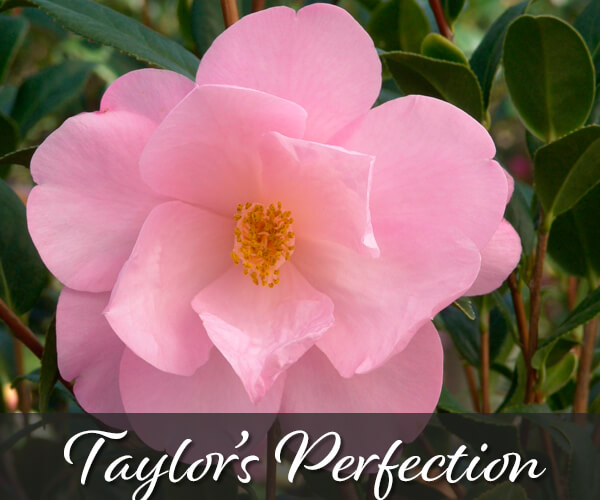 27. Taylor's Perfection Camellia
Camellia x 'Taylor's Perfection'
Handsome shrub with leathery, dark green foliage that backs a profusion of exquisite light pink, large, semi-double blooms. A prized plant for milder regions. Mid to late season bloomer. Evergreen. Filtered Sun. Blooms in Winter
---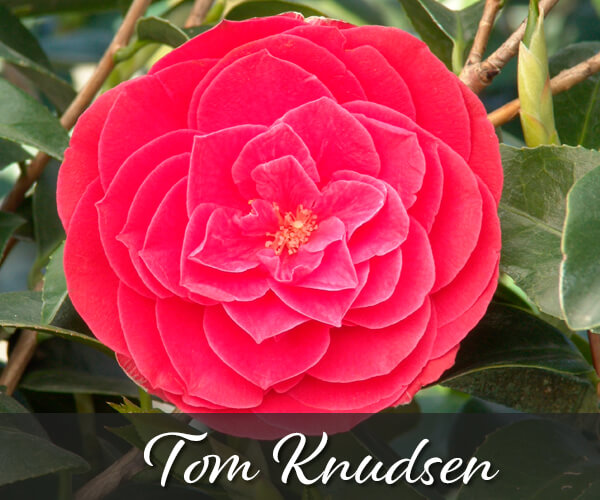 28. Tom Knudsen Camellia
Camellia japonica 'Tom Knudsen'
Spectacular, dark red, formal blooms accented by deep red veining. The stunning early to mid-season flowers create a dazzling contrast to the glossy, dark green foliage. A prized plant for milder regions. A wonderful flowering evergreen for use in woodland borders, foundation plantings, or as a hedge plant. Filtered Sun. Blooms Fall through Winter
---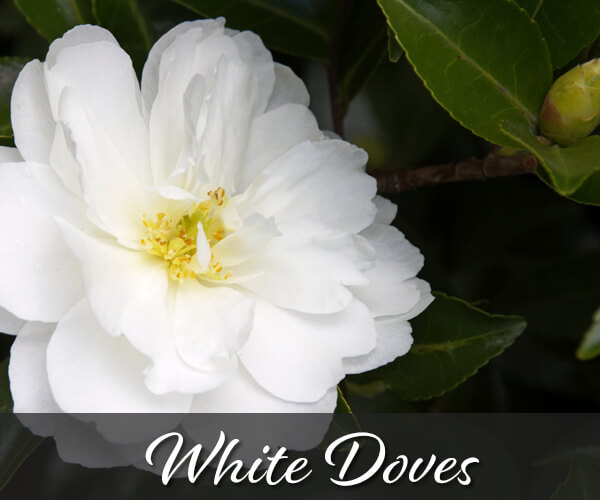 29. White Doves Camellia
Camellia sasanqua 'White Doves' ('Mine-No-Yuki')
Sparkling white, semi-double blooms with glossy dark green foliage on a more compact, spreading form that is ideal for smaller gardens. Excellent for use as an evergreen low hedge, espalier, or groundcover. A mid-season bloomer. Filtered Sun. Blooms Fall through Winter
---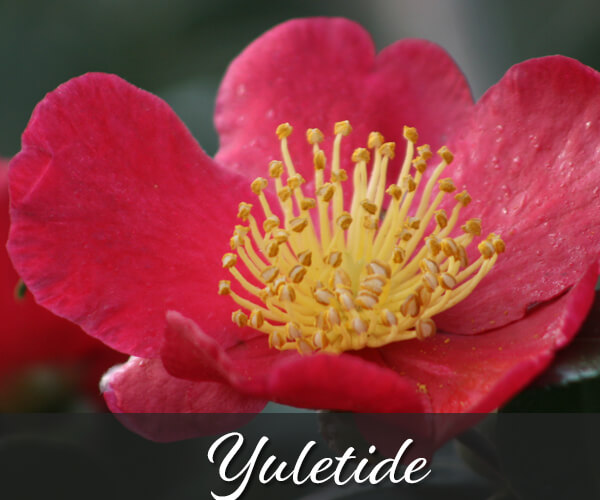 30. Yuletide Camellia
Camellia sasanqua 'Yuletide'
Single, brilliant red blooms centered with bright yellow stamens make an elegant statement in the winter garden. The glossy, dark green foliage creates a handsome natural hedge, foundation shrub or espalier specimen. A mid-season bloomer. Evergreen. Filtered Sun. Blooms Fall through Winter
Source: Monrovia.com
---
Planting and Caring for your Camellias
Learn More
Making Arrangements: Captivating Camellias
Monrovia's Blog by Kate Karam
Learn More
It's Camellia season! Celebrate with these fun facts
Monrovia's Blog by Kate Karam
Learn More