We are Exploding with color right now! We've packed the nursery with color in every direction.
Open Easter Sunday, April 4 from 9:00 AM to 4:00 PM
---
Looking For Instant Color?
Hanging Baskets
Our hanging baskets don't hang around long at SummerWinds. They find new homes and quickly brighten their new surroundings with their cheery faces and bursts of color. Stop by and check our beautiful selection
Begonias
Begonias - With their delicate looking, yet vibrant blooms and waxy leaves, begonias are absolute pleasers in the garden. Blooms come in an array of oranges, pinks, yellows, reds and whites. When watering, try to water underneath the foliage and blooms to ensure your blooms stay in tacked as long as possible.
Impatiens
Impatiens - Great as bedding plants, border plants, or in containers. Impatiens can add a mass amount of vibrant color but they do prefer partial to full shade and well draining soil. We have a beautiful selection in an assortment of colors to choose from.
Orchids
Traditionally speaking, purple or white orchids are a litte more popular during Easter but we have a wide variety of orchids to choose from. The most popular is the Moth Orchid or Phalaenopsis. Perhaps no other orchid is better suited to home orchid growing. Plants with long-lasting sprays of lovely mothlike blooms in a broad array of colors are inexpensive and widely available, ready to give weeks of pleasure in your home or office. Simply provide modest light and consistent moisture, and they will delight you with their relative ease of culture.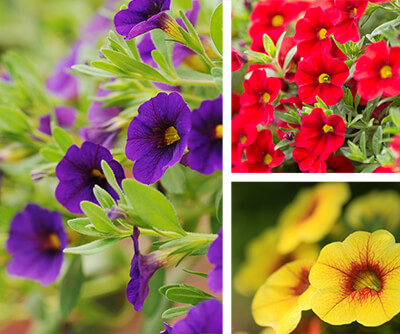 Million Bells - Calibrachoa
Available in an array of colors, this incredible color booster is a low maintenance plant that requires no deadheading to encourage new blooms. Versatile and hardy and one of our favorite container plants
---
The Essentials
Foxfarm Ocean Forest Potting Soil
Good Things From the Earth and Sea! This is their most popular potting soil, Ocean Forest® is a powerhouse blend of aged forest products, sphagnum peat moss, earthworm castings, bat guano, fish emulsion, and crab meal. Aged forest products, sandy loam, and sphagnum peat moss give Ocean Forest® its light, aerated texture. Start with Ocean Forest® and watch your plants come alive!
---
BioAdvanced All-In-One Rose & Flower Care
Care For Your Roses
3 Systemic products in 1:

Fertilizer - promotes strong roots and beautiful blooms

Insect Control - Japanese Beetles (adult)1, Aphids, Leafhoppers and other listed pests
Disease Control - Black Spot, Powdery Mildew, Rust and Southern Blight
Available in 32oz. 64 oz. and 4lb. Granular
Southern Patio® Miami Birdbath
Hand crafted birdbaths with color fast glaze which are also frost resistant. These birdbath's are 23"inches tall and come in 3 different colors: Falling Blue, White and Falling Green.
---