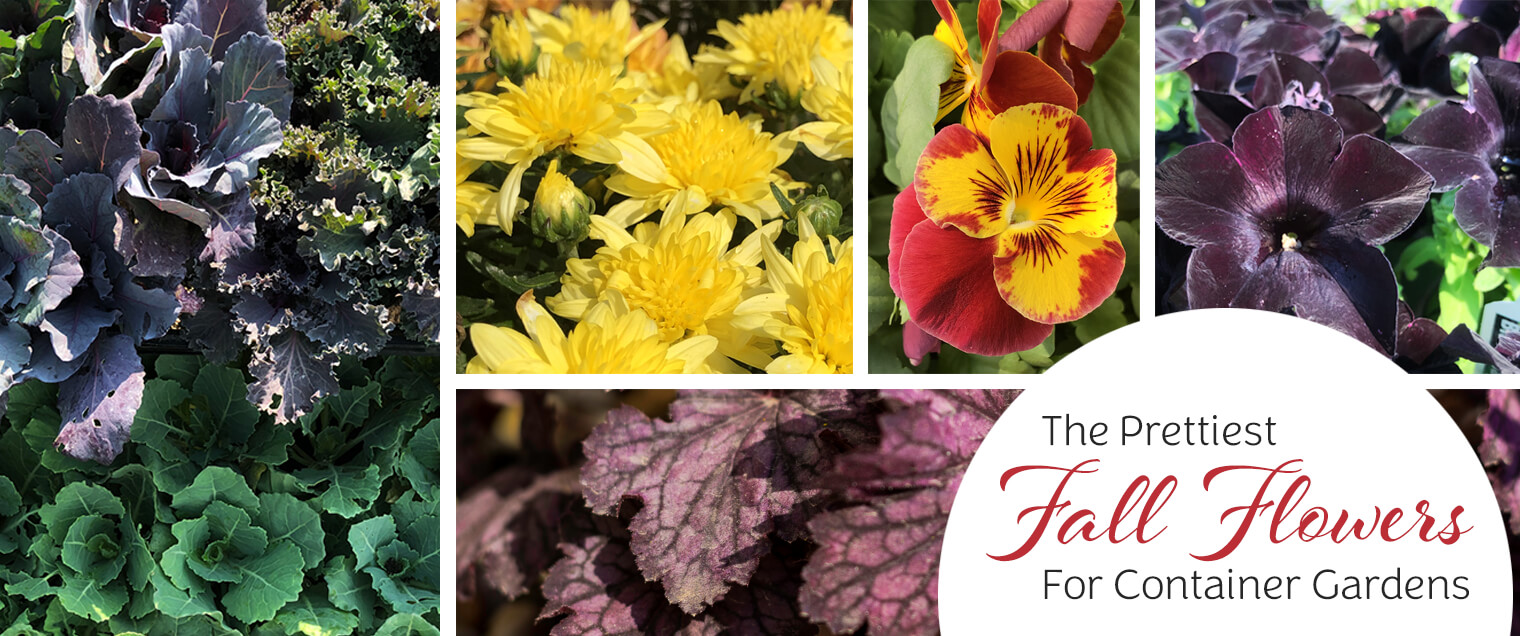 Fall Flowers - Too Lovely Not To Want To Contain
As a new season approaches, it stirs up excitement for cooler temperatures, and fall flowers. We have a lovely and captivating selection of fall color to add to your containers. Please note - not all varieties are available at all locations.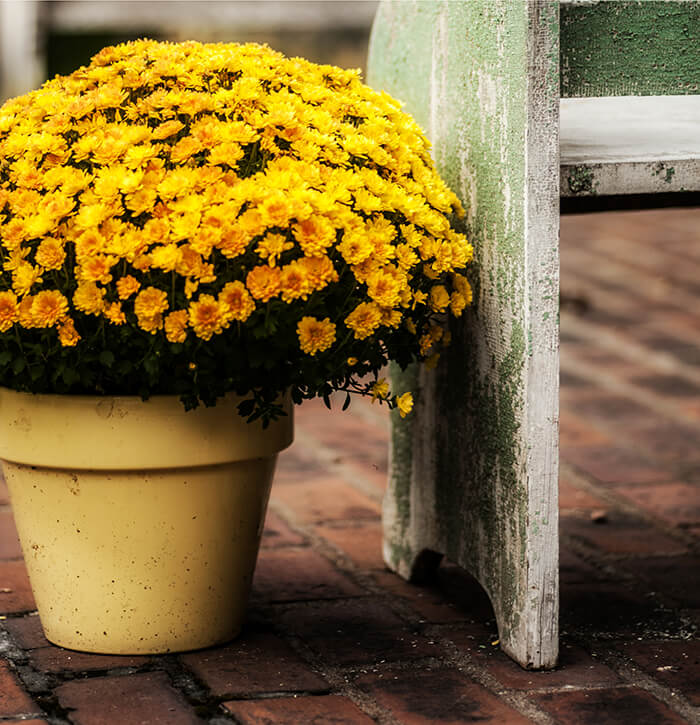 Garden Mums
Chrysanthemums make the perfect transition from summer blooms to lovely fall color. Garden mums look great in containers all on their own or planted with other fall flowers that will provide additional color and interest. The blooms of mums can last for weeks.
Making sure your potted mums thrive starts with picking the right plant. Look for a plant with more buds than open flowers; it will last longer, and the repotting process will be less traumatic for a plant not yet in full bloom. The root ball will most likely be compacted, so gently breaking up the root ball and giving it a new home in fresh potting soil will only be setting it up for success and the best thing for your mum. Don't forget to give them a good soak after repotting and be sure to water them regularly as to not let them wilt. And finally, Mums thrive in full sun, so be sure to plant or place them in a nice sunny spot. Source: Better Homes & Gardens
---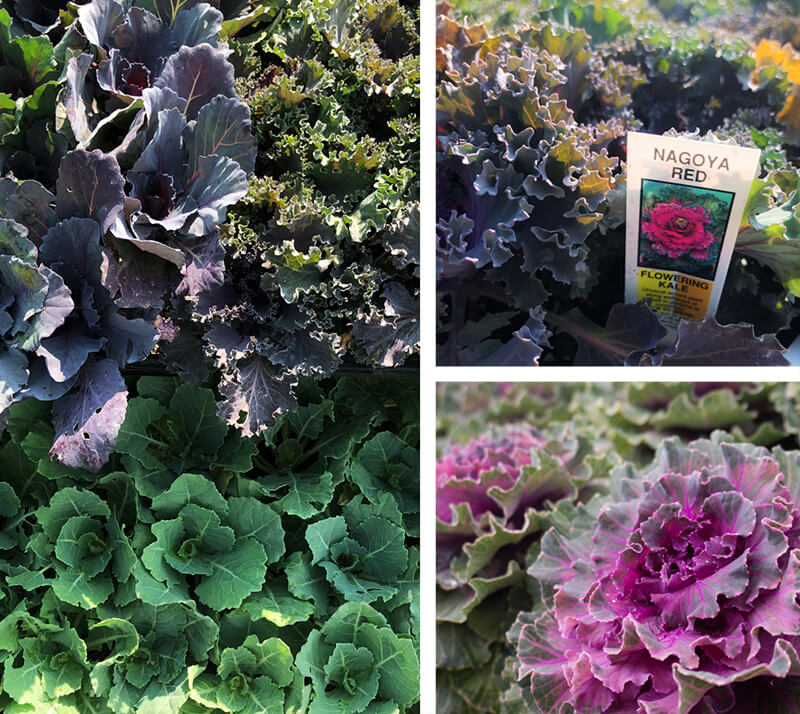 Ornamental Kale & Cabbage
What goes better with mums and says fall than ornamental kale and cabbage? We have a fun selection to choose from but varieties by location may vary. While they look like the tasty greens we enjoy in our salads, these are cultivated for beauty instead. They love cool weather and become even more vibrant in cooler weather. And just as you would the mums, loosen the root ball, plant deep enough in the soil so the leaves are flush with the soil and water thoroughly.
---

Petunias
These are a wonderful addition to containers for fall and can offer great pops of color that are easy to take care of with a little cathartic dead heading. Petunias also prefer full sun.
---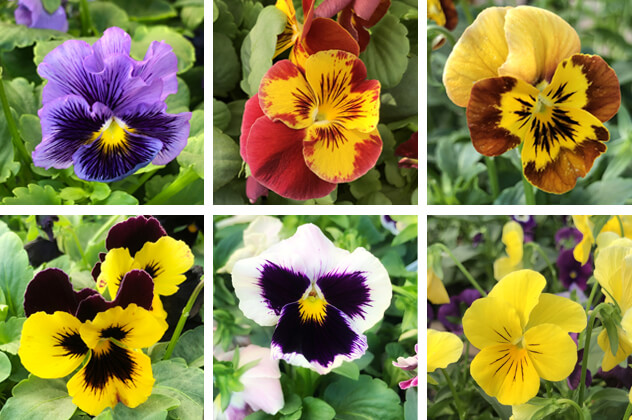 Pansies and Violas
These happy and colorful flowers say spring and fall in the Bay Area, aren't we lucky! We have a fun selection and they look great with mums, petunias and wouldn't you know it, kale.
---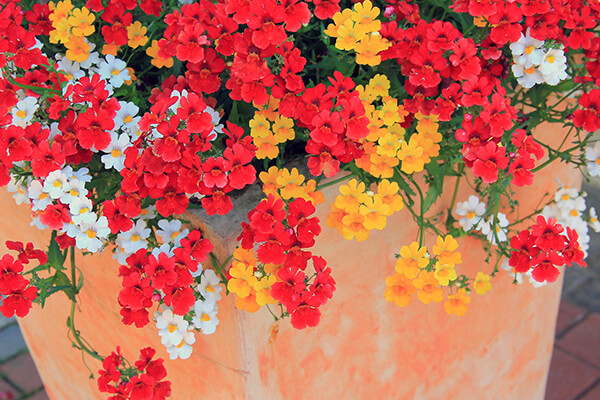 Nemesia
Available in an assortment of colors, Nemesia with its quick growing habit, makes a great addition to containers and hanging baskets, as it spills nicely down the sides.
---

Heuchera
Commonly called coral bells for the sprays of bright pink bell-like blooms, Heuchera are prized for their attractive foliage as well as their delicate blooms. Available in a plethora of colors, they look great in containers.
---
These hardy plants will definitely kick your fall landscape up a notch...
---
Cyclamen
Hardy cyclamen lights up the garden with showy mounds of silvery-white foliage and heart-shaped leaves that appear in autumn and last until the plant goes dormant in late spring.

Although this woodland plant looks delicate, hardy cyclamen is vigorous and easy to grow. Care of hardy cyclamen is simple and the plants require minimal maintenance to look their best.

Hardy cyclamen grows in nearly any type of loose, well-drained soil. Dig a few inches of mulch, compost, or other organic matter into the soil before planting.

Brush excessive leaves and debris from the plant in autumn. Although a light layer of mulch or leaves protects the roots from winter cold, too much cover prevents the plants from getting light.
---
Sources: Your Complete Guide to Growing Gorgeous Fall Mums - Better Homes & Gardens