We have a great selection of pumpkins and gourds to choose from this fall.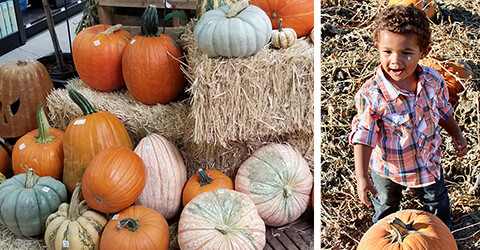 Not sure how to incorporate pumpkins and gourds into your home decor? We have some suggestions that might help get your creative and spicy pumpkin juices pumping...

Our Pumpkin Selection...
Please note that not all varieties may be available at all stores
Wee B Little

Perfect for small hands and great for carving, cooking or painting.

White Miniature Baby Boo

Again perfect for small hands and for cooking or painting.

Small & Medium Orange

These are perfect for small hands to carve, paint or decorate with.

Large Orange Pumpkins

Get your older ones involved with this size to carve, paint or decorate with.

Jumbo Orange Pumpkins

Show off your creative skill with these big orange pumpkins. Perfect size for carving, painting, using as a planter...

Big Mac

Add Big Mac as your focal pumpkin. These huge, flat on one side pumpkins are perfect for decorating.

Cinderella

They offer a lovely shape, stunning red-orange color, and are perfect for baking!

Casperita

Great size for all nooks and crannies, plus fun to paint.

Little Tiger

Their compact nature and vertical stripes make them ideal for decorating. Plus, they offer a tasty sweet and nutty flavor when baked.

Jarrahdale

Not only does it offer beautiful rustic color, it lasts a long time.

Fairytale

French heirloom well known for its delicious mahogany orange flesh.

White Fairytale

Like the original, but this fairytale begins with a ghostly exterior.

Knucklehead

These are a must have when decorating for fall or Halloween. Great for carving, and offer a smooth, very sweet mild flavor.

Warty Minion

Like the Knucklehead, they offer great texture and color to your fall decor.

Cheetah Pumpkin

Top with succulents, or simply combine with with other varieties of pumpkins, the Cheetah is sure to stand out with its wild pattern.

Gourds

Available in a variety of shapes, colors and textures. Pinterest has a plethora of ideas on what you can do with gourds.

Ornamental Corn

Multicolored ears of corn to set the tone on tabletops and front doors.

Corn Stalks

A wonderful symbol that fall has arrived. Adorn your front porch with a bunch.
---
Pumpkins With A Purpose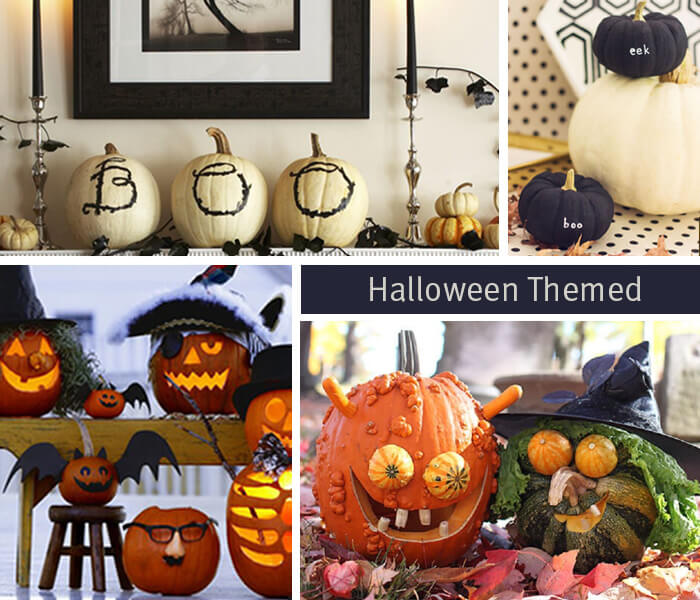 Scary Pumpkins
Pumpkins to fit a spooky theme:
Baby Boo
Casperita
Gourds
Warty Minion
Jarrahdale
Knucklehead
Big Mac
Source: iTopTopics: Best 10 Easy Pumpkin Carving Ideas for Halloween - itoptopics.com
Source: Good Housekeeping: 60+ Pumpkin Decorating Ideas and Designs for Halloween - goodhousekeeping.com

Perfect for small hands
Any of the pumpkins and gourds we carry will be great for kids. Bring them by SummerWinds and see which pumpkin speaks to them.
Source: Better Homes & Garden: Pumpkin Carving Ideas for Kids - bhg.com

Source: Easy No-Carve Pumpkin Decorating Ideas for Kids - parents.com

Tabletop Pumpkins
Smaller is better...
Baby Boo
Casperita
Wee B Little
Small Orange
Little Tiger
Gourds
Warty Minions - smaller sizes
Fairytale, Jarrahdale, Cheetah and Cinderella can be used as the centerpiece if table is large
Source: The Budget Decorator - Fall Decorating with Pumpkins and Gourds thebudgetdecorator.com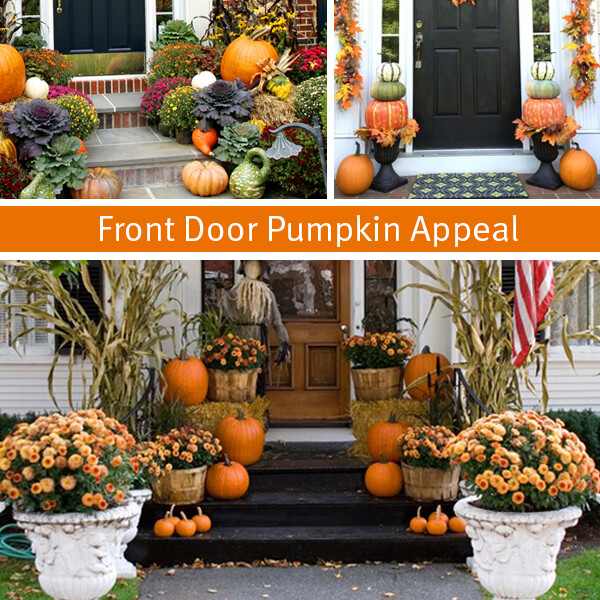 What will your front door say
We made sure to bring in an assortment of pumpkins for you to choose from so that you can express yourself. Whether you want an entrance that says: "Welcome!" or one that is a little more subtle with a simple "hey", we have the pumpkin and gourd for you.
Source: Town & Country: 11 Elegant Ways To Decorate With Pumpkins This Fall - townandcountrymag.com
25 New Ways to Decorate Your Home With Pumpkins